Homeschool kids - Brumby Ben's Events
By Ben,
(Sydney, Australia)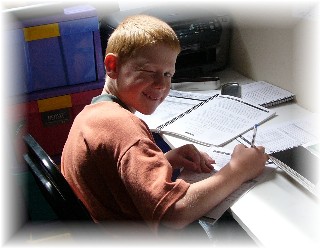 My name is Ben and I have been homeschooled all my life. I like homeschooling because I get to stay at home and it's more relaxing than school. When it's a birthday in our home, we celebrate it and really don't do much school work.We have six children in our family, so that means there's lots of birthdays to celebrate! We work up to lunchtime and then we normally stop.
I am twelve years old. I play soccer. I have played soccer for 5 years and I got into the finals twice, but we didn't win. Last year I played AFL and we got into the Grand final but then we lost. This year I played soccer again and we were graded too high and lost most of our games.
I like AFL and Cricket. My favourite Cricket player is Adam Gilchrist and Ricky Ponting. I like the Saint Kilda football club in AFL and my favourite players are Fraser Gehrig and Nic Riewoldt.
I like organizing History Days. I have organized a World War I History Day and a Colonial and Revolutionary day. Also with our family we organized a Medieval feast. I also like making board games. I have made 1 succesful board game and a couple unsuccesful ones. Nathanael, my eldest brother and I have made two card games and I have just made a new one about World War I planes.
I have 4 brothers and 1 sister. I like playing Lego and playing with Hotwheels cars. Nathanael, Reuben and I built a Hotwheels wooden car track. It was 1 metre wide and 4 metres long. There were eight lanes so we could race our Hotwheels cars down it.
---
If you are Brumby Ben, build another page below.
If you're not.... make your own Homeschool Kid's Gallery page here.
Go to Homeschool Kids Gallery now!

Check out Brumby Ben's Writings
Add another page, Brumby Ben!
Hey Ben, I know you're bursting with ideas and you'd really love to tell us some more - stories, writings, a picture, a project, an event you've planned.... Make it Happen!
More Writings by Brumby Ben!
Click below to see more writing by Ben!

Where to from here?