Home school Kids - Gorgeous Genevieve
By Genevieve
Queensland, Australia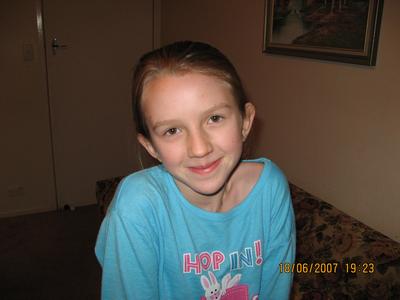 Hello, I am Genevieve and I am 10 years old. I have been homeschooling just one year. I live in Queensland and have two sisters, Kathryn (7) and Laura (5). I also have an older brother. He is 21.
I love reading books and I am in a book club at our local library called "Reading Rampage". The two best books I have read so far are My Sister's a Popstar, by Kimberley Greene, and The Garbage King, by Elizabeth Liard.
My best and truest friend is Amy. Amy home schools as well and we enjoy hanging out together and having sleep overs.
I belong to a local home school choir and we sing at various Aged Care Homes. The oldies love getting a visit from us and hearing us sing (we have hardly ever broken any glass objects...Yet!)
I am a Christian and I go to church every Sunday and after Sunday school and the sermon we all bring a plate of food and have lunch together. I have a friend called Ashley and she's 13. We get along quite well!
So, you've pretty much heard the lot about me.I hope you enjoy reading my pages.
---
If you are Gorgeous Genevieve, build another page below.
If you are not Genevieve, make your own home school Kid's Gallery page!
Go to Kids Gallery Page Now!
Check out Genevieve's Writings Here!
Add another page, Genevieve
Genevieve .... What would you like to add to your mini-site? What have you been doing? Tell us about your favourite book or game or subject you like to study.


Make your mini-site grow right now.....
Make it happen!
More Writing by Genevieve
Click below to see more writing by Genevieve.

Your Kisses
Your kisses are sweeter than sugar
Your hugs are the best in town.
No mater how sick I get you ...