My homemade ballista science project
by Joel
(Sydney, Australia)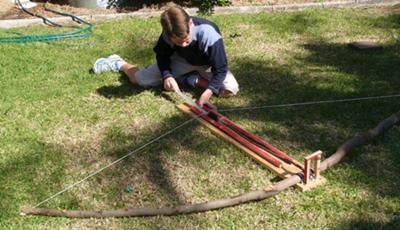 My homemade ballista
Ballistas were used in ancient times as seige weapons.

I made this one with wood, a small sapling for the bow and an arrow made of light dried wood.

I load the ballista by pulling back the string and placing it into a groove or notch which I made in the wood. Then I put in the arrow which has two nails to secure it on to the rope. Then I lever the rope very quickly so that it comes out of both side grooves at the same time and lets the arrow shoot straight out.

It probably works better if you put some bricks underneath it to make a better shooting angle.

Here's a short video of my homemade ballista shooting an arrow.




Join in and write your own page! It's easy to do. How? Simply click here to return to Homeschool Ideas - Science.
Aug 01, 17 10:41 PM

Create writers by teaching descriptive writing using modeling. Examine and copy the great authors descriptive writing styles - as a way to teach and develop your own.

Aug 01, 17 09:47 PM

Charlotte Mason Education is an atmosphere, a discipline, a life. What the Charlotte Mason Motto means.

Aug 01, 17 12:43 AM

Aesop Fables are an excellent starting point for homeschool Language Arts lesson plans based on Literature. New Aesop's Fable Bundle available. printables to enhance fables for kids.