Rod and Staff Homeschool Curriculum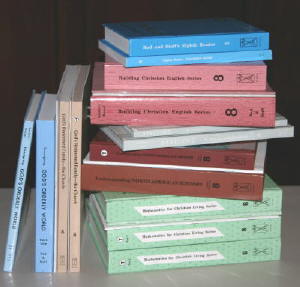 Have you used any of the Rod and Staff Homeschool Curriculum? Like to add your review? Write it here.
Read what other homeschoolers say about Rod and Staff Curriculum.
These Bible-based textbooks by Rod & Staff Publishers are designed to make the child God-conscious. This curriculum not only teaches the Bible but uses many illustrations of how Bible principles can be applied in everyday life. (from the Rod and Staff website)
Rod and Staff Curriculum covers a range of subject areas and are packaged into grade levels.
Read and purchase Rod and Staff books at this Website.
Let us know what you think...
How have you used this curriculum?
Sometimes it is really hard to work out what is the best homeschooling curriculum for your family.

Tell us how you used this curriculum.

Show us an example of a project you created using this curriculum. How did you mould and integrate this curriculum in your family? Will you continue to use it?.... Your answers will help another homeschooling family make a curriculum choice!
Homeschoolers Curriculum Reviews
Click below to see curriculum reviews written by home educators on this page...

Bible Nurture Readers Not rated yet
My comments are only about the books in grades 1-4 of this series. My four eldest children have all enjoyed reading these books, though none of them have …

Great Education and Great Godliness with Rod and Staff Not rated yet
Note: This review only encompasses elementary. Reviewer has not reached upper level Rod and Staff materials. This curriculum is no sell out when it …
Where to from here?