Roman feast
by Talitha
(Sydney, Nsw , Australia)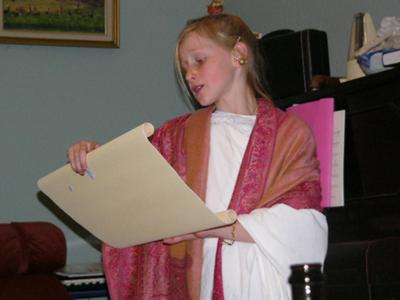 We had a Roman feast and three of my brothers made a speech and so did I.

I did mine on Roman lifestyle. We all were togas and lay on mattresess. It was fun. We had Roman food and I made some earrings to wear because rich Roman woman wore earings that hang on their ear with gold thread and had beads on it I got some string and put beads on it and hang them on my ears.

Some food we ate were olives, special garlic bread, dates, bean salad and a bit more. For drinks we had wine (acohol free) and grape cider and apple cider. It was so much fun.

Join in and write your own page! It's easy to do. How? Simply click here to return to Talitha's Tales.
May 24, 17 10:45 PM

High School Home schooling - the importance of developing skills for the future - business, hobbies, passions - not just academics

May 23, 17 07:19 AM

Homeschool Planner - Keep on Track Home-school Planner is simple, yet stylish. It has all the pages you need for any year, ready to be printed; Now with no dates!

May 15, 17 12:24 PM

Bob Jones homeschool curriculum is engagingly comprehensive, newly updated, and always grounded in Scripture, BJU Press' (Bob Jones) homeschool curriculum has educated thousands. Add your review.