Roman feast
by Talitha
(Sydney, Nsw , Australia)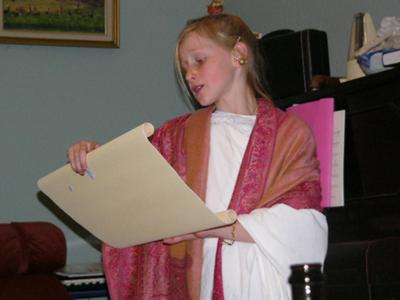 We had a Roman feast and three of my brothers made a speech and so did I.

I did mine on Roman lifestyle. We all were togas and lay on mattresess. It was fun. We had Roman food and I made some earrings to wear because rich Roman woman wore earings that hang on their ear with gold thread and had beads on it I got some string and put beads on it and hang them on my ears.

Some food we ate were olives, special garlic bread, dates, bean salad and a bit more. For drinks we had wine (acohol free) and grape cider and apple cider. It was so much fun.

Join in and write your own page! It's easy to do. How? Simply click here to return to Talitha's Tales.
Mar 28, 17 05:38 AM

Thinking about learning stages helps to focus our attention on the best teaching methods, what to focus on and real life learning in their stage.

Mar 23, 17 05:44 PM

Homeschool Preschool Ideas - gentle ways to schedule your day and keep learning fun in simple, every day activities. Here's the easy way to homeschool your preschooler without being overwhelmed!

Mar 23, 17 07:36 AM

Solo Build It - the best possible way to build a profitable web business; All the tools included to help you to focus on the business.