Roman feast
by Talitha
(Sydney, Nsw , Australia)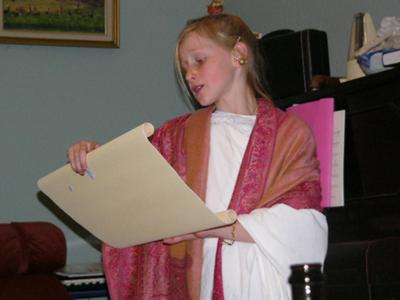 We had a Roman feast and three of my brothers made a speech and so did I.

I did mine on Roman lifestyle. We all were togas and lay on mattresess. It was fun. We had Roman food and I made some earrings to wear because rich Roman woman wore earings that hang on their ear with gold thread and had beads on it I got some string and put beads on it and hang them on my ears.

Some food we ate were olives, special garlic bread, dates, bean salad and a bit more. For drinks we had wine (acohol free) and grape cider and apple cider. It was so much fun.

Join in and write your own page! It's easy to do. How? Simply click here to return to Talitha's Tales.
Aug 01, 17 10:41 PM

Create writers by teaching descriptive writing using modeling. Examine and copy the great authors descriptive writing styles - as a way to teach and develop your own.

Aug 01, 17 09:47 PM

Charlotte Mason Education is an atmosphere, a discipline, a life. What the Charlotte Mason Motto means.

Aug 01, 17 12:43 AM

Aesop Fables are an excellent starting point for homeschool Language Arts lesson plans based on Literature. New Aesop's Fable Bundle available. printables to enhance fables for kids.