Time Traveler History Study Series
by Christine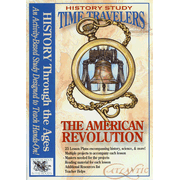 We first attempted a Charlotte Mason approach to our homeschool this past year, and although I am happy with the freedom and real-learning it offered us, my 10 yo ds really needed something to do with his hands.
We added the Revolution study into our schedule at the end of last year...what a resource! There is everything in these unit studies that you could ask for...and more.
We are definitely adding in the following studies this year and are looking forward to the creativity and inspiring look into history that Time Travelers gives us!
Join in and write your own page! It's easy to do. How? Simply click here to return to Curriculum Review.
Apr 27, 17 08:55 PM

Design your homeschool history curriculum for the age of revolutions with the best history resources, living books and great history project ideas.

Apr 26, 17 07:03 AM

A homeschool history unit study approach is a very effective way to teach history to a variety of ages; Use history topics, themes or even literature as a base. Here's how.

Apr 25, 17 11:14 PM

Not to be missed! 3 Days only .. and a way to enhance all of your homeschool studies across all subject areas! It's the best time to buy Notebooking Pages!