Time Traveler History Study Series
by Christine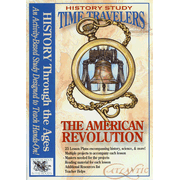 We first attempted a Charlotte Mason approach to our homeschool this past year, and although I am happy with the freedom and real-learning it offered us, my 10 yo ds really needed something to do with his hands.
We added the Revolution study into our schedule at the end of last year...what a resource! There is everything in these unit studies that you could ask for...and more.
We are definitely adding in the following studies this year and are looking forward to the creativity and inspiring look into history that Time Travelers gives us!
Join in and write your own page! It's easy to do. How? Simply click here to return to Curriculum Review.
Nov 27, 16 08:53 PM

Homeschool Freebies and Giveaways - latest 2016 homeschool competitions to win amazing curriculum and resources

Nov 25, 16 08:45 AM

Now, until midnight November 30th, 2016, you will have a chance to buy and download any of my Design-your-homeschool.com ebooks for half the price! You won't see this advertised on the Ebook pages, bu…

Nov 17, 16 10:24 PM

Thinking about learning stages helps to focus our attention on the best teaching methods, what to focus on and real life learning in their stage.