2022 Homeschool Planner 
Letting you get on with what is important in life!
Complete home school planner details
Simplify your homeschool life by creating your own homeschool planner.    Homeschooling can sometimes feel busy, tiring and overwhelming! Often that's because your head is swimming with lists and things that you will hope you'll remember.   
I felt exactly the same way and so created one book - a homeschool planner in which everything could be written down so my mind did not need to retrain it all!
A 'homeschool planner' needs to focus on more than just homeschooling -so this planner includes space to write plans, ideas, books, meals, menus, timetables so that you can focus on the important things of life!
If you're needing a comprehensive planner to grab all of those loose ends and put them in one place - you'll love the DIY Complete Homeschool Planner 2021 - 2022.
2022 Additional Pages Included 
The DIY Complete Homeschool Planner is a downloadable e-book. If you're ready to get organized, now is the perfect time to print off the exact pages you need. 
Buy for $9.95US and you will be sent an email to download your planner.
Ready to Prepare... Plan.... Organize … Enjoy 
Your Complete Homeschool Planner - DIY! has everything you need to get started.
Download and use any of the Homeschooling forms (all created for 2021- 2022) to create your own unique planner. Print it, Bind it and it will help you keep on track and focussed for the whole year! .....
Complete Homeschool Planner - With Extra Covers!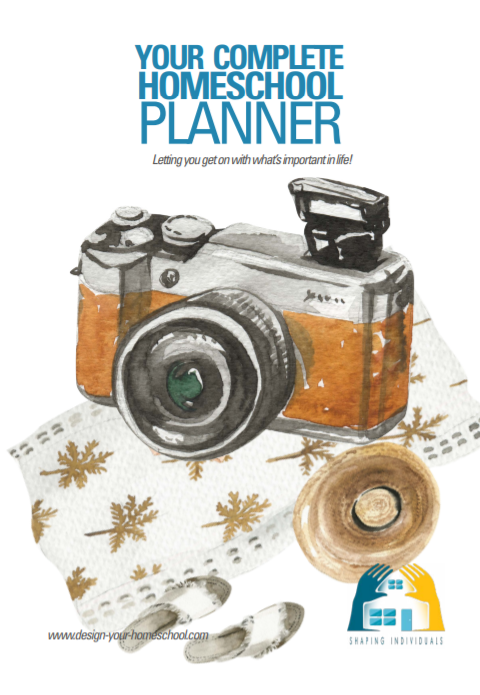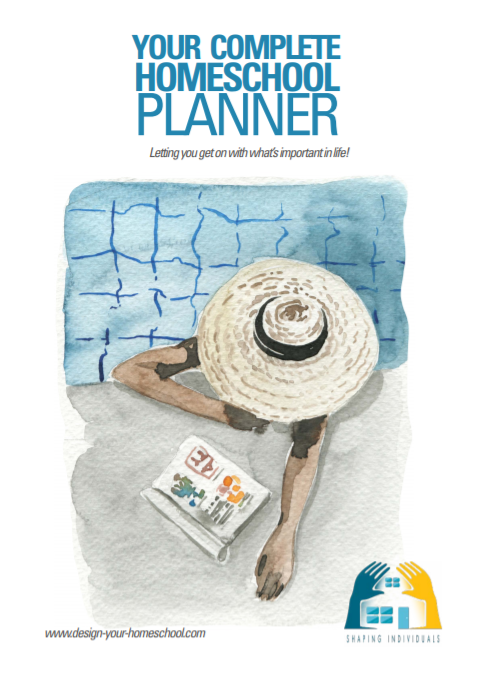 ---
---
What's included in the Complete DIY Home school Planner?
Household Planner Forms-
Weekly Activities and Routine Chart for Mum
Daily Routine Chart (for Mum)
A weekly Chore Schedule
Weekly Meal Ideas
Weekly Shopping List
A Generic Shopping List
Zone Areas for cleaning
Address page.
Calendar Pages - 2022
Choice of 3 cover pages in Portrait design
Both landscape and portrait possibilities for all planning and calendar pages;
Additional pages for 2022
All Your Homechooling Needs-
Timetables and Schedules
Appointment and Activities page
Assignment Checklists (for multiple children)
Weekly Assignment Charts
Daily Assignment Charts
Booklists for multiple children
Address List
Notes Page
To Do Lists
Ideas page
A4 pages, both landscape and portrait ... and more.....

 Buy the DIY Planner here for US$9.95
Your Complete Homeschool Planner - DIY! is absolutely complete with forms for all your homeschool and household needs.
But it is more than that! 
Looking for some homeschool guidance?
DIY  Home School Planner - written as a Guide
Your Complete Homeschool Planner - DIY! is written as a guide. It is written to help you plan and design your planner. It gives you advice on how to put it together, how it can be arranged, how you can get organized and how to use your planner. First, when you open your planner - go to the Landscape pages and you will find a descriptive guide helping you make decisions and choose what would work for your family and how to use this organizing tool.

Open Plan and Lined layouts
Also ... the Complete Planner - DIY! has open plan pages especially designed for those who like to brainstorm and mind-map. Some people prefer to work inside tables, others like to think visually in open spaces. Your Complete Home school Planner allows you to do both.

Landscape and Portrait Options
And... Your Complete Home school Planner - DIY! comes in both landscape and portrait format. Personally, I like to work in a landscape format and have my planner open on my desk. But, others may prefer to work in a Portrait Homeschool Planner.
It's your choice!

Suits a range of Homeschool Approaches
Planning forms for different Approaches - DIY!
Also, Your Planner - DIY! helps you to plan whether you like to write the details in at the beginning of the week or alternatively, record your learning experiences at the end of the week. I find myself doing a bit of both throughout the year and depending what we are doing.
There are pages which suit the Charlotte Mason approach, Unit Study approach, Tapestry of Grace and other History-based homeschooling and Textbook approaches.
Whichever way you approach homeschooling, the planner can be made to suit your needs.
 
Where to from here?
 Keep on Track - Simply Stylish Home school Planner!
More on Homeschool Organization