What is a Home School Unit Study Approach?
The Home school Unit Study Approach is a way to study a particular topic, theme, character trait or project in an integrated way.
Firstly, you need to decide on the topic to study. The choice is limitless here. It may be an interest area of one of your children, or directly from your current studies.
What does an integrated Unit Study look like?
Once you've chosen your topic to use for the unit study, this can be a springboard for all sorts of activities which can be studied over a period of time covering a wide range of subject disciplines. The topic can incorporate language arts, maths, science, history, art, craft, handcrafts, drama, physical education, nature, fine arts and whatever area the topic can be successfully applied to.
Hands-On Approach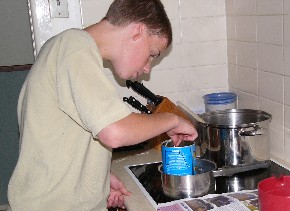 Candle making while studying Colonial Crafts
Unit Studies are a fun approach to learning and absorb so much of the child's interest and experience in such a way that learning becomes real and a part of their life.  That is because it is such a hands-on approach.  Learning which is acquired in this way, especially since it is so concrete (making things, building, researching), and inter-related, is often retained far better than if the same information were just read from a book. 
It is an approach which suits families with a variety of age groups, since activities can easily be tailored to suit the age. For example, when we were learning about the human body - the younger children could be involved in creating a larger than life model of the ear and all its workings, while the older children can explain what each part does - create a powerpoint to go with 
Unit studies will mostly require more time to prepare, depending on the complexity of the topic and the activities. However, this can be part of the experience of learning.
Sit down together and choose a topic.  Then, using a large piece of paper - brainstorm what you already know, and what you'd like to find out about this topic. Go to the library, collect some books and find projects you can do together or individually that would help gain understanding of the topic.  Often the books you select from the library will have project ideas: how to make a costume in the time period, cooking related food, building cardboard shield or sword; creating a model.  As you discuss all the things you could learn about - make a list of topics to study;  Ask each child how they will show what they have learned.  Will they present it in a speech, a powerpoint, a video, a play?  Will they create a model and show their grandparents?  This is a good way to bring the learning together to a culminating point and also a good way to finish.  I have written more about this in encouraging self-directed learners. 
Unit Studies as a useful tool to creative thinking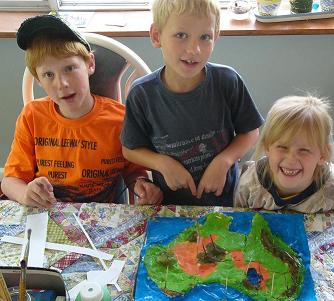 Creating a salt dough map
Even if you did not use the homeschool unity study approach for your child's entire education, it can be a useful tool to use to study a particular interest, or focus on a character trait which needs particular attention at that time. 
Using home school unit studies can also allow the children to be actively involved in pursuing an interest, researching, and choosing appropriate projects which relate to the topic being studied and becoming self directed in their studies.
Unit studies also allow your child to shine in their own particular field. When a certain topic is studied, they may choose a particular activity which suits their character and allows them to present their learning in their own unique way. Perhaps they will draw or make a period costume as an expression of reading about a particular time period. They may choose to make a model, do a drawing, paint, make a lap-book, cook, write, or make a power point presentation. 
We have used homeschooling unit studies in our children's education. From our understanding of God's world, we know that life is inter-related. All of life is Education and to educate is to see the way in which God's world is inter-related. It is a rich experience to study a topic so well that you live it, enjoy it, taste it, hear the sounds, and soak in the atmosphere enough to articulate all that you have learned and enjoyed in a written and oral way. This is the possibility of the homeschool unit study approach.
To help you think this through, have a look at some unit study ideas.
Questions may be helpful to Brainstorm your home school unity study topic.
Pros of the Unit Study Approach to Homeschooling
Positives
Fun and engaging,
Interest driven.
Suits variety of ages- good for families.
Can be developed to suit the individual child.
A way of integrating their learning.
Hands-on-projects.
Can suit a range of learning styles.
Requires and encourages research skills.
Cons of the Unit Study Approach
Negatives
Can take a lot of time to prepare.
Requires a great deal of parent involvement (is this negative or positive?)
Requires research if you prepare one yourself.

Content Ideas for your Home School Unit Study
For example, you may choose to study:
Science topic:
Historical character:
Alexander the Great
Ghengis Khan
Hudson Taylor
Historical time period or war:
World War 1
Colonial Times
Middle Ages
Ancient Egypt
Bible Theme:
The Judges
Creation
The Gospels
Character Traits:
Unit Study Resources
KONOS - is an integrated approach to learning dealing with character issues and weaving many disciplines into the study.  We have used this for years at the beginning years of homeschooling.
Amanda Bennett is well known for her Unit Studies.
CurrClick is an excellent place to find Unit Studies on a huge variety of topics;  If you're studying something, you can bet that someone has created a study for you to follow;
Time Travelers History Series is also a useful resource when studying time periods using a unity study approach.
Find History Unit Studies here at my Homeschool History Resources page. Each historical time period lists historical fiction, spine books, reference books and unit study ideas.
Read about Amanda Bennett's Unit Studies and leave your review.
More on the Home school Unit Study Approach:
Where to from here?