Finishing the Race - How Home Education Prepared me for Life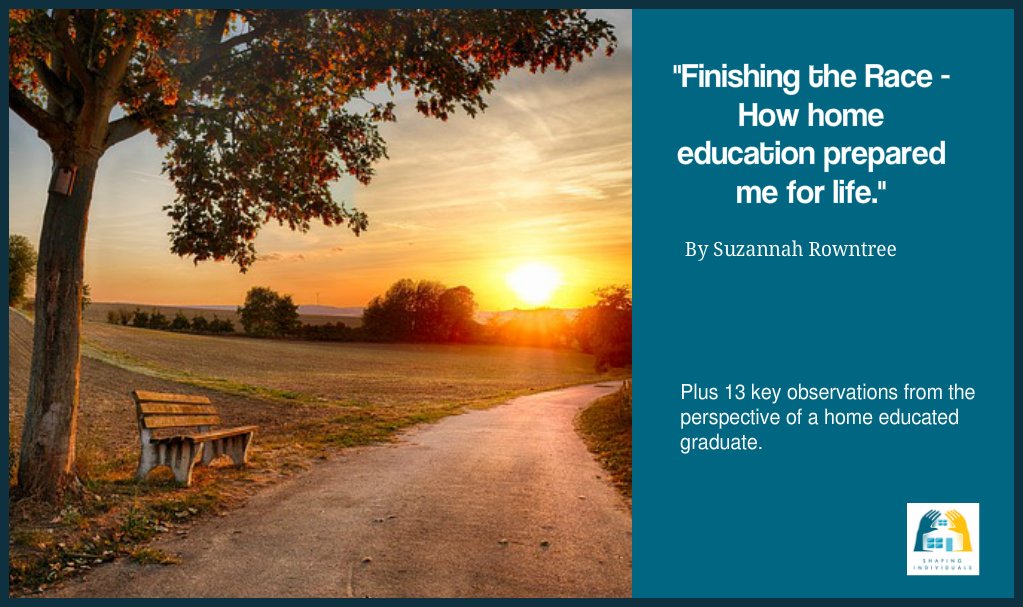 Suzannah Rowntree led a workshop on Home Education Graduates in May, 2015 and I have stumbled on it once again, and since it's so good, I would like to share it with you all.
The article describes in detail the life and experiences of 4 home educated students and what their life looked like during the homeschooling years and afterwards.
They are certainly inspirational stories and she begins by saying,
I want to begin by saying what I'm not here to tell you. I'm not here to tell you how to do your job of raising and training your children. I can't do that because I've never had children, and I've never had the training of them. All I can do, and what I want to do today, is simply to share my experience as a home educated student, along with the experiences of some others who've walked a similar path. Most of all, I want to take this time to honour the wonderful parents, my own first, and you second, who have made this decision to put your children's training above your own free time, disposable income, and in some cases, social acceptability."
At the moment, home education can still be an unpopular choice, and sometimes it can be a difficult choice. What I want to do today is to tell you how immensely rewarding it is, and how deeply grateful I am to my parents for sticking to home education through the tough times.
Today I'm going to give you profiles on four young men and women I know who were home educated all the way through "secondary school", and show you how their start in life being home educated has had some amazing repercussions on how they now live their lives. I also want to spend some time sharing some of the most important things I learned from my parents and provide examples of how they and other parents have prepared us, the home educated, for life beyond the school years."
The article ends with 13 excellent observations about homeschooling.
Here are the first six:
1. Reading aloud to children is the best way I know of to wake a lifelong love of reading and therefore, learning.
2. Textbooks are a sure-fire way to kill curiosity. Instead, seek out real, living books to bring a subject alive.
3. Elder siblings can have a powerful impact for good on younger siblings' education.
4. It's getting easier and easier for home-ed students to access tertiary education without needing a school certificate.
5. Don't put too much stock in a university degree. Ultimately, it's a good work ethic, self-motiviation, and experience that will set you ahead of the pack professionally.
6. The two most important things you can give your children are worldview discernment and Christian character. Academics will flow naturally from that; not the other way round."
It is well worth the read.
Continue reading "Finishing the Race - How Home Education Prepared me for Life"