Homeschool Preschool Ideas
Homeschool Preschool Ideas 

Giving your  preschool children what they crave - You!
Looking for homeschool preschool ideas?  Fun things to do, without burning out? Great - that's what this page is about!

If you only have little ones,  you will read this differently - because your whole world centres around them, their interests, their time, their routines and you are only homeschooling preschoolers.
However, if you have a few other children who are older, then you're looking for those great ideas as to how to keep homeschooling and everything else going while you have a busy little preschool aged child around.
You don't want to treat them like they are an interruption to your "homeschool" day but you do need some tactics to keep their little minds active and involved as well as filling up their "mummy" time.
To find out more about setting a routine and scheduling with little ones - go to my homeschool preschool sample daily schedule page.
Homeschool Preschool Ideas - can be quite simple...

As you read about what others have done or are doing, you really need to remind yourself that it's stuff you can do in your day without too much extra fuss. And the subject matter is really easy to talk about in a very natural context of your home.

When you're talking about Weather, it might be cute to have a cool weather chart with the sun and clouds, rain etc - ... but you don't need it! You can look outside, have a walk, talk about what you might wear today after looking at the weather - getting your umbrella or coat if it's cold and wet; grabbing your sunhat and putting on shorts when it's warm.
Math is pretty simple at this point! There are so many things in daily life that can be discussed and chatted about in mathematical language. Consider some of these simple, daily tasks that are mathematical in nature.

When you're making a cake or setting the table, you are measuring and counting.  One plate, one spoon, one fork, one knife for each person ... Can you put these things on the table for our family? One glass per person? Pairing socks is also a great way to match items;  organizing drawers; organizing the shoe cupboard or lining up shoes in the house in size order; Finding shapes around the house; Looking for shapes as you walk along the road or drive in the car; Locating and recognizing numbers on houses, on number plates.
The Calendar - As you begin your day talk about the name of the day; Have a wall calendar on which you talk about the month, the birthdays coming up, the occasions you have planned, the season.  As you read books together, ask - do you think it's winter or summer in the story? Why?
The beauty of nature walks and outside adventures, is that Science is all around you and is a springboard for so many questions and topics to investigate. Did you find a bug on your walk?  Go to the library and research it. Read about it, watch  it grow, learn what it eats...
Choose a plant or a tree and draw it on a weekly basis - take note of what it is like today - look it has buds on it! What colours can you see?  Look it's lost it's leaves! :( Why did that happen?

Letters and Words!  There are so many wonderful things you can do to identify and play around with letters. You can look out for them on signs and in the books you are reading aloud;  You can find them on houses or on shop windows or on Street signs;  You can look for them on the advertising material that comes into your home or on newspapers. Cut out different letters; Draw big letters in the sand; Write big letters in chalk on your footpath;  Make letters out of playdough;  Sing songs and rhymes about the different letters.
My point is - that even without any of the homeschool preschool ideas below ... you can make your own homeschool preschool by talking together, observing, visiting the library, reading books, speaking to other people, and making fun, silly games with no prior preparation.

Preschool Playground - huge amount of homeschool preschool ideas, activities from SchoolhouseTeachers
However, if you're looking for a simple, all-in-one place solution which you can do with your preschooler, then you will love the Preschool Playground by SchoolhouseTeachers.com

This has everything in one place and you can totally pick and choose exactly what you would like to do with your children. I am blown away by the amount that is included if you are a SchoolhouseTeachers member. A ton of courses for your whole family. 
This amazing deal will give your kids access to all the playground has to offer. Your little ones will not be left out at all as they will have access to a wide variety of videos, printables, and activities that teach the Bible, the alphabet, and even sports and hobbies!

See the whole range of Preschool Playground here.
I have chosen just 3 out of the wonderful selection of homeschool preschool ideas by Schoolhouse Teachers:

Small World Sensory Science Preschool Activities
Learn more about Small World Sensory Science
Small World Sensory Science: introduce preschoolers to the world around them through sensory tubs and other sensory activities. Each week includes a science theme and instructions for how to create the sensory activities using the resources you have on hand. What I really love about this course is that it acknowledges the importance of play for little ones. For example in lesson 2: The Wind, the children will play with bubbles, balloons, sailboats, paper fans, and wind chimes.  In lesson 3 on the Ocean, children will craft a jellyfish and create an edible personal ocean.  Every child love to mix, measure, fill and pour - and that's what they'll do in lesson 4. The course is a downloadable pdf of 12 lessons written to the parent. I would print off all the lessons and then schedule it in to a certain time of your day.  

Charlotte Mason Preschool Activities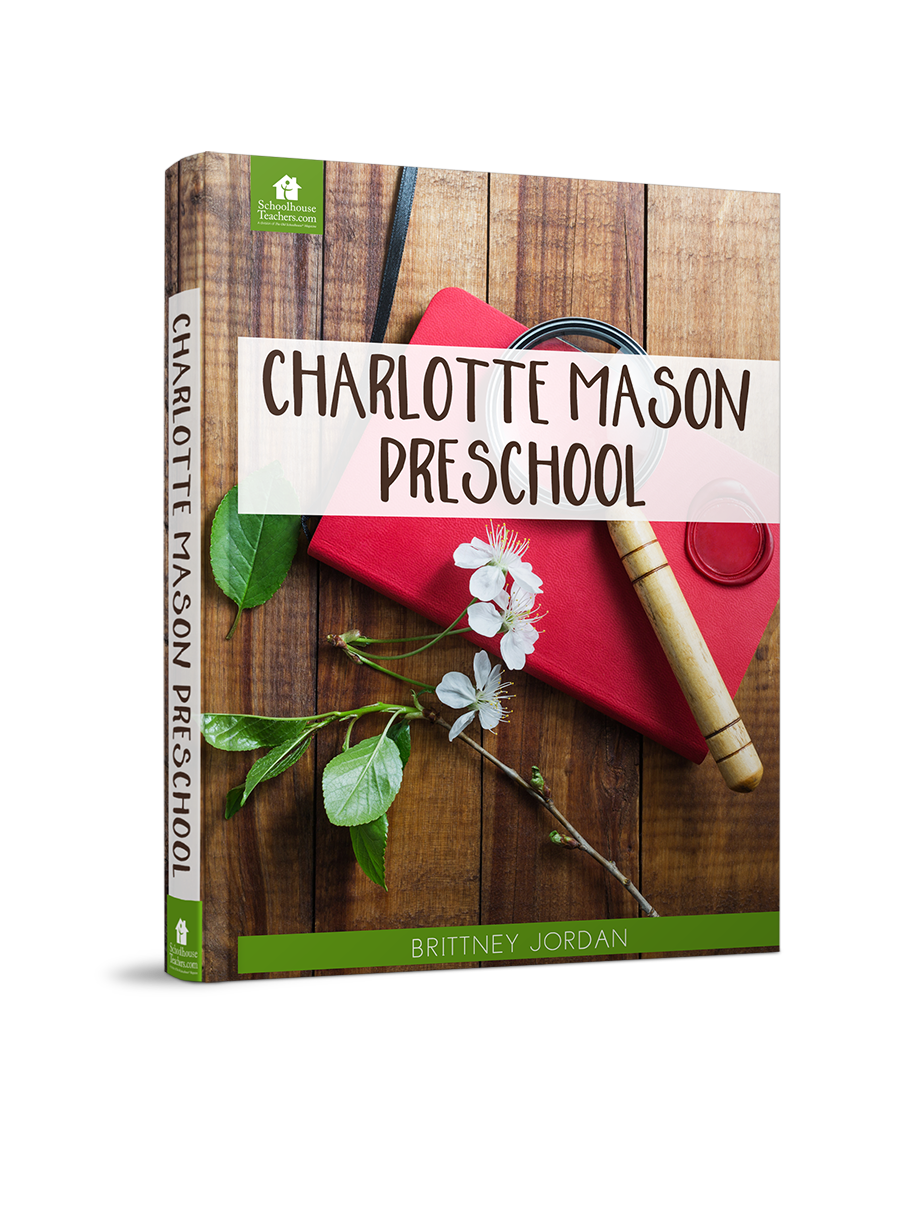 Learn more about Charlotte Mason Preschool
Charlotte Mason Preschool - Oh... I love this course! Once again, this focusses on play and exploration, but is really helpful to the homeschool parent who is juggling so much already!  Included in this course are monthly outlines with four weeks of lessons, each based around a nature study theme. Additional activities for your preschoolers are handicrafts (creating something useful and beautiful developing fine motor skills and hand-eye coordination), fine arts (including picture study, music appreciation and/or poetry) and living books (some books suggested with each unit). Each week's homeschool science lessons contain only 3-4 activities so that the young learner has plenty of time for free play, exploring outdoors, and even working on their handicrafts. 

Preschool Playground Language Arts
Learn more about Preschool Playground Language Arts Activities
Preschool Playground: Language Arts: With 65 different activities and activity ideas, this collection can be used to supplement early learning or as part of a complete SchoolhouseTeachers.com Preschool Playground curriculum.  The hands-on activities give young learners practice with the alphabet, spatial skills, colors, and more. Some ideas are to find letters which are placed throughout the room, or clap your hands when you see the letter at home or when out and about; draw letters with chalk and play hopscotch; make letters with different mediums; cut out pictures from magazines and create your own alphabet book...  
Homeschool Preschool Ideas  and Themes
So, having given my warning ... I would like to add some theme based homeschool preschool ideas, lessons and preschool activities which can easily work in a homeschool setting. There are so many free themes and preschool activity ideas online but to be truthful, it takes quite a bit to find the 'good' ones. So, to help you sort out the best homeschool resources,  here's what I've found.
 A great place to begin is with Ellen's fantastic set of Weekly Preschool Theme Units. There is such a great range of ideas here which will certainly keep any little fingers busy and fully engaged in learning.
Here's a few suggestions in Math, Letters, Science and Art and Crafts.

Homeschool Preschool Math Activities
These sites are filled with excellent homeschool preschool ideas: 

Preschool math activities involve learning about numbers, counting and quantity. Concepts like time, money and measurement, problem solving skills, vocabulary and ... Read More...  Preschool Math Activities, Preschool Math Ideas
The Measured Mom: Check out this post for 8 preschool math ideas using toy vehicles! More here... 8 Preschool Math Ideas -- using toy vehicles! 
No Time for Flashcards: Math Activities. Sorting, shapes, patterning and of course counting are all activities that develop strong math skills. Read more... Math Activities - No Time For Flash Cards ; Also has Letter of the Week ideas. 
Letters of the Week - Preschool Phonics
Letters of the Week are a great way to teach the alphabet. Of course, you don't need to do them in order or even do one a week - but the ideas are great for teaching your preschoolers at home.

Crystal and Comp: A collection of letter of the week crafts to do with your preschooler. ... Activities and crafts featuring the letter A. ...Read More...  Letter of the Week Crafts - CrystalandComp.com
DLTK's Letter Crafts:  Letter A alphabet crafts and ideas for preschool and kindergarten children. ... Look around the site - and you'll see activities for each letter of the alphabet.  Read More...DLTK's Letter A Crafts for Kids

The Measured Mom has a big collection of Letter of the Week. This is her crafts and ideas for the Letter W.  ...Read More... Letter W Activities - The Measured Mom

PrintNPractice - Worksheets all in one place!

Little ones need practice to write their letters and numbers and that's why I love these Worksheets from PrintNPractice.com
Preschool Homeschool Science Ideas
Preschool Homeschool Art / Crafts

 You will find that as you do the "Letter of the Week" or Themes (such as the ones from Cutting Tiny Bites) - you will be adding in craft ideas naturally. But here's some other ones I found which are worth mentioning:
Busy Bee Kids Crafts. Fun, Easy and Inexpensive Kids Crafts Ideas for Toddlers, ... Read more... Busy Bee Kids Crafts: Fun and Easy Crafts for Kids
ABC Home Preschool has many free craft ideas including Pine-Cone Crafts, Paint Crafts, Shaving Cream Crafts & Tissue Paper Crafts. Lovely ideas here:  Preschool Crafts : Arts and Crafts : ABC Home Preschool
Allkidsnetwork.com:  This site has a great selection of crafts including holiday crafts, alphabet crafts, educational crafts, animal crafts. Really worthwhile checking out: ...Read more...  Craft Ideas - Kids Crafts, Kids Activities ...

Need a Homeschool Confidence Builder?