Homeschool Preschool Daily Sample Schedule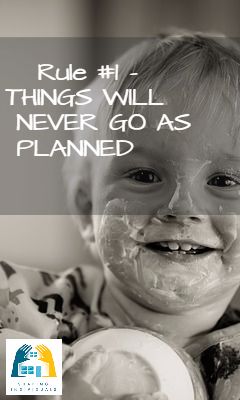 Homeschool preschool daily sample schedule - What does that look like?
Well, in truth ... homeschool schedules are different for every family and whether you have a preschool child as your eldest child or as your youngest will make a difference as to what it may look like.
I have always tried to keep a little rule about "filling up" the little ones first. Everyone wants mum, and I've found that if the little ones have spent time with you, one to one, individual care, some special words, doing a chore together, reading a story or playing a game - once they're "filled" -  they can quite happily head off to play and demand less from you.  So, I would always try to make time for the littlest ones first and then work my way up to the older ones, who need you in a different way, but have also learned to wait.
The Warning about organizing your "Homeschool Preschool" Days
Before, we discuss these great homeschool preschool schedules... there is a warning!
Don't get too strict about organizing a whole bunch of stuff for your little one!

The chances are ... your day will not turn out like you planned ... and it will leave you feeling frustrated and very annoyed that all your wonderful  homeschool preschool ideas and activities don't get done!  Everything that comes in the way will feel like a horrible interruption and you'll miss out on the fun of just being together!
So, the best way to look at homeschooling a preschooler is to have them alongside of you through the day, talking about everything and anything. Have some things up your sleeve and if it doesn't work out for that day, you can pull it out another time.
It's ok to have an  IDEA  of what your homeschool preschool daily sample schedule might look like ...

It's ok to have a plan;  It's fine to prepare ...

and it's good to have some type of routine or rhythm for your day with little ones  
but remind yourself to be flexible!

Don't expect to do all activities that you might read about.
Don't expect to have the same finished products you see on Pinterest!
Don't expect too much!
Enjoy the ride and the experience. 
Enjoy the different directions you will go because of an interest or because of something you've just talked about, or because of a book you've read.
Just go with it!
Homeschool Preschool Daily Sample Schedule
Our homeschool preschool schedule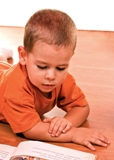 In the days when I was homeschooling preschool children, I tried to settle into a routine. It was a time of learning through day to day activities and setting up a pattern for our days. 
The times are not really important. It was more the pattern for the day...
This has been a basic preschool schedule we have used over the years:
Breakfast - as the children awoke. Mine were not early risers; 
Cleaning up - cleaning up after breakfast, brushing teeth etc
Getting dressed and ready for the day;
Bible Story Time
Writing in their Bible Story Notebook - they would narrate the Bible story to me and then I would write it in their notebook and they would draw a picture; Sometimes they would colour in a picture from the Bible Timeline Picture Book.
Calendar Time - we would look at the day, the month, the weather and talk about the seasons, what to wear etc;

Morning Tea 
Read Aloud time - we would choose some books to read aloud. They would choose their favourite books and I would read some around the theme.
Activity - a focus for the morning; This could be a craft activity centered around a letter of the week,  or a number or on a theme (plants, insects..)
Play ...
Lunch...
Quiet Time after lunch (rest time in their rooms - mum would rest too!)
Use this editable homeschool schedule to create your own routine for your homeschool preschooler. You can download this page, type directly into it and customize it to suit your family. When life changes .... as it will.... you can create another customized homeschool schedule to suit the new plan. 
Ellen from 'Cutting Tiny Bites' describes her preschool day
 "This is not so much of a schedule as it is a rhythm, since I can't bear to put us on an hour-by-hour rigid schedule.  Lena is a young 4, and Maggie is almost 2 1/2."
 She describes how she makes her time through the day from a very early start  (5-7am) until she drops on the couch (8pm).  This is what her morning looks like and click the link to read more from her awesome blog.
5:00-7:00- Personal time for me.  I know!  It's early!  But my husband has to get up this early anyway, and I can't really sleep in once he's up.  So I just get up and make some good use of the time.  I write, plan, shower, drink my coffee, and eat breakfast.
7:00-8:00- Lena is awake, but Maggie is still sleeping.  We use this time for Lena to practice her reading, to finish a few morning chores together (packing a lunch for Dad, unloading the dishwasher), or for me to read aloud from a chapter book.
8:00-9:00- Maggie is usually awake by 8:00.  The girls have breakfast and then help me to clean up.  I try to read aloud during breakfast, since I have a captive audience.  Then we move upstairs to do some quick chores like laundry or vacuuming.   If we have time before the day's school or adventure, Lena practices violin.
School Days
 9:00-11:00- Dedicated school time.  The girls work in their Daily Notebooks.  Then I typically take turns working with each of them individually on whatever skills or activities they are doing.  They both do the same crafts, and many of the same gross motor and fine motor activities, modified for their individual abilities.  If we finish with all of our planned activities before 11:00, we read books together. 
 11:00-11:30- The girls watch TV while I prepare their lunch.  If I have any patience left, they help me get lunch ready.  Normally, though, we are ready for a break!  I try to find things related to their weekly theme for them to watch.
 11:30-12:00- Lunch.  Sometimes I read aloud.
12:00-1:00- Lunch clean up, room clean up, and nap prep. 
Non-School Days
9:00- 1:00- Adventure!  Sometimes the girls' grandparents or aunt comes to play with them while I run errands.  Other times we go to the zoo or the aquarium.  Lena has a couple of lessons during the week.  Sometimes we run errands all together.  We try to be home by 1:00 for nap time.
To Find out more....  Home Preschool Schedule | Cutting Tiny Bites
Keeping Organized - Preschool Schedule Ideas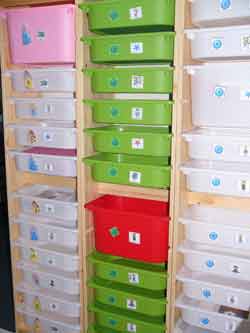 Worboxes to plan your day
There are several ways to keep things organized in your homeschool with your preschoolers.
Keep a Routine.    If you set up a "routine" in your home, you and your children can get to know what to expect.  It might be "craft-time" after morning tea and everyone knows that the fun activities will come out at that time. They'll look forward to it and know that once it's done - it's time to pack up again before lunch.  Whatever you decide to do is fine, but having a plan in your mind and also in their heads is helpful.
Everything has its place.   This is really important if you want to keep a bit of order in your home!  Get some boxes or crates to store your craft items and decide which ones will be accessible to them all the time  (like a craft corner) and which things you will store away for special times.  Help your children to get into the routine of packing up after they have played with an item before they move on to the next thing.  You can label containers and teach them to place the items back into the correct spot after use. 
Workboxes   You may like to work with the idea of workboxes - into which you place the things they will do that day.  It might be a puzzle in one box, a counting activity in the next box, a book to read in the next box, a colouring in ....  There are several ways this can be done.  Have a look at how .. sets up workboxes in her home.
How to Organize your Homeschool Workboxes
Using and setting up workboxes is fun and easy to do. I really love what Beth from 123homeschool4me says here: .....

Preschool Boxes

Minnie is doing an alphabet based preschool program this year with lots of play, books, and practice cutting, pasting, and playing with numbers. She has 5 boxes – one for each day of the week. I know some people use 5 different boxes every day, but the time commitment to change them out every day was unrealistic for me. I like this system.

During the weekend I fill her boxes for the next week

I put worksheets, manipulatives, activities, and hands on learning fun in each of the five boxes. Then we are all set for the week – one day at a time. Minnie loves seeing what's in the box today!

Read More... Our New Workboxes

More Workbox Ideas to organize your homeschool
Here are some more really helpful hands-on ideas for using workboxes to organize your homeschool preschool ideas.  You can place items in the boxes, puzzles, games, activities and the child can move from one to the other.  There are good explanations on how it can work for different children and different ages.
Montessori Inspired Workboxes for Preschool and Kindergarten via Montessori Inspired Workboxes for Preschool and Kindergarten
Need to Get Organized? Check Out Homeschool Workboxes from the Heart of Wisdom site: ... Read More...  Need to Get Organized? Check Out Homeschool Workboxes

Where to from here?
Design your own Homeschool Planner