Setting Homeschool Goals for Your Family
Step One: The Homeschool Goals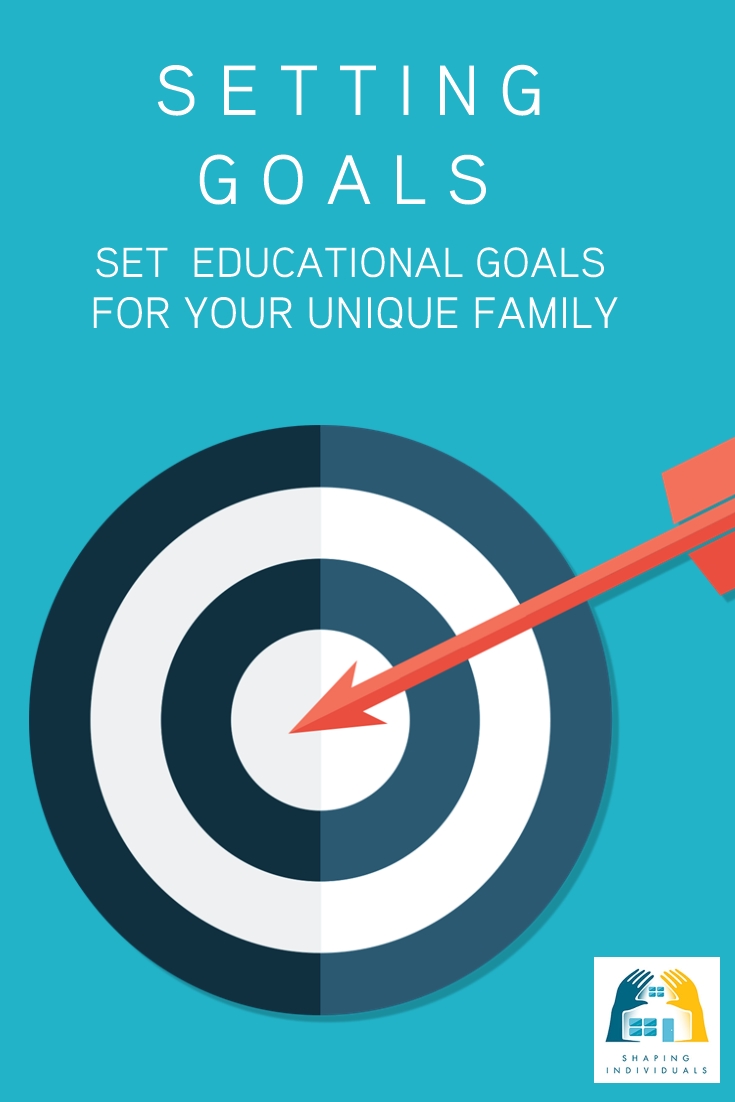 When you as a husband and wife decide you need to set educational homeschool goals for your family, you must find some time together to discuss and write. Go out for coffee with a Bible, two notepads and pens, and be prepared to discuss and write.
Are you convinced that this step is necessary? If not read Setting Homeschool Goals- Is it really important? and then continue.
In order to set your family educational goals, you need to spend time thinking what education means to you.
Write educational homeschool goals for your family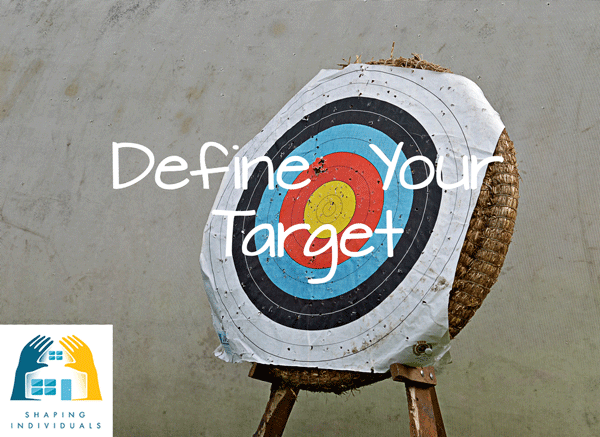 Write the educational goal for your family in one statement

The first thing you need to do is take time and consider questions about Christian education and what it means to you:
What do you understand the Bible says about education?
What is your ultimate goal for your children?
What is the big picture?
When they leave your home, what sort of person do you want them to be?
How will you equip them for life''s journey?
What is the vision of your family?
Gather your ideas and then write out this broad educational homeschool goal for your unique family.

To develop sub-goals, consider what you want to teach

The next thing you will need to think through are the courses you want to teach and some more detail of what you want your children to know.
Chris Davis, from the Elijah Company, spoke at our first Big Picture Conference in Sydney, in 2004. I have used his suggestion on planning a course of study and found it to be very helpful.
He divided his family goals into three broad areas. 
Firstly, we are to be concerned with Relationship goals. What is the use of an academic child, who has no relationship with His heavenly Father, and who has not learned how to live in company with others?
Secondly, we are to be concerned with Practical Goals such as sewing, learning an instrument, money management and
thirdly with Academic Goals.

I have expanded each of these "homeschool goals" or "family educational goals" with some ideas. However, please make your own goals. These are just suggestions. Your list will not be the same as mine because you are developing your own family's educational goals. Your list will be unique.
There must also be some family decisions as to what all your children will be required to do, and also flexibility according to the gifts and talents of each of your children. There would also be differences to your requirements of a boy and of a girl. These things must also be discussed. 
Now for more detail:
Relationship Goals
Chris Davis further divided these family goals into four areas: Eternal Relationships; Relationship with Myself; Relationship with Others; Relationship with Creation.
Eternal Relationships: Write down how you intend to develop eternal relationships in your home.

Some ideas may be: Teach how to read the Bible; Memorize scripture; Memorize the books of the Old and New Testament; Teach the Bible stories; Teach how to use commentaries, Bible Atlas, Dictionary etc; Teach how to write a Bible Study; Read through the Bible each year with your child; Teach how to be a Godly man/woman; Teach a Biblical language: Greek/ Hebrew; Teach how to use a concordance; Teach a Biblical overview- Creation-Fall-Redemption; Teach overview of Bible books- summaries; Teach how to maintain devotions and a prayer journal……


Relationship with Myself: Write down how you intend to develop positive personal relationships in your child.
Some ideas may be: To work hard and persevere in Music; To follow an interest, develop a hobby; To be neat; To keep an ordered room; To develop good study habits; To maintain a prayer life/ journal;....


Relationships with Others.Write down how you intend the goal of positive relationships with others in your child.
Some ideas may be: Learn to greet visitors, welcome them and look after them in your home; Teach good phone skills; Teach to be good listeners; Teach to interrupt correctly; Teach to share; Teach them to be other-centered; Teach love to others through service....


Relationship with Creation. Write down how you intend to teach a godly relationship with Creation. 
Some ideas may be: Teach how to garden; Composting; Worm gardens; Teach names of plants/ animals; Teach how to observe, enjoy and take notes of nature; Teach how to care for animals/pets; Teach respect for life; Teach God's purpose for man as having dominion over creation – how do we do that? Look for ways to create/ build/ develop aspects of God''s world.....


Educating the Whole Child - More than Academics
This Student planner helps you to keep records using a simple homeschool record keeping template. It is designed to keep the whole child in view - thinking about the relationship, practical and academic homeschool goals. Find our more about easy record keeping with this Student Planner.

Practical Goals
Under this main heading, you need to write down the specific educational goals you want to develop in your child in practical areas. This list will include all aspects of practical living that you consider to be important for your child/ children to know.
Some ideas may be:
Sport: Play a team sport; Achieve a certain standard in self-defence; Teach to swim
Cooking: Here's some essential family goals for life: Teach to bake; Teach how to prepare and cook ten meals; Teach dietary knowledge; Teach ways to be economical – in shopping, in planning, in storing food….
Sewing: Teach basic sewing skills to both boys and girls- sewing on buttons, ironing…
Music: Teach competence in an instrument
Cleaning: Teach how to maintain a clean home; Make own cleaning products…
Money Management: Teach economics, Teach how to begin a small business, Teach how to keep records of finances; Teach Biblical principles of money management..
Car Maintenance: Teach how to change a tyre, change oil, clean the car…
Starting your own business…..
........
Journey Cards - Your Special Delivery of Encouraging Quote Cards
Academic Goals
This is the area in which we develop academic homeschool goals in subject areas such as Maths, Art and so on. These goals will also be unique to your family. One family may consider that a Science curriculum needs to include Biology, Chemistry and Physics etc, where another family will deem it more profitable to use that time in Literature or Worldview or History studies. Some families who follow a more delight-directed approach, may decide to plan in only a few of these subject areas, and allowing the personal development of interests to fill in the details at a later date. We need to be faithful to what the Lord requires of us as parents and keep our focus on what He calls us to do and teach. There is room to have diversity as we set our family educational goals. Once again, these are suggestions which I have added to help you see the possibility of the scope of what you may teach. Each area will be developed according to your family's educational goals.
Some suggestions here are as follows: 
Language Arts:
Reading: Teach to read using a phonics based approach (LEM- Light Educational Ministries has a very comprehensive program to teach Reading through phonics/ spelling/ writing);
Literature: Teach to read a variety of literature; Teach to analyse literary forms; Teach how to discern what is the best literature; Teach the child to narrate and develop comprehension skills¦
Writing: Teach writing skills from words-sentences-paragraphs-essays. Teach writing techniques; Teach writing forms- creative writing, descriptive writing, narratives, poetry, plays¦. (See my article on Ways to teach Writing)
Speaking: Teach formal guidelines on how to deliver a speech and how to read well to an audience.
Handwriting
Spelling
Grammar
Vocabulary
Reference and Study Skills
Bible:
Math:
Teach basic knowledge of Maths- Numeracy, Counting, Addition, Subtraction, Multiplication, Division, Money, Time, Measurement, Area, Perimeter, Volume, Fractions- all operations,
Graphing,
Problem Solving,
Teach more analytical maths- Algebra, Geometry... ?
Science:
Teach God's power in Creation and the natural world
Observation and Love of nature- nature studies
Division of Sciences: Life Science (animals, human beings, plants)Earth Science and Astronomy Chemistry Physics
Computer Literacy:
Languages:
Latin/ Greek/ Hebrew
Modern day language- a reflection of your family and culture.
Art:
Drawing skills
Using a variety of mediums: Pencil/ charcoal/ watercolour/oils/ ink/ Sculpture: clay, wood, limestone, tiles, mosaics
Textiles rug-making, knitting, crochet, quilts, clothes. - Craftsy Courses
Worldview Studies:

Law:
Information:
Knowing good authors;
Knowing how to do research

How to find Information;
Using the Library
Using the internet for research
Before we choose materials to help us put these decisions into action, to pursue our own family educational homeschool goals, let us consider some Guidelines for choosing homeschool curriculum.
Where to from here?
Are you still unsure of setting your own family educational goals? Return to The Goals Overview Page
Ready to move forward?  Go to The Curriculum or Course of Study