How to Teach Reading - The Tools to Help Homeschooling Families teach Reading
If you are wondering how to teach reading, this reading sitemap  links you to tools, ideas and resources to help the homeschool family with beginner readers.
The pages below help you to select classic literature to read aloud to your children, link to reading games and fun reading activities, reading strategies, favourite read alouds and ways to teach phonics. This is the Teaching Reading Sitemap page.
We teach our children to read so they may enjoy literature, read widely, read for pleasure and research. We teach reading so we may grow in knowledge and understanding; so we may learn from others who have walked before us; to understand our Maker and to search out His truths in Scriptures; to help us grow in wisdom.
Reading Resources and Homeschool Curriculum Recommendations
Starfall.com
From one homeschooling mum's perspective:

As a parent I visited the Starfall.com and my two children had a great time by themselves for twelve months before formal education and when it came to leaning letter names and sounds I found that they had already picked most of them up and teaching them to read has been a breeze. This is colourful, interactive, and tasteful associations used. You can also for free print readers colour or black and white for children to colour themseves making a more personal reader. Its great and I recommend it highly.
Since these skills are basic to life in the world, to understanding, to communication, I believe that learning the skills of language arts should be foremost in all our education. And, that's why you're here searching how to teach reading!  It is great to have the ability to explore many facets of learning and to be useful with our hands, but I believe that our focus must be firstly on these language arts skills, focussing on the written and spoken word. We need to understand our own language, use it, develop it, write it and speak it so that we can communicate and interact in a meaningful, thought-provoking, enjoyable way with others.
Language Arts with Literature? ... The Hobbit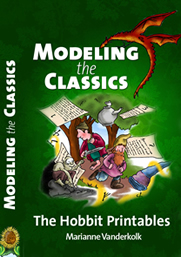 If you love reading aloud and you love "The Hobbit" - here's a way to include literature into a language arts curriculum which includes reading, writing, spelling, vocabulary and stylistic elements.
Where to from here?