Reading to Children: Homeschool List
of Classic Literature to Read Aloud
Reading to children is one of the most effective ways to develop life long lovers of books and readers in your homeschool. It certainly is a difficult job to put together a list of classic literature to read aloud for a homeschool or any family.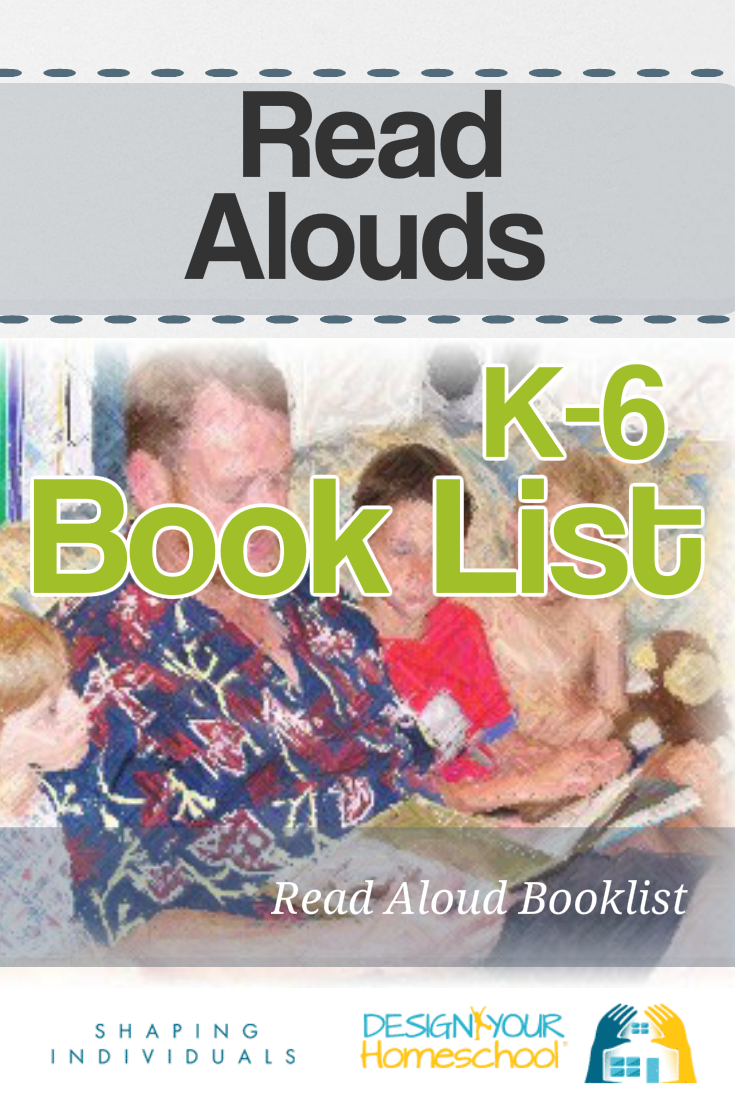 In creating this homeschool reading list of our classic literature to read aloud, I have chosen our most loved books.
The Year 4-6 children may be able to read the Read-Aloud Titles in the Years 1-3 booklist. However, they are so special to read-aloud. I believe they will gain far more snuggled up close to you listening to these absolutely wonderful living books, than reading them on their own. I hope your family enjoys these books as much as our family has. If you have a suggested read aloud - please add it to our Homeschool Families Read Alouds page.
Here's some ideas on how to use this homeschool reading list of classic books ideal for reading to children.
Choose some classic books from the categories as it suits you. 
Copy and Paste the book list into a Word document table - and check off what you have read and when.
Divide the literature list into years. There are more than 24 books in the Read-Aloud sections. If you read 8 each year, you are doing really well!
Those books you can't read aloud, can be added to the list of books you'd like your children to read when they are able.




The highlighted childrens literature are our absolute favourites!

Reading to Children : Homeschool Reading List - Years K-3

Winnie the Pooh Stories by A.A.Milne
Little Mrs Pepperpot by Alf Proysen
Hans Christian Anderson Fairytales
Brother Grimms Fairy Tales
Frog and Toad are Friends and others by Arnold Lobel (I love these!)
Aesop's Fables
Just So Stories by Rudyard Kipling (I couldn't quite get into these.. but I know others love them)
Jungle Book by Rudyard Kipling
Wizard of Oz by Lyman Frank Baum
Charlie and the Chocolate Factory by Roald Dahl
Mouse on the Motorcycle and Others by Beverly Cleary
Henry Huggins and other Henry stories by Beverly Cleary
Mr Popper's Penguins by Richard Atwater
Charlie and the Chocolate Factory by Roald Dahl
James and the Giant Peach
Fantastic Mr Fox by Roald Dahl
The Velveteen Rabbit by Margery Williams
Puppy Summer and Others by Meindert de Jong
The Wheel on the School by Meindert de Jong
The Reluctant Dragon by Kenneth Grahame
The Trumpet of the Swan by E.Nesbit
The Railway Children by E.Nesbit
The Little House on the Prairie Series by Laura Ingalls Wilder
Charlotte's Web by E.B.White
Cricket in Times Square by George Selden
Velveteen Rabbit by Margery Williams
The Lion, the Witch and the Wardrobe by C.S.Lewis
The Magician's Nephew by C.S.Lewis
The Wind in the Willows by Kenneth Grahame
The Tale of Peter Rabbit and others by Beatrix Potter
Years 1-3 Classic Literature - Excellent Literature List from Christianbook.com
Want to add another book you've read in your homeschool? Visit our Read Alouds page and tell us what you have been reading to your children.

Reading to Children: Read Aloud Book List Years 4-6
Prince Caspian by C.S.Lewis
The Voyage of the Dawn Treader by C.S.Lewis
The Book of Virtues by William Bennett
Moral Compass by William Bennett
A Christmas Carol by Charles Dickens
David Copperfield by Charles Dickens
Carry on Mr.Bowditch by Jean Lee Latham
Book of Three by Lloyd Alexander
The Borrowers and Others by Mary Norton
Dear Mr.Henshaw and others by Beverly Cleary
Five Little Peppers and how they Grew and Others by Margaret Sidney
Around the World in Eighty Days by Jules Verne
Twenty-One Balloons by William Pene du Bois
King without a Shadow by R.C.Sproul
The Hobbit by J.R.R.Tolkien
The Iliad retold by Alfred J.Church
Tales from Shakespeare by Charles and Mary Lamb
Shakespeare's Plays - A Midsummer Night's Dream;
-The Comedy of Errors
-As You Like It
-Hamlet
-Macbeth
The Pilgrim's Progress by John Bunyan
Odyssey of Homer retold by Alfred J.Church
Freckles by Gene Statton Porter
Girl of the Limberlost by Gene Statton Porter
Hans Brinker or The Silver Skates by Mary MapesDodge
The Prince and the Pauper by Mark Twain
Heidi by Joanna Spyri
Little Women and Others by Louisa May Alcott
Parables of Nature
The House of Sixty Fathers by Meindert de Jong
Peter Pan by Sir James Barrie
Mary Poppins by P.L.Travers
The Velveteen Rabbit by Margery Williams
Excellent lists from Christianbook.com

Years 4-6 Wonderful Selection of Literature
Is this book available on Amazon Kindle? Search here
More Literature Lists and Homeschool Reading Resources
The 1000 Good Books List It is a listing of the books that 25 homeschooling mothers have come up with over the course of a year's time through discussions of criteria to use in choosing a good book, and many other discussions about individual titles to include or exclude. How did they judge what to include?

The criteria we used to judge inclusion are: Does the book have literary value? Does the book re-emphasize a Biblical worldview or the Judeo-Christian heritage in some way? Does the book teach, through whatever means, what is moral or just or true? Does the book encourage to love and good works? Does the book exemplify warmth, tenderness, courage, humor, and other values and characteristics that we desire our children to be exposed to? Does the book nourish the intellect and fire the imagination? Does the book cross age barriers to be enjoyed by all?
Glencoe Literature Library Download various Study Guides for excellent Literature. A huge selection.

The Baldwin Online Children's Literature Project. The Baldwin Project seeks to make available online a comprehensive collection of resources for parents and teachers of children.

Project Gutenberg Over 20,000 free books to read online or download. Instructions for each book. Search for your favourite author. A great way to build up your collection of books when reading to your children.


More on how to teach Homeschool Reading
All literature can be used as  part of an integrated approach to teaching reading, writing, spelling and handwriting.  How can you create a language arts lesson based on literary works?
Read more language arts lesson plan ideas here.
If you love, The Hobbit, you would love using an integrated approach to teaching language arts as I have done in Modeling the Classics - The Hobbit.
Where to from here?