Editable Homeschool Printables
Homeschool Printables
Are you looking for homeschool printables?  Sick of using the page only once?
This page is especially geared towards printables which could be downloaded and printed off, as well as editable printables- ones which have been created to be added into, printed and then used again.
Editable Homeschool Printables 
The editable printables below can be downloaded and then data can be typed in via the editable pdf form. Once completed, you can print it off and then use it again.

Booklists - edit this booklist for your children and add a monthly booklist
Weekly Assignment Charts
Weekly Assignment Charts for 2 children
Timetable in 30 minute blocks

Customize the Booklists
Buy these Booklists for your children and then type directly into the form. Print it off and start again each time. You can use this as a booklist per term. Add in the books which you would like them to read over the term or month and create a new list when it is completed.

Customize these Homeschool Schedules and Checklists
Use these downloadable forms to make your homeschool schedules and weekly assignment charts. You can type directly into the form once you have downloaded it and print what you've done. Begin again and type in the assignment for your next child.
It can be used again and again and will help keep you organized from week to week and term to term.

Family Schedule (2 pages)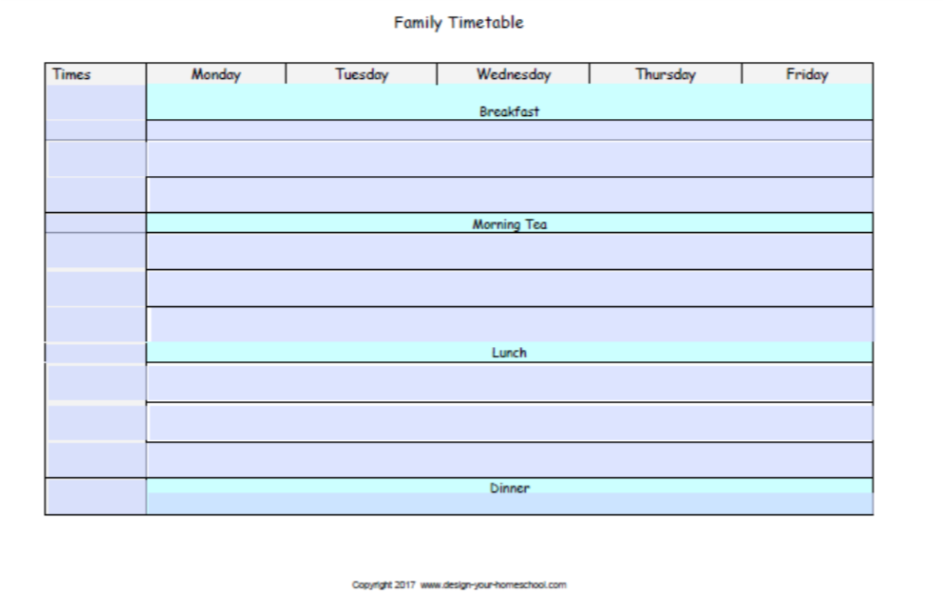 Weekly overview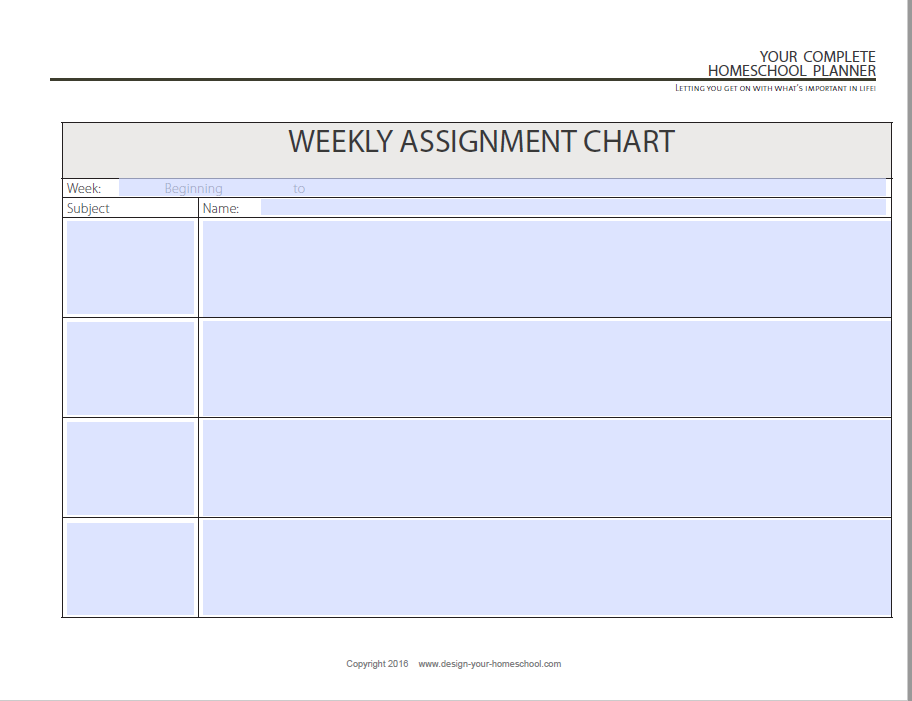 Assignments - large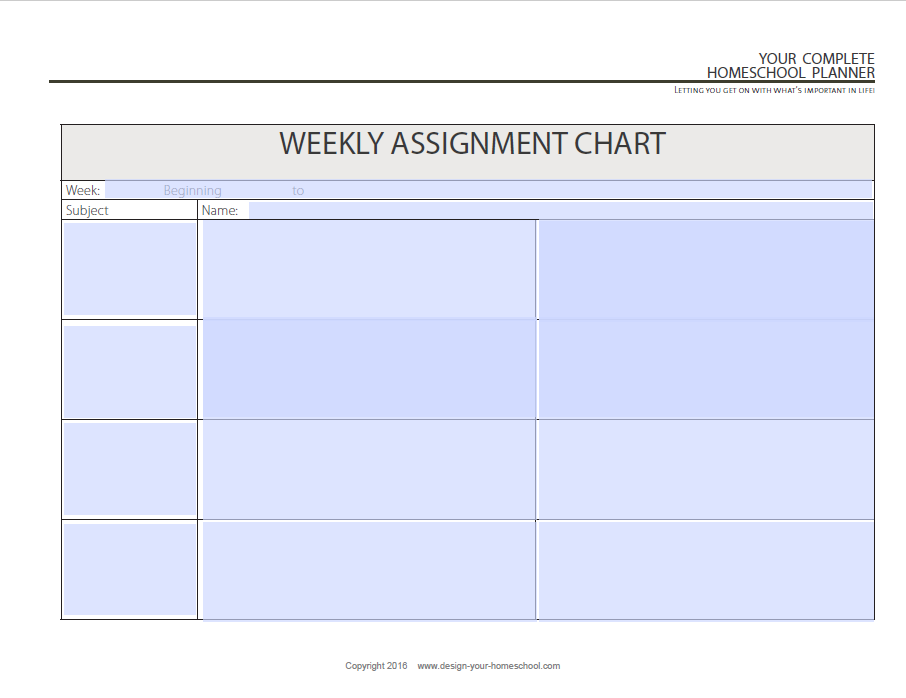 Assignments - 2chn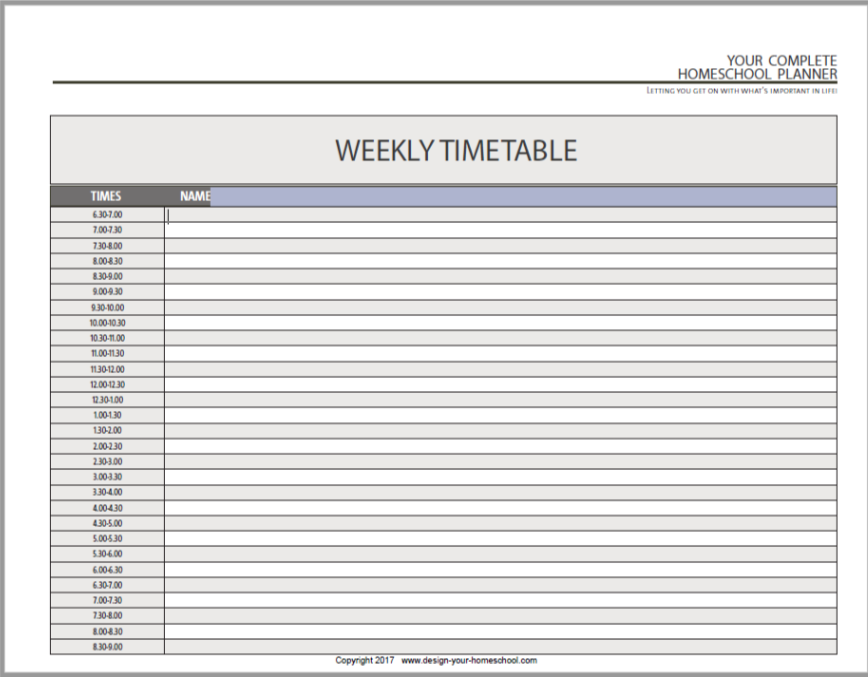 Weekly schedule 30mins
Editable Complete Homeschool Unit Study Planner
So... you're a 'Designer'!

That's great! 

This Unit Study Planner will help you design your own unit study.

Using my step by step pages on designing a Unit Study - you will love using the templates within the Homeschool Unit Study Planner.

These Templates will help you brainstorm under subject headings, brainstorm the theme and sub-topics, add a topic overview using different template ideas, list activities, list your books and resources and add ideas and activities into weekly planning pages - over 1 page or over 2 pages.

E-books containing Homeschool Printables
These Homeschooling Language Arts Ebooks, Aesop's Fables, Hobbit E-book contain printable handwriting worksheets around the model being studied; These are available in both printed and cursive fonts; Also included are lined printable pages for various ages - some with dotted third printable writing paper;
These Language Arts Ebooks also contain beautiful illustrations from the model that is studied. The illustrations are either border the page or at the top or bottom of the page.
The illustrations are in both colour and black and white, allowing it to be a printed colouring page.
Language Arts Ebooks
Combine language arts in an integrated way and simplify your curriculum and life!
Modeling the Classics - Bundle of 5 Aesop Fables
No need to stress out with writing when you can use these wonderful models from Aesop's Fables as a base to develop thoughtful, creative writers. Bundle of 5 Fables!
Aesop's Fables Bundle
The Aesop's Fable Bundle Ebook uses the same ten step approach to creating integrated lesson plans from a fable. The Bundle E-book  is between 150 - 180 pages and is available in 3 fonts - Manuscript Printing, D'Nealian and Cursive and contains:
Language Arts Lesson Plans based on Fables - A Step by Step guide...

5 Fables

 An Outline of the approach....

Copy work Pages (either Manuscript/ D'Nealian or Cursive)..... 
Read more about the Aesop's Fable Bundle here.

Aesop's Fables - Individual Ebooks
Prefer to work one fable at a time? A simple yet effective approach to writing -even for the reluctant writer.
Where to from here?