Homeschool Music Sitemap
What are the elements involved in teaching homeschool music?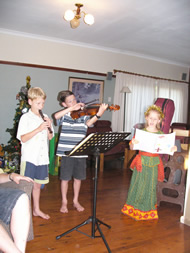 Perhaps you don't think that your family is very musical and perhaps right now, none of your children are learning a musical instrument, but may I suggest to you that in teaching music, our children learn and develop these skills:
Focused Attention
Long Term Memory
Visual and Auditory Processing
Logic and Reasoning
Above and beyond the skills above, there are some obvious benefits to studying music and learning an instrument. These include:
Becoming a part of a community of musicians;
Learning that perseverance carries its own special reward, and its own special recognition.
Leaning to be a part of a group like an ensemble or a band and being an important spoke in the wheel.
I think we would all agree that music can enrich and add to our appreciation and enjoyment of life.
Some thoughts on music teaching ideas.
Here are some ways in which you could teach homeschool music:
Learn a Musical Instrument
You can either:
Encourage your child to teach themselves
Teach your child an instrument. I find teaching a recorder a great place to begin. It is easy and quick to learn and at the same time your child will learn many elements of music theory. You may be interested in introductory and continuing Recorder Books from How Sweet the Sound Studios.
Find a teacher who loves to teach the musical instrument your child is interested in.
Look for online music lessons. In this computer age, there are online music courses using video and audio.
Teach Violin -Schoolhouse Teachers have online violin lessons and I am very impressed with the preview which I have seen of this course. 
Muscial Appreciation
Musical Appreciation - is all about listening to music and appreciating different composers, genres and instruments. Here are some music resources to help you:
Famous Composers CD Series
Placing Music into its Historical Context
Music throughout History - Placing music in its historical context helps us to see the integration of life and culture in the lives of various musicians. Not only do we read about the musicians, listen to their music, but we can place them into the time period, study the philosophies of the age, learn about their contemporaries and view the art work of that same time period. We can learn about music throughout History using CDs, different curriculum and reading certain books.
Read more here for some ideas.
Teaching Music Theory: Home School Music Curriculum
Home School Music Curriculum :

Elements of Music

- If you would like to teach Music Theory and Appreciation, you will love the systematic approach in The Elements of Music by Wendy Hill.

The Elements of Music course uses the God-given physical senses in a wide variety of ways to help students appreciate and discover more about music and its Maker. Read more here.


Classical Destination Music Course - more about this soon.
Using Music across the Curriculum
Where to from here?

My Solo Build It! Diary
Page built in Solo Build It 2.0