HOME

›
Subjects / How to Teach Reading
› Candy 4Way Phonics
Teaching Phonics with Candy 4 Way Phonics Curriculum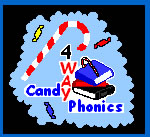 Back in the year 1956, a little first-grade girl named, Candy, struggled to read. It was so sad, because Candy had entered her first grade school year with high hopes of learning to read only to have her hopes squashed and her self-image crushed.
However, Candy's true story doesn't end there because not only did little Candy receive the reading help she so desperately needed, but in just six months, because of the reading instruction she received, Candy went from being the worst reader in her class to being the best reader in her class as a direct result of her phonics instruction.
Today, Candy can read every word on every page of every book placed in front of her.
So what was the secret to Candy's reading success? What was the teaching phonics secret? The end of Candy's reading struggles arrived when Candy was sent away to a little white cottage behind her school to receive extra reading instruction that utilized three phonics approaches: Synthetic, Linguistic, and Analytic. As a result, Candy learned how to sound every word on every page placed in front of her.
So how can teaching phonics help the children of today? Today, teaching phonics can utilize that same phonics system that taught little Candy to read back in 1956. It is available for purchase, except that it has been upgraded for today's generation of children. Moreover, Candy's 3WAY Phonics approach has now become a 4WAY Phonics approach with the addition of Rs: A Phonics: rhyme, rhythm, and alliteration.
The author of the Candy 4WAY Phonics Curriculum is Carol Kay, a retired reading and phonics Christian school teacher and tutor for over 28 years (and a very close friend of Candy's).
The Candy 4WAY Teaching Phonics Curriculum, a complete Systematic, Intensive, Synthetic, Phonics-First Curriculum is available as a complete downloaded package program for $34.95
Every Candy 4WAY Phonics Package includes:
An 82-page eBook entitled: How to Teach Candy's Systematic 4WAY Phonics
An easy-to-understand "How to Follow this Program" guide.
100 4WAY Phonics daily, fun-to-read lessons (packed with rhyme, rhythm, and alliteration)
20 Sequenced Candy Readers
Rhyming Alphabet Charts with Multisensory Vowel Helps
Rhyming Alphabet Flashcards
10 Lifetime Rhyming Phonics Charts
Sequenced Phonics Drill
Pronunciation Keys
Free Email Coaching from the President of Candy 4WAY Phonics
The Candy 4WAY Teaching Phonics Curriculum is a thorough, fun to use, step-by-step and easy-to-understand 4WAY Synthetic Phonics First Curriculum that will carry a child from Age 4 all the way through to a Grade 4 reading level and higher.
Whether parents or teachers make a purchase or not, free email coaching for their reading/phonics questions is available from Carol Kay, the President of Candy 4WAY Phonics.
~ Candy 4WAY Phonics sells affordable phonics curriculum, multisensory phonics flashcards/wall cards, phonics file-folder games, and language arts products ~
See the Candy 4WAY Phonics website for more details.
How have you used this curriculum?
Sometimes it is really hard to work out what is the best homeschooling curriculum for your family.

Tell us how you used this curriculum.

Show us an example of a project you created using this curriculum. How did you mould and integrate this curriculum in your family? Will you continue to use it?.... Your answers will help another homeschooling family make a curriculum choice!
Homeschoolers Curriculum Reviews
Click below to see curriculum reviews written by home educators on this page...

Candy 4WAY Phonics Review Not rated yet
The Candy 4WAY Phonics Program is one step at a time instruction and fun and easy for your child to use on a daily basis. When the author advertises …
Where to from here?