HOME

›
SUBJECTS / Homeschool Art Sitemap
› Ways to Teach Homeschool Art
The Best Ways to Teach Homeschool Art
How can we teach homeschool art to our children so they can express themselves creatively? Some children love to let the creative juices flow and parents just need to encourage and provide resources and ideas, but for others, parents need to be far more directive in order to help their children to experiment and enjoy this dimension of their being.

Here are some ways in which we can teach Art in our homeschool.
Creating and Utilizing an Art Corner
Firstly, you need to have all sorts of materials around. If you are able to set up a small area in your house, where the materials are kept and can be readily available, that is ideal.
Depending on the age of your family, you could have coloured scraps of paper, scissors, glue, old magazines, coloured pages and cardboard for finished creations.
We have an stack of drawers called our "Making Boxes" and inside those boxes we have all sorts of things you may need to create a card, draw a picture, find the pens, glue, paper etc.
Making Time for Homeschool Art Projects
The second most important ingredient to teach art is time. You cannot expect masterpieces in a quick, hurried 15 minute time-slot. My children often draw (with fine-tipped felt pens, pencils, textas, pastels, or crayon pastels) while I am reading aloud. They illustrate some of their notebooks or work in their Drawing books.
Homeschool Art Textbooks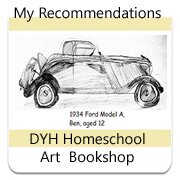 As in all other subject areas, Art has its foundations, rules, techniques and styles which can be taught one principle at a time sequentially. This is not to say that in the midst of all the foundational teaching, there is no room for creativity. Rather, while we teach the foundations, we are giving children the tools to be creative.
Barry Stebbing Art Curriculum
We have used some Homeschool Art Curriculum and Texts to teach Drawing. I have used Barry Stebbing's Art Books.
These have been great to teach art - specifically, drawing with pencils and markers and painting step by step. With my young children, I introduce the concept and do a brief drawing myself and then they continue to work in their own art books on that particular lesson. They continue to draw and colour, while I read aloud. The older children, can pace themselves through the book and learn by themselves.

Artistics Pursuits
This homeschool art curriculum is comprehensive, teaches the Elements of Art; observational skills; views the works of artists and looks at the Principles of Design; and encourages unique, original work which is a culmination of the unit. Included in each book is a set of fine art reproductions focusing on a particular time period. More information on Artistic Pursuits
The Artists and their Art - How to make Art History come alive!
Through the years, I have been able to pick up prints, calendars and magazines which deal with one artist at a time. A great place to look is in secondhand bookshops. You could also buy 250 Masterpieces in Western Painting .
Study one artist at a time, view their art, close your eyes and try to picture it, talk about everything you can remember about the painting. Use the art as a basis of your own creations. You can choose to study the artists chronologically or in styles (Impressionist/ Renaissance Artists and so on). Study the artists as you study history chronologically.
Read about the Artists and their lives. Choose excellent living books (rather than encyclopedia articles) to understand their life and to see them in their context. This makes the artist real and puts them into history as a real person. These have been very beneficial as we travel through history.
Some books which also explore the artist's style are the series, "What makes a Degas… a Degas?" The artists which this series covers are: Degas, Monet, Rembrandt, Van Gogh, Leonardo, Picasso, Cassat, Bruegel, Goya, Raphael, Renoir.
Another book, which we enjoyed using while studying the Impressionists is Picture this! by Joyce Raimondo. This is from the Art Explorers Series. There are a number of activities which you can do with your children to copy an artist's work and style.
Copying an Artist as we read about their lives has been a great way to recall their style and their favourite subjects. Everyone in our family remembers that Edgar Degas was the one who painted the ballet dancers, because we copied his painting with pastels. Copying an artist's work or style leaves a lasting impression.
Art in History - Observation of Art Time Periods
In our homeschool Art studied in its historical setting, has enabled us to appreciate and interact with different types of art forms and see changes in cultures and style.
We noticed that in ancient Egypt, the paintings followed a rigid formula: broad shoulders, narrow hipped figure, wearing a headdress and a kilt, standing rigidly or in the guise of hunting, one arm on either side of his body and one leg advanced. In Greek, we saw a breakthrough in realistic work, in which some say the birds even came down to peck at the fruit in the murals. We have also been able to see how art is an expression of the culture and the philosophies of the time period.
A huge amount of our homeschool art is done in this way. As we study the time-period, we add information about artists into our history notebooks. We teach Art in the context of history. We also spend a great deal of time adding artistic details to our history notebooks of the time period such as dress, soldiers and their uniforms, the weapons of the time, the houses and architecture, and also portraits of famous men of the time period.
I incorporate stories about artists in our read-aloud times, and I also use, "Art in Story",
which has been a great book of short narrations of the lives of artists followed by some ideas of how you can work with their art.
Another great book we have used is called, "Famous Paintings". This book has been very useful to me as it describes the story behind the painting, especially for children.
The most important thing you need to look for in a book is its narrative. If it captures the interest of the child through a story, it is far more likely to make an impression on the child and the memory of the art lesson. We have also enjoyed The Famous Men of the Renaissance and Reformation.
"The Arts of Mankind" by Hendrick van Loon is also useful to discuss art in context.
Art Projects - the funnest part!!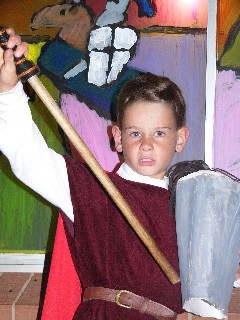 This is a very broad subject and can include many different art mediums across the curriculum areas. We have used paper mache for castles and horses, knights helmets (Middle Ages).
We have used plaster of paris when we made small frescoes (Renaissance time-period). We created costumes and armour as well as painted on windows.
We have made a large models using paper mache and wire to create a town scene for cars and train tracks.
This was huge! We also made a large mosaic of a Biblical event. We used oil paints and copied some old masters during our Renaissance study. We have used pottery at others times and used the pottery wheel to make cups and vases. We have enjoyed limestone sculpture and chiseling away at large and small limestone rocks. It is also great to create from nature: – pinecones, clay, gum-nuts and so on. Allow all of your experiences and learning become homeschool art projects!
Nature Books - Taking note of Art all around us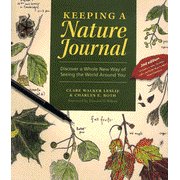 This has been a lovely way to enjoy art and nature simultaneously. Once again, this is a part of our homeschooling I love, but it tends to be neglected. I wish this wasn't the case. I have the most beautiful resources for making a lovely Nature Journal. It is probably one of my most loved books on my shelf. I just melt when I look at this book for inspiration!
Teaching Elements of Art - focus on one element at a time

I have already discussed the Elements of Art in the Art Overview , and one way to teach Art is by focusing on one element at a time, exploring it, observing it in nature (God is always the author; Man just recognizes what He has already place there), viewing it in works of Art and then using it in one's own original creation.
Go to Teaching Elements of Art
Artistic Pursuits is a curriculum which teaches the Elements of Art in this way.
Teaching the Techniques of Art
By teaching Art Techniques you can work on Art projects and explore painting, drawing, modeling and sculpture, print-making, pottery, handcrafts and so on. If you teach art using the techniques, it is good to spend some time with each technique and explore it in various ways.
Where to from here?