HOME

›
SUBJECTS / Homeschool Art Sitemap
› Ways to Teach Homeschool Art
Art History Homeschool Ideas
Art History, homeschool ideas to integrate art and history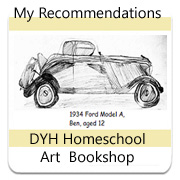 To teach art history in your homeschool, you need to have access to a lot of art pieces.  When going to second hand shops, I always keep on the look out for prints, calendars and magazines as this really helps to teach art history by focussing on a time period or on one artist at a time.  A great place to look is in secondhand bookshops. You could also buy 250 Masterpieces in Western Painting .
Study one artist at a time, view their art, close your eyes and try to picture it, talk about everything you can remember about the painting. Use the art as a basis of your own creations. You can choose to study the artists chronologically or in styles (Impressionist/ Renaissance Artists and so on). Study the artists as you study history chronologically.
Read about the Artists and their lives. Choose excellent living books (rather than encyclopedia articles) to understand their life and to see them in their context. This makes the artist real and puts them into history as a real person. These have been very beneficial as we travel through history.
Some books which also explore the artist's style are the series, "What makes a Degas' a Degas?"The artists which this series covers are: Degas, Monet, Rembrandt, Van Gogh, Leonardo, Picasso, Cassat, Bruegel, Goya, Raphael, Renoir.
Another book, which we enjoyed using while studying the Impressionists is Picture this! by Joyce Raimondo. This is from the Art Explorers Series. There are a number of activities which you can do with your children to copy an artist's work and style.
Copying an artist as we read about their lives has been a great way to recall their style and their favourite subjects. Everyone in our family remembers that Edgar Degas was the one who painted the ballet dancers, because we copied his painting with pastels. Copying an artist's work or style leaves a lasting impression.
Art History, homeschool ideas to teach art in its time period
In our homeschool Art studied in its historical setting, has enabled us to appreciate and interact with different types of art forms and see changes in cultures and style.
We noticed that in ancient Egypt, the paintings followed a rigid formula: broad shoulders, narrow hipped figure, wearing a headdress and a kilt, standing rigidly or in the guise of hunting, one arm on either side of his body and one leg advanced. In Greek, we saw a breakthrough in realistic work, in which some say the birds even came down to peck at the fruit in the murals. We have also been able to see how art is an expression of the culture and the philosophies of the time period.
A huge amount of our homeschool art is done in this way. As we study the time-period, we add information about artists into our history notebooks. We teach Art in the context of history. We also spend a great deal of time adding artistic details to our history notebooks of the time period such as dress, soldiers and their uniforms, the weapons of the time, the houses and architecture, and also portraits of famous men of the time period.
I incorporate stories about artists in our read-aloud times, and I also use, Art in Story   which has been a great book of short narrations of the lives of artists followed by some ideas of how you can work with their art.
Books to teach art history in homeschool reading times
Another great book we have used is called, "Famous Paintings".  This book has been very useful to me as it describes the story behind the painting, especially for children.
The most important thing you need to look for in a book is its narrative. If it captures the interest of the child through a story, it is far more likely to make an impression on the child and the memory of the art lesson. We have also enjoyed The Famous Men of the Renaissance and Reformation.
"The Arts of Mankind" by Hendrick van Loon is also useful to discuss art in context.
Where to from here?