Schoolhouse Teachers Online Courses

Learn more about PreK–8 Quarterly Membership to SchoolhouseTeachers
If you've been on the fence about SchoolhouseTeachers - now is the perfect time to try it out with the Ladybug sale! Pay only $27.97 for a PreK–8 Quarterly Membership (reg. $37.97). That's less than $10 a month! Code: LADYBUG.

Pay only $27.97 for a PreK–8 Quarterly Membership (reg. $37.97). That's less than $10 a month! Code: LADYBUG.

When you sign up,  you can gain access to every subject for every grade. Also enjoy a wide variety of resources including foreign language classes and music lessons.

Looking for supplemental classes for your students or just fun activities over the break?  Take on a new challenge by providing your children with a wide variety of new opportunities such as violin lessons, home economics, or photography while using SchoolhouseTeachers.com! These classes and hundreds more are available at one low cost for your family!
What does SchoolhouseTeachers include?
Schoolhouse Teachers.com is the homeschool curriculum site of The Old Schoolhouse Magazine.  The online, self paced courses are written from a Christian worldview and available to be downloaded and printed or viewed online.  As it covers the entire family, the cost of Schoolhouse Teachers Online Courses are very affordable. Once you are a member of the site, you do not need to purchase particular courses - but you have it all at your fingertips for the duration of the month or year depending if you buy a monthly or yearly membership.
As said previously, I have not used many online homeschool curriculum, and I cannot speak about the content of Schoolhouse Teachers from the perspective of one who has used it with my family.  However, I have my own membership to check out the range of courses.  As I've investigated, it's been wonderful to recognize authors who have prepared the online classes from other curriculum or other homeschooling websites. 
I am amazed at the courses that are offered by Schoolhouse Teachers. The classes have downloadable lesson plans - so you can easily download the plan at the same time to help keep yourself of track.
There is also record keeping software included as well as Homeschool Planners you can download.  
As a member of Schoolhouseteachers.com you can watch hundreds of streaming videos from providers including Creation.com, Drive Thru History, Vision Video, Discovery House, Boat Angel, City on a Hill, RightNow Media, and more.  They are gathered together for easy viewing on their video page - but also a part of certain online lessons.
STEM courses and activities to inspire, challenge, and motivate your children are all a part of your membership.  Here's a few course titles:
Science: Diet Pop and Mentos Experiment, Tinkers' Club, Experiencing Weather Course

Technology: GPS Inventors STEM Activity, Technology Then and Now, Webquests
Electronics: Computer Lapbook, Exploring Geography with Google Earth, Keyboarding

Math: Fractions Workshop, Daily Math, Let's Do Math Outside

With hundreds of courses to choose from, you will have more than enough material to keep your little ones busy this summer!

How can Schoolhouse Teachers Online Classes help?
I can easily remember back to the days of homeschooling a number of children and at times, you just wish you had an extra set of hands to help out.  This is how I think Schoolhouse Teachers can help.
I'm not a major fan of allowing homeschooling online courses be the backbone of everything you do - but the way this is organized, it is a perfect solution to add interest as well as independence to your homeschool. 
You can choose to either take an online class together and watch the videos and complete lessons as a family or you can select classes which will suit each individual child. I can imagine planning it as a part of the day in which your older children can work independently through an online course - either viewing it online or downloading the material. 
What Schoolhouse Teachers IS and IS NOT.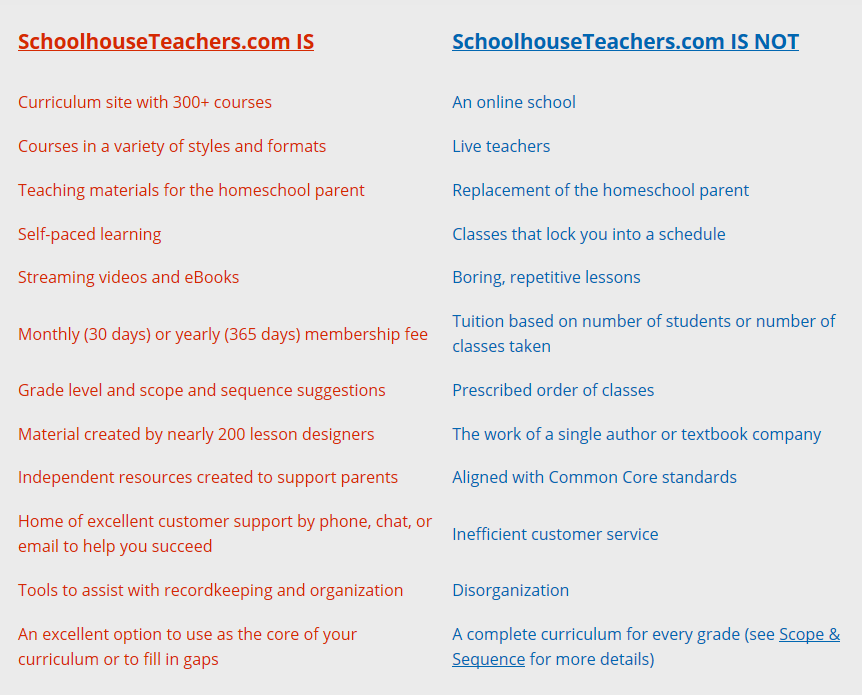 Schoolhouseteachers.com sets up to assist, produce excellent Christian material, courses to partner with you on the homeschooling journey. You can use it as an option for the core of your curriculum in the early grades OR you can select courses to fill in the gaps.  It is not a replacement of the homeschooling parent - but can help you with the homeschooling task.
There also is access to WorldBook online materials and there are courses just for parents and even help with menu planning! 
Affiliate disclosure: I am very proud to be an affiliate of SchoolhouseTeachers.com.  It does not cost you any more when you subscribe through my site, but the affiliate commission helps me to keep this homeschool resource active on the web. :)
Have you used the Schoolhouse Teachers homeschool online courses?
How have you used this curriculum?
Sometimes it is really hard to work out what is the best homeschooling curriculum for your family.

Tell us how you used this curriculum.

Show us an example of a project you created using this curriculum. How did you mould and integrate this curriculum in your family? Will you continue to use it?.... Your answers will help another homeschooling family make a curriculum choice!
Tier 3 Page Name