Your Homeschool Planner - Design your own!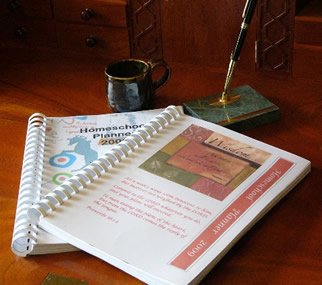 My Homeschool Planner
My Homeschool Planner was created out of my desire to make my life easier. I wanted one book with space for me to write all my appointments, plans, menus, shopping lists, chore charts and schedules, as well as yearly and monthly calendars, with an address book included. 
I wanted a book which would be my Personal Diary and Homeschool Planner in one. And so, I created my own personal Homeschool Planner.
This is now my Number One Organizational Tool! I always have my planner open on my desk and in that way I can see the big picture with an overview of the week's events. As I scan my double page for the week, I can see the meals I have planned, the guests and get-togethers for the week and the excursions we intend to do. I can also view all the school assignments I have set for each of my children for the week.
I use my Homeschool Planner to record what my children are doing from academics to sports to parties, and it is also a way to help me plan from week to week.
I love having my Planner in one handy book which I can take anywhere and enter in this way details on the spot.
The Homeschool Planner is a unique planner which has been completely customized for my family to suit the needs of each of my eight family members.
What about Your Complete Homeschool Planner?
What do you use?
What would you like to create?
Over the past eight years, I have been creating planners for homeschooling families creating unique planners for their specific needs.
However, I realized that instead of creating a planner for you, (which becomes a very expensive exercise), it would be much better to describe the process of building your own. Then use my DIY Homeschool Planner Templates and build your own planner to suit your family members.
How to Organize and Create your own Homeschool Planner:
My Homeschool Planner (and the DIY Planner with 150+ Templates) is divided into two main parts:
Part  One is the Household Planner
This part includes:
A Weekly Activities and Routine Chart for Mum
A Daily Routine Chart (for Mum)
A weekly Chore Schedule
Weekly Meal Ideas
Weekly Shopping List
A Generic Shopping List
Zone Areas for cleaning
An address page
The planner is organized around a 5 week month. Since months have between 4 and 5 weeks, this is how I have arranged the weeks.
Week 1 refers to the first few days of the month until the Sunday
Week 2 refers to the first full week of the month
Week 3 refers to the second full week of the month
Week 4 refers to the third full week of the month
Week 5 refers to the last few days of the month until the 1st.

Weeks 1 and 5 will not be full weeks (mostly).
Menus and Grocery Lists
Your Menus, Shopping Lists and Cleaning Schedule is based on this 5 week system. Once you go through those pages, you will understand the system better.
The ingredients you need to make the meals that you plan to have in Week 1 will be listed in the Grocery List you make for Week 1. Ingredients for Week 2's meals will be listed in Grocery List for Week 2, and so on.
Zones and Cleaning
Your cleaning schedule is also organized around the 5 week system. Each week you will focus on a Cleaning Zone.
You need to divide your house into five zones, enabling you to focus on a different zone each week, spending around 15 minutes a day cleaning it.
For example if Zone 1 is the kitchen and hallway, you will spend 15 minutes in that zone each day.
On Monday you can wipe down the cupboard doors of the kitchen
Tuesday: clean out one cupboard thoroughly
Wednesday: scrub the floor (and the hallway also)
Thursday: reorganize one drawer, and so on
You cannot clean absolutely everything in that week, but don't be dismayed, because you will revisit this area every month – every Week 1.  (Actually, since Week 1 will not be a full week, it is best not to choose an area with a lot of cleaning potential, such as the kitchen or bathrooms).
This is mentioned again (in the DIY ebook) as you work through the pages on cleaning. It will all make sense and once you've made this system work for you, your household will run much more smoothly.
The DIY EBook includes these files:
Generic Landscape Pages
Generic Portrait Pages
Additional Pages - Landscape for the current and the next year;
Additional Pages - Portrait across 2 years;
Additional Pages - Landscape for the current and the next year;
Additional Pages - Portrait for the current and the next year;
Landscape Calendars for both years;
Portrait Calendars for both years;


Part  Two  is all about your Schooling needs
This is the bulk of my own planner. Each month begins with a calendar, with daily squares to fill in.
Following that is a weekly planner, set over a double page and written in landscape format. It is where you will write in any appointments, visitors, meals, to-do lists, groceries, and so on. You can also do this in a portrait style which is also available.
Following the weekly planner is a double page for your Homeschool Week.  This is where you can plan your daily or weekly assignments for each child.  If you are homeschooling one to two children, you can have a weekly overview from Monday to Friday across the top and the Subject areas listed down the side. In this table format you will be able to add the details of your Homeschooling Week, day by day.
If you are homeschooling more than two children, it would make more sense to have a table in which you have your children's names across the top and the Subjects down the side.  Then you will need to write weekly assignments in the boxes rather than daily assignments.
In the DIY Complete Homeschool Planner - you have all these options - for 1 to 6 children, large spaces where you need more room to write in assignments; smaller spaces for quick information; Daily tables; weekly tables;
Your efforts will be rewarded week by week as you open your planner,
enter details, and take note of menus and grocery lists which we have
already organised and printed in your personal homeschool planner
A Homeschool Planner Designed to Meet Your Homeschool Style
Do you use textbooks and work according to a strict schedule? Fine... let's list your subject areas and leave room for page numbers, comments, and checkboxes.
Do you like to pre-plan some of your week and write in specific assignments per subject area and leave the rest to evolve? Fine...let's make sure we leave some bigger spaces for comments.
Does your family learn using a more natural learning approach where you prefer to enter details after the week - recording what learning activities you were involved in? Fine ... use the template with larger spaces.
Do you work in Unit Studies? Then you'll love the Unit Study Planning sheet;
Are you looking for a Charlotte Mason Planner? Or do you work according to the Ambleside Curriculum? Leave room for Nature Study, Poetry, Readings in various subject areas, Copywork and Dictation.
Create your own planner to include:
52 double paged weeks to use for events/menus/ appointments.
52 double paged weeks for you to add details of your children's assignments for the school year. There is space for each child and each subject area.
Doodle Planner pages are also possible if you like to work in an open format - brainstorming, Unit Studies and so on. Do you have an idea in mind?
A one-page weekly schedule or timetable
A five-week rotational customized menu
A five-week rotational customized shopping list for the recipes in the menu
A shopping list for your reference
A customized chore schedule for your home
A Year at a Glance-calendar of the current year and the following year.
12 cardstock calendar months: A Month at a Glance-calendar of each month with spaces to fill in important events and birthdays (your digital photos can be used as a background or inclusion on the calendar pages)
Journal pages - one page at the end of each month homeschool planner
Address Book
Comments Page - one page at the end of each month
| | |
| --- | --- |
| Then customize your own planner with your own front cover or photo; Bind it or place it in a 3 ring file/folder. Find out more about the Do-it-Yourself Home School Planner. | |
Where to from here?