A Beka Curriculum Homeschool Curriculum Reviews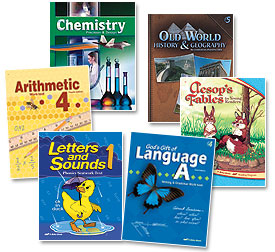 A Beka Book provides Christian schools with God-honoring, high-quality textbooks and teaching aids to help each school fulfill the goal of its ministry. It is unashamedly Christian and traditional in its approach to education.
The A Beka Books have been developed and refined over 50 years in the classroom and the textbooks are built upon the firm foundation of Scriptural truth and are written by dedicated and talented Christian scholars who are well grounded in the practical aspects of classroom teaching. The texts are lively and interesting, presented in colour.
A Beka Curriculum Has 3 Homeschool options available:
Video Option- K-12th grade program designed to provide an excellent and complete Christian education for home schoolers
Traditional Parent directed Option - This program provides you with all the necessary A Beka Book materials needed for parent-directed education for an entire grade (K5-Grade 6).
Textbooks/ Materials for homeschool - Over 800 textbooks and teaching aids are available for nursery through grade 12.
More information from the A Beka Curriculum Website.
How have you used this curriculum?
Sometimes it is really hard to work out what is the best homeschooling curriculum for your family.

Tell us how you used this curriculum.

Show us an example of a project you created using this curriculum. How did you mould and integrate this curriculum in your family? Will you continue to use it?.... Your answers will help another homeschooling family make a curriculum choice!
Homeschoolers Curriculum Reviews
Click below to see curriculum reviews written by home educators on this page...

Abeka Curriculum Not rated yet
Whilst we have not used Abeka textbooks as a whole grade package at any stage - we have used many of their wonderful books for different subjects and different …
Where to from here?