Free Homeschooling Resources for Math
Looking to supplement your Math Program with some free homeschooling resources? Or looking for a complete free on-line curriculum, worksheet creator and guide? Find them here: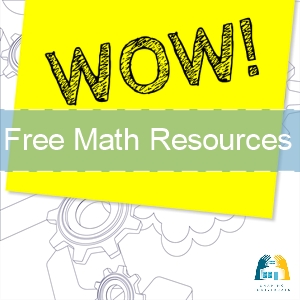 Before I list my favourite online homeschooling resources for math, this is what I look for in an on-line activity:
Usefulness;- to enhance or supplement my curriculum;
Interesting content;
Easy navigation;
I would recommend that instead of spending huge amounts of time searching for an on-line activity, buy a book with Math Games and play them with your family. Find maths in real life; Don't encourage hours of time behind the screen! Instead, find a site which you like, bookmark it and use it as an "extra" or supplement. Don't waste your time endlessly searching for 'another' program they might do - they would probably benefit more by kicking a ball or riding a bike!
However, there are a few free homeschooling resources which will benefit your child that I would particularly mention as being worthwhile.
Math Websites for homeschooling younger children
Math Websites for older children
Interactive Mathematics Interesting interactive site which makes maths meaningful.


Maths Zone Huge site of hundreds of interactive games... an incredible collection. Bookmark this site!


BigBrainz Multiplication Video Game. Brings table mastery through an online game - The free version teaches all the multiplication tables
Free Homeschooling Resources for Mums/Teachers
Free Math Worksheets - Create them here:
More Free Worksheets and Math Resources
Online Math Resources and Curriculum - paid subscription
On-Line Math Curriculum:
Your favourite Free Homeschooling Resource
Do you have a terrific free homeschooling resource you would love to share?

How has it helped you and your family or how do you intend to use it?
Which age group is it geared for?
How is it a time-saver for Mum?
Other Free Homeschooling Resources
Click below to see more free homeschooling resources added by other home educators....
Where to from here?
Have a great Maths Idea? Share it here.