Handwriting Practice Sheets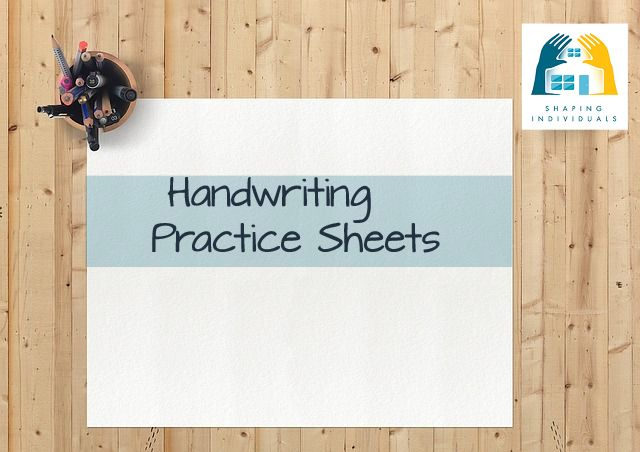 To teach handwriting, your child will benefit from handwriting practice sheets to help with the letter formation and styles.  You can either decide to purchase books with the type of print you would like - Manuscript, D'Nealian, Cursive and more - or you can visit sites with free worksheets, handwriting worksheet creators and other handwriting practice worksheets.
The art of handwriting is an important skill even in this digital age and using an assortment of handwriting practice sheets will help your child as they copy letters, both capital and lower case, quotes, famous sayings, Bible verses and more.

I always think children like to have a purpose for their writing and even for their handwriting practice, so I have always liked the handwriting practice worksheets which incorporate a Bible verse and become a wonderful page to colour, display and giveaway.
My favourite workbook is A Reason for Handwriting.

Here are some free handwriting practice sheets which I have created, suitable for different ages and in 3 different styles: Manuscript, D'Nealian and Cursive. 
These handwriting practice worksheets practice the A-Z letter formations and  come in these styles and sizes:
Manuscript Preschool Handwriting Practice Pages
K-1 Manuscript
Years 2-3 Manuscript
D'Nealian Preschool Handwriting Practice Pages
K-1 D'Nealian
Years 2-3 D'Nealian
Years 4-6 D'Nealian
Years 2-3 Cursive Handwriting Practice Pages
Years 4-6 Cursive
Years 7+ Cursive

Free Handwriting Practice Sheets to Download
Manuscript Handwriting Practice Pages
D'Nealian Handwriting Practice Worksheets
Cursive Handwriting Practice Sheets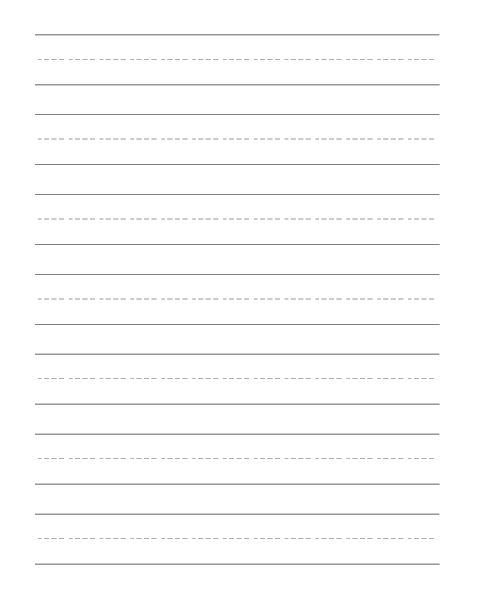 Find more help here with my free printable writing paper - lined and dotted for printing practice.

Beginning Handwriting Curriculum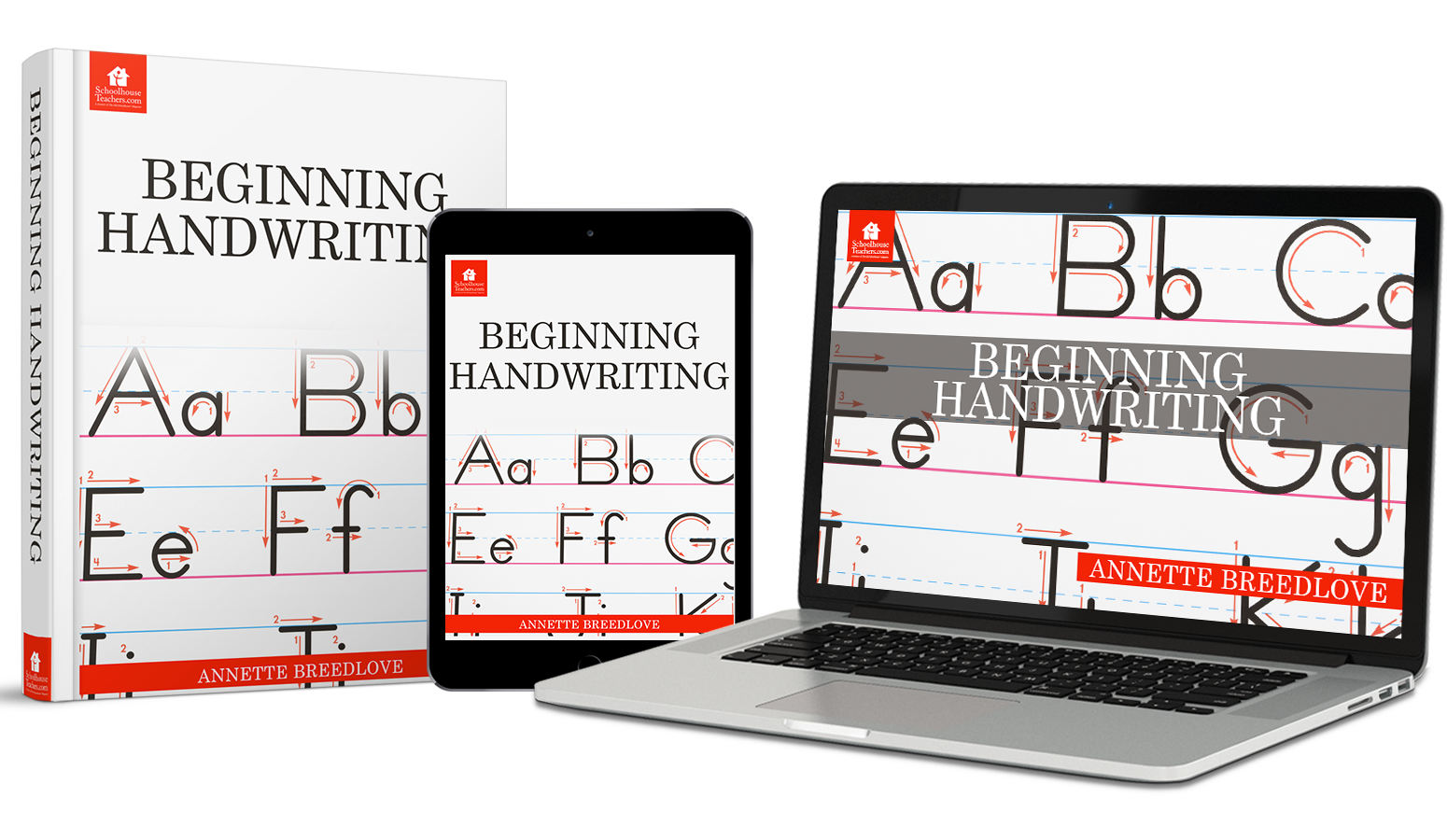 Beginning Handwriting Curriculum - SchoolhouseTeachers
If you're looking for a step by step guide in teaching letter formations, you would love the Beginning Handwriting Curriculum from SchoolhouseTeachers.  This week by week course explores foundational skills important for young learners. This homeschool handwriting curriculum covers topics such as pencil grip, prewriting skills, letter formation, and tips and tricks for remembering which letter is which!
The course is 27 weeks and contains printables and weekly units. Designed for Preschool – Kindergarten.
Copywork for Handwriting Practice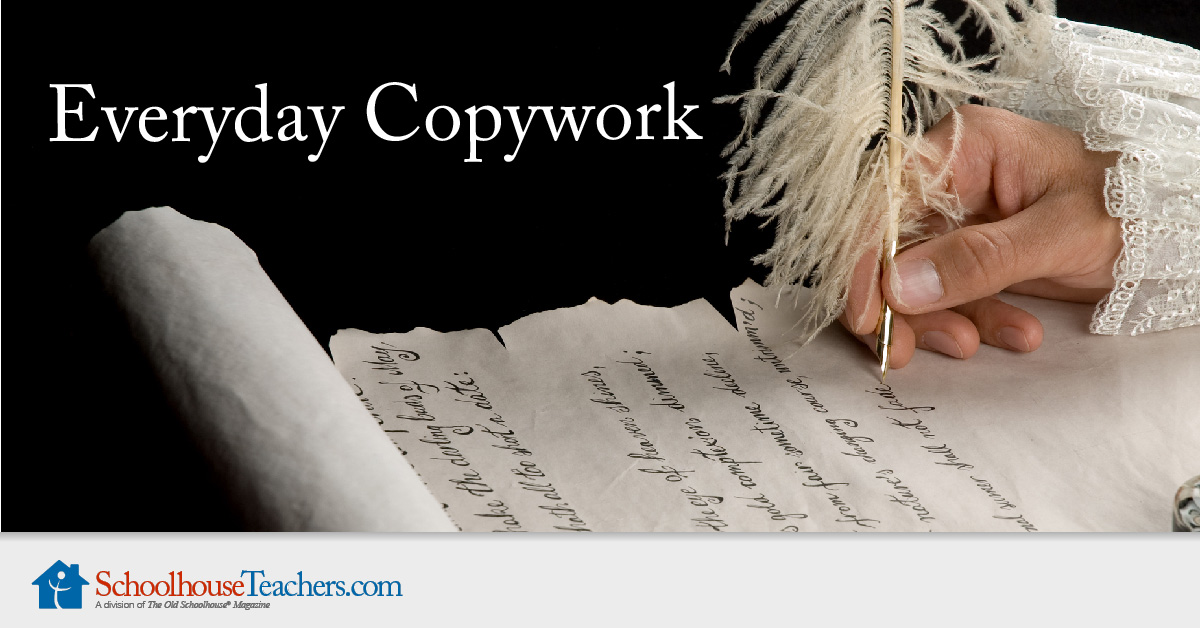 Everyday Copywork Course from SchoolhouseTeachers - Find out more
I have loved the simple idea of copywork for a number of reasons and believe it is such a simple approach to improve handwriting skills.  It's easy to do as it just requires some excellent material to copy.
We have chosen Bible passages, literature excerpts, primary source documents from our history studies, poetry etc.  It's great when you can simply combine it with a subject you are studying at the time. 
This course is a collection of copywork passages which span many different lengths and vary in difficulty.  Even though, this is something you could potentially create yourself (and I have done this in the past), the nice thing about this course is that:  it is done for you. It has been created with a great range - Bible, literature, geography, poetry, history - and for different ages. Many passages are also suitable for dictation.
Have a look at Course Outline for the range of passages covered in this Everyday Copywork Course.
A Reason For Handwriting Practice Workbooks
This has been our favourite workbook of handwriting practice sheets.
What I love about them - is that once a child has copied a Bible verse in either the manuscript of cursive script, they can colour and beautify the page and give it away - or create a lovely picture for their wall or a placemat. (Lovely gifts for grandparents!)

Create Custom Made Handwriting Practice Sheets
 Handwritingpractice.net allows you to create individualized handwriting worksheets in 3 different styles - print, D'nealian and cursive. There are more variables you can change such as letter size, colour, arrow and more. You add in the content required for the worksheet and print.
This is a wonderful idea - as it is perfect to use when you are using the Charlotte Mason style of copywork. As described in my page on how to teach writing, we use copywork as a way to copy excellent literature and practice our handwriting, grammar and so on.
Developing your own copywork file is a great idea for this reason alone. Take examples of literature, Bible passages, poetry and add it into a file. Then, as needed, week by week - choose a selection and either use this worksheet creator by HandwritingPractice.net - or ask your child to copy the passage.  - This very simple strategy teaches an amazing set of skills.
Find out more about teaching language arts through literature and through Fables.

TwistyNoodle Handwriting Worksheet Creator
The Twisty Noodle Worksheet creator has a huge amount of printable sheets which can then be customized to use print, D'Nealian or cursive handwriting fonts. You can add your own text.

Where to from here?