Sonlight Curriculum - Christian Homeschooling Curriculum
Related Pages
Have you used Sonlight Curriculum? Add your Sonlight Homeschool Curriculum Review here.
Read other Homeschool Curriculum Reviews here.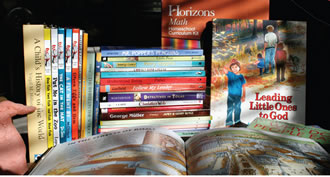 By Luke Holzmann
The Way You Wish You've Been Taught. Guaranteed.
Sonlight® is a Christian homeschooling curriculum based on award-winning books that inspire your whole family to love to learn. Sonlight provides a comprehensive learning experience with a complete PreK through 12 homechool curriculum and offers customizable, literature-rich packages and materials so you can choose the best fit for your family. Sonlight empowers parents to raise lifelong learners who fervently pursue whatever God calls them to do.
How does Sonlight work? The Sonlight Core program is the foundation for your children?s education where they begin to develop a love to learn. Sonlight uses fascinating books, not dry textbooks, to draw your whole family into the subject.
Sonlight Core Curriculum Package
Sonlight Curriculum® offers a choice of 18 ?Core? packages which integrate History, student Readers and Read-Aloud books for you and your children to enjoy together?along with Bible in Grades 6-12 (optional in K-5). You'll also get an Instructor's Guide to help you teach with confidence. Add in subjects of your choice to your Core for a complete school year made simple. Sonlight uses the subject of History as the ?spine? to which the other subjects connect. This history focus provides a framework for your family to better understand literature, science, philosophy, and a wide-range of other subjects, and helps you see the connections.
History
History is the centerpiece of Sonlight Curriculum. The history programs give students an overview of key events and people of the past, as well as biographies of people who have made significant contributions to the development of human cultures and the advancement of God's Kingdom. Sonlight Cores span the wealth of history from ancient to modern. Sonlight students cover more world history and learn more about other cultures than any other homeschool curriculum (ten years worth of world history options and five of American). Engaging, living books full of real heroes and memorable stories form the bulk of your history program to make the people, events and ideas of history come alive for your family.
Readers
Readers are quality books your children read on their own. Sonlight offers books in each Core with a range of difficulty levels. This way, students don't get burnt out, but also occasionally tackle books that require them to stretch. The common denominator? The chosen books are excellent titles students will take pleasure in reading. Before Core 3, students focus primarily on developing reading skills. Starting at Core 3, Sonlight includes Readers that coincide with and enhance the books and subject matter in each level's History program.
Read-Alouds
Sonlight Curriculum maximizes the benefits of reading aloud together as a family and sparks discussion about the ideas you encounter. Sonlight provides notes with discussion questions and interesting historical tidbits that tie into the time period you?re studying. Because you read these books with your children, you?re right there to talk through important questions with Sonlight's notes to guide you where you need help. You're sure to make memories as the great stories you read together spill into family discussions. Before Core 3, students focus primarily on developing reading and listening skills. Starting at Core 3, Sonlight includes Read-Alouds that also coincide with and enhance the books and subject matter in each level's History program.
Public speaking and memorization
Your children learn the art of presentation and memorization as they encounter poetry and Bible memorization, narrate stories, and share orally about what they're learning. They'll have the opportunity to learn at an early age how to communicate effectively and captivate an audience.
Bible (included in Grades 6-12, optional in K-5)
Besides the Biblically-based comments you?ll find throughout every Sonlight Core, Sonlight includes daily Bible readings and weekly Scripture memory assignments in every Core Instructor's Guide. If your family follows the Sonlight plan, you will cover almost the entire Bible once every five or six years. In addition to Bible reading, Sonlight also assigns a variety of books on apologetics and Bible study methods, as well as spiritual classics. Our goal is to encourage students to grow in their faith and equip them to follow Christ in whatever He calls them to do.
Instructor's Guide (a complete year's schedule with teaching notes and supplements)
Sonlight's main resource, after all the incredible books, is the Instructor's Guide, or IG, as moms like to call it. The Sonlight team strategically interweaves a collection of History, Readers and Read-Alouds into your IG. Your Instructor's Guide helps you decide how much is enough but not too much each day, and breaks those learning elements down into a daily schedule for you. Thought-provoking notes in your IG spark discussion with your children and balance any biased statements you may find in the literature. Vocabulary words, extra historical tidbits, and map and timeline activities help solidify what your family is learning. You find everything you need to use Sonlight's books and materials within your IG, so you can open it up and teach confidently with minimal prep time. If you'd like to reserve a day in your schedule for field trips, extra learning activities, swim team or ballet, Sonlight's flexible 4-or 5-day version of the daily schedule helps you simplify your plan to accommodate your family.
Additional Subjects to Complete Your School Year
Sonlight offers Science and Language Arts programs you can add to your Core, as well as our collection of what we deem the best math, handwriting, and electives on the homeschool market. Explore additional subjects now, if you like, or browse the Core programs.
Sonlight Science
Discover God's world and spark the wow in your children
Ignite your children's inquisitive minds with an engaging, comprehensive approach to learning about God's world.  Kindle a love to learn with colorful, captivating books and hands-on experiments you can all enjoy.  Let Sonlight guide you through each day and simplify your teaching process for less stress and more fun learning with your kids.
Revamped science program introduces creative learning and big-picture thinking
Sonlight just completely revamped all Sonlight Science in grades K-6 for 2009. You'll enjoy new books, fresh resources, and updated information. You'll see an even stronger foundation in the Christian worldview along with a fair discussion of all sides of scientific issues. Fun additions like multi-media options for almost every program, more scientist biographies, and even a chance to delve into the philosophy of science enhance Sonlight Science.
Sonlight Language Arts
Watch your students soar with well-paced, reading-based writing activities (new and refreshed for 2009!) that lead them to write naturally...
Sonlight believes students best learn to write well as they: listen to good writing, look at good writing, copy good writing, and then, finally, write on their own! Writing lessons come from the books your children read throughout the year. As a result, they remember and comprehend more and more.
Students practice dictation to absorb critical writing skills from the masters.
They'll learn writing mechanics from attribution to antonyms they can build on each day.
They'll explore creative writing with tools like zany story starter pictures and journals. They'll also write about what they learn in history, science, literature and geography.
An optional fifth day offers students a chance to play with the written word as they try fun exercises from puzzles to palindromes.
Watch your children's writing skills blossom!
Sonlight's Philosophy
Sonlight's mission and vision is to...
Reach families worldwide with remarkable, literature-rich, internationally-focused homeschool curriculum.
Empower parents to raise life-long learners who are equipped to follow Christ in whatever He calls them to do.
Sonlight encourages more quality time learning together as a family Sonlight wants you to spend less time planning your homeschool and more time learning along with your kids--cuddled up on the couch, sharing life together--rather than just handing out dry assignments. They believe this approach fosters great relationships, character-building, critical thinking, and a lasting love to learn.
Sonlight keeps mom in mind and makes the homeschool experience a joyous time of learning Sonlight wants you to have everything you need for a great homeschool experience all in one place, with the confidence to know someone has carefully chosen quality books, designed lesson plans, and integrated them all into a powerful learning experience.
Sonlight prepares students to be ambassadors for Christ with a heart for the world Sonlight encourages your children to think critically about what they read and helps them develop a heart for the world. This way, students not only get a strong Christian worldview, they are also equipped to listen and humbly critique other viewpoints. They gain interest, understanding and compassion of other cultures and people.
Sonlight offers unrivaled homeschool support for you
Sonlight offers amazing live homeschool support, community forums, homeschool tips, advisors and consultants, and quarterly newsletters to help you enjoy your role as a homeschool parent.
Contact an advisor with a curriculum question
How have you used this curriculum?
Sometimes it is really hard to work out what is the best homeschooling curriculum for your family.

Tell us how you used this curriculum.

Show us an example of a project you created using this curriculum. How did you mould and integrate this curriculum in your family? Will you continue to use it?.... Your answers will help another homeschooling family make a curriculum choice!
Homeschoolers Curriculum Reviews
Click below to see curriculum reviews written by home educators on this page...

Where to from here?