HOME

›
Subjects / Homeschool History Sitemap
› Henty Books
Historical Fiction Books by G.A.Henty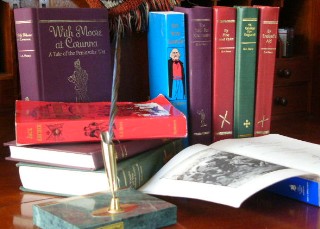 Who was G.A.Henty?
G.A.Henty was a masterful storyteller who lived from 1832-1902.
Read what my 15 year old writes about G.A.Henty.
George Alfred Henty was an exceptional historical fiction story teller. His stories were always about strong, hardworking, trustworthy and loyal young men, mostly coming from an English perspective.
Henty used historical fiction to show the English perspective in different battles. For example, in the "Tiger of Mysor," Henty shows the, 'right' English way in the conquest of India. He uses his writing talent in the books, 'By Pike and Dyke,' and 'By England's Aid' to show what the British thought of the Spanish control of the Netherlands.
Henty had good morals. In the book called, 'At Cressy And Poiters,' Walter the hero of the book knocked down his opponent, in the city games, but Ralph, just commended him on his skill. Later in the book Ralph became Walter's servant, and he remained loyal. In, 'One by the Sword,' Hector is brave and courageous, as he strives to communicate with the fortress, while it was being besieged.
Henty's characters always fight for a good cause. In, 'A March on London,' Edgar fights to protect a man from a band of ruffians. In, 'A Knight of the White Cross,' Sir Gervaise destroys a huge pirate fleet single handed, so that the coast of Italy would not be ravaged.
Henty is now called the Prince of Historical Story-Telling because of his masterly talent in creating a vivid description of English battles.
Why should we read his novels?
The essay below describes what my eldest son likes about Henty's books.
Henty's writings really spring alive and encourage you to turn the next page. There are several reasons for this quickness and cleverness in writing and the first of those reasons is that Henty had real life experience in war. The second reason is that Henty had a strong belief in doing what was right and courageous and believed in helping those in need, and standing up for women. Thirdly, Henty was a strong patriot and in his book, he condemns a traitor and exalts those that remained firm to their country. All of these great aspects can be seen throughout his novel and that is what makes his books such a pleasure to read.
In Henty's novels, there is stunning realism and amazing truth to his battles. The amount of research that Henty would have had to do would be immense. As a hospital commissariat in the Crimean War, he witnessed the heroes and the stark reality of the battle. In some of his books, he displays knowledge of someone who was present. For example, G. A. Henty was present at the Crimean War (as hosptial commissariat), the Austro-Italian War where he met Garibaldi, the British expedition to Abyssinia, the Franco-Prussian War, the Ashanti War, the Carlist Rebellion in Spain and the Turco-Serbian War. He served as Special Correspondent for "The Standard" newspaper in both Magdala and Coomassie and many other war zones.
As a newspaper correspondent, he traveled down the coast of Africa and up the Volta River to join the British expedition against the Ashantees with Henry M. Stanley reporting for the New York Herald. He was also there for the opening of Suez Canal and had been to Palestine, India and Russia. From all of these experiences and all of these visits to different countries, it is no wonder why Henty's novels are so good. They are full of danger and perils of war and are very exciting and a number of the characters he describes in the book he has even met, such as Garibaldi.
It is obvious to a reader of Henty's books that G. A. Henty believed thoroughly in a man being strong and courageous, chivalrous and a defender of women. Even in his own life, G. A. Henty has been known to have beaten down a Spaniard in a duel who had been so rude as to insult the Queen. In Italy, Henty beat off four bandits and he also defended his wife from an insulter. Henty had a dangerous job as a war correspondent and he had to sometimes come and go in disguise. From duels, to bandits, to defending a woman, and to going in disguise, Henty's life was full of adventure. All of these kinds of adventures and more can be seen in Henty's novels. Henty would generally create a character who was about the age of 16. Each character would have different traits but many were similar. For example, most of his characters were chivalrous, intelligent, fit and strong beyond their normal age, courageous, modest, humble, and with plenty of heart. The character Henty creates is a boy and a son that every parent dreams for.
Thirdly, Henty's novels are all patriotic books. In every single book, the hero will never become a traitor or give up his patriotism. His books would glorify a patriot and condemn a traitor. In many of his books the worst character would be a traitor. In the many books he has written, it is seldom that the man is not patriotic towards his own homeland. This aspect definitely adds to the books and makes them easier to read and enjoy. The character will be worthy and the book comes alive with interest.
The paragraphs above show how G. A. Henty's books are so interesting. In every way they come alive whether it be by Henty's own experiences in the war, or his chivalrous actions, or even his patriotic heart. The books that G. A. Henty have written are great books in which the writing comes alive and the reader is engaged. G. A. Henty's books are enjoyed universally now, and will be enjoyed by future generations.
G.A.Henty in Chronological Order:
Ancient History
1250B.C. The Cat of Bubastes
220B.C. The Young Carthaginian
A.D. 61 Beric the Briton
A.D. 70 For the Temple


The Middle Ages
870 The Dragon and the Raven
1066 Wulf the Saxon
1190 Winning His Spurs
1314 In Freedom's Cause 
1340 St George For England 
1380 The Lion of St.Mark 
1381 A March on London
1400 Both Sides of the Border 
1415 At Agincourt 
1480 A Knight of the White Cross 


Reformation and Exploration
1579 By Pike and Dyke
1580 St.Bartholomew's Eve
1580 Under Drake's Flag
1588 By England's Aid
1595 By Right of Conquest


Wars of Religion and Succession
1630 The Lion of the North
1640 Won by the Sword
1650 Friends Though Divided 
1666 When London Burned
1690 Orange and Green
1695 A Jacobite Exile
1703 The Cornet of Horse
1705 The Bravest of the Brave
1710 In the Irish Brigade
1745 Bonnie Prince Charlie

Colonial Disruptions and Competition
1759 With Wolfe in Canada 
1760 With Frederick the Great
1780 True to the Old Flag
1780 Held Fast For England
1786 With Clive in India

The Napoleonic Era
1783 In the Reign of Terror
1795 No Surrender!
1795 A Roving Commission
1795 The Tiger of Mysore
1795 By Conduct and Courage
1798 At Aboukir and Acre
1800 At the Point of the Bayonet
1808 With Moore at Corunna
1810 The Young Buglars
1810 Under Wellington's Command
1812 Through Russian Snows
1815 One of the 28th


Indian Troubles and Neighbors' Wars
1820 With Cochrane the Dauntless
1824 On the Irrawaddy
1825 In Greek Waters
1835 With the British Legion
1840 To Herat and Cabul


The Victorian Era: Defending an Empire
1850 Through the Sikh War
1854 Jack Archer
1856 In Times of Peril
1856 Rujub the Juggler
1860 With Lee in Virginia
1865 Out with Garibaldi
1867 The March to Magdala
1870 Maori and Settler
1870 A Woman of the Commune 
1870 The Young Franc-Tireurs
1873 By Sheer Pluck
1873 The March to Coomassie
1879 For Name and Fame
1880 The Young Colonists
1882 A Chapter of Adventures
1885 The Dash for Khartoum
1896 Through Three Campaigns
1898 With Kitchener in the Soudan
1899 With Buller in Natal
1900 With Roberts in Pretoria
1900 With the Allies to Pekin
Where to from here?
Some homeschoolers have enjoyed reading the
Landmark series by Random House.