Math On the Level - Home school Math Curriculum
By Pauline
Millmerran, Qld, Australia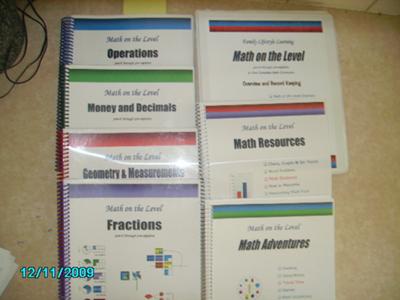 Math On the Level is a relatively new practical home school math curriculum. When I began searching for a math curriculum I had a few criteria in mind. One, that the program would not rely heavily on worksheets and two, would be more hands on/ real life.
Math on the Level definitely fit the bill so I purchased this home school math curriculum and have had the chance to implement it for a little over a year now with my six and seven year old's.
This curriculum is designed for K-8 and comes in a series of books including Operations, Money and Decimals, Fractions, Geometry and Measurement as well as Math Adventures,Math Resources and a Teacher Resource.
Each mathematical area is broken down into all of the concept areas (within each booklet) and has supporting ideas for teaching these.
One of the guiding principals is that a child is taught based on their maturation level.
Also included is the concept of "5-a- days" whereby the teacher writes out five questions based on what the child is learning to assess their strengths/ weaknesses and to determine whether a concept has been learned.
This math program is suitable for parents that want freedom to be able to teach their children where they are at. As a result there is more parental responsibility (ie the days work is not laid out, there is only an example scope and sequence.) Parents are also responsible for making up the five days. But there is also a very good yahoo support group for any questions or concerns.
I have only used this program with very young children so far and I am very pleased with Math On the Level. It has lived up to all the promises made on their website and Carlita (the designer) is a very warm and helpful, easy to contact person.
The original outlay was a little daunting to me but when this cost is spread over eight or nine years and you use it for any number of children (one or one hundred) it is most reasonable.
Their website is www.mathonthelevel.com
and the Yahoo group is at http://tech.groups.yahoo.com/group/mathonthelevel/
Thanks for reading and all the best with your homeschool math curriculum choices!
---
How have you used this curriculum?
Sometimes it is really hard to work out what is the best homeschooling curriculum for your family.

Tell us how you used this curriculum.

Show us an example of a project you created using this curriculum. How did you mould and integrate this curriculum in your family? Will you continue to use it?.... Your answers will help another homeschooling family make a curriculum choice!
Homeschoolers Curriculum Reviews
Click below to see curriculum reviews written by home educators on this page...

Math on the Level - a unique approach Not rated yet
We have been using Math on the Level since February 2009 for our now seven-year-old daughter and five-year-old son. The 5-a-days are used to review …