SODA CAN TRICK
by Joel
(Sydney, Australia)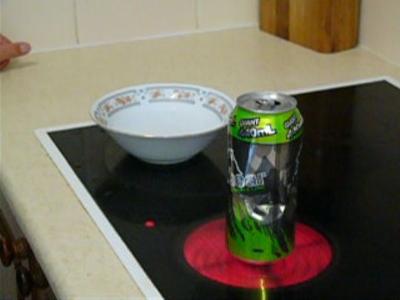 The can on the hot plate
The way you do this trick is by getting an empty soda can and put in one or two table spoons of water and then put it on the stove until it starts making lots of steam. Then grab the can with some tongs and flip it into a bowl of really cold water that does not have ice. Now, watch the can crumble!

You might need to do it a few times to get it right.

Check out our video!

This is one of the experiments from Supercharged Science.
Join in and write your own page! It's easy to do. How? Simply click here to return to Homeschool Ideas - Science.
Jun 23, 18 07:26 AM

Your Complete Homeschool Planner - DIY 2018-2019! the answer to your homeschool planning needs. Take the weekly stress out of organizing assignment checklists and meal ideas.

May 03, 18 07:46 PM

Deepen your child's understanding of Ancient Greece with memorable history project ideas so they love learning and have fun on the way. Great homeschool history projects.

May 03, 18 07:33 PM

A step by step homeschooling guide will show you how to start homeschooling - how to decide, plan and organize according to your goals.