SODA CAN TRICK
by Joel
(Sydney, Australia)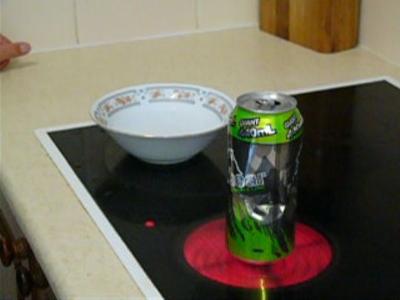 The can on the hot plate
The way you do this trick is by getting an empty soda can and put in one or two table spoons of water and then put it on the stove until it starts making lots of steam. Then grab the can with some tongs and flip it into a bowl of really cold water that does not have ice. Now, watch the can crumble!

You might need to do it a few times to get it right.

Check out our video!

This is one of the experiments from Supercharged Science.
Join in and write your own page! It's easy to do. How? Simply click here to return to Homeschool Ideas - Science.
Oct 21, 19 10:00 AM


Suzannah Rowntree led a workshop on Home Education Graduates in May, 2015 and I have stumbled on it once again, and since it's so good, I would like to share it with you all. The article describes in…

Oct 18, 19 11:00 AM

"At a time when many of us feel overwhelmed by the 24/7 demands of the digital world, craft practices, alongside other activities such as colouring books for grown-ups and the up-surge of interest in…

Oct 16, 19 05:19 AM

"Most WA children's experience of learning involves going to school and sitting behind a desk for hours on end surrounded by 20-30 others and being taught a structured curriculum by a teacher. But a r…