Web Site Building - Academic Skills and Benefits
During the web site building process, a phenomenal amount of learning takes place. I can vouch for that! What a learning curve it has been. It has huge academic benefits.
Academic Skills that naturally happen in the Web Site Building process:
Writing skills- spelling, correct use grammar
Writing to a specific audience - using your personal style of writing;
Proof-reading
Writing focussed content - well developed pages (essays)
Writing catchy titles and phrases
Reading instructions and putting it into practice
Researching (keywords, brainstorming)
Making judgements and decisions based on facts and knowledge
Computer skills
Some HTML codes
Business sense - marketing, supply and demand
Understanding profitability
Learning about search engines, spidering (not the eight legged ones), and traffic
Uploading photos and images
Composition of page layouts
Perseverance when it is hard
Learning that hard work pays off when approaching it with a proven method.
Patience to wait for the results which will come
Net Writing Master's Course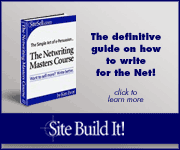 One course that has helped me - especially in how to write for the web and develop excellent web business writing skills is this Net-Writing Master's Course. You can get it here free. It's a great course for anyone to use and especially for your homeschool teen entrepreneurs.

Download this Free E-book on Writing for the Net.

Benefits of Web site building:
The benefits you receive from web site building varies from person to person, especially when everyone has a slightly different goal in mind when writing their website. For some people the benefit will be the
Joy of seeing their family page on the web;
Excitement of the on-line journal to share with others;
Knowledge that their site will be of use to someone else who enjoys the same hobby or shares the same concern or need. If your goal is to help someone find an answer to a certain question, then the first "Thankyou" email will be your reward and give you immense satisfaction. This always gives me a big buzz!
Ability to share life with your family all over the world;
For others, the benefit will be the:
Supplementing of an income;
Ability to earn a complete wage from home;
Ability to stay at home with the children;
Independence of being your own boss;
No-More-Traffic!! and long hours away from the family;
Enjoyment of life;
"You see the results. Your business builds. You realize that your life is changing in significant ways." You can read some real case studies here.
Where to from here?
You might also like to read: