HOME

› Charlotte Mason Approach
Charlotte Mason / Living Books Approach - Why we love it!
The Charlotte Mason Approach  which is sometimes referred to as the Living Books Approach originates with Charlotte Mason, a British educator who developed a Philosophy of Education which she actively put into practice. She lived from 1842-1923.
She decided at a young age that teaching would be her life's work and went to teacher's college in England. When she began teaching after one year of training, he continued her studies in her spare time. After she was appointed vice principal, she devoted more of her time to lecture in the subject of education. During a period of illness, she was able to study, observe and write lectures for parents. The parents, who were already teaching their children at home, banded together and formed schools. These were the Parents' National Education Union Schools (PNEU).

Following this, Charlotte Mason opened up a college for young women training them to be teachers. This was called the House of Education at Ambleside, England. (Hence the Ambleside Online - Charlotte Mason Curriculum) Charlotte Mason wrote several excellent books in which she describes her Philosophy, Educational Principles, Focus on the Family as primary training ground, Methodology, Curriculum and more.

Charlotte Mason and Her Educational Philosophy
As you begin to explore Charlotte Mason and her understanding of education, you realize that she had incredible depth of insight as well as practical implications on how to educate and train children. That is why she has inspired many authors to 'translate' her writings into curriculum and practical methods which can be used in homeschools today.
For a start, she understands children (that's why I just loved, "For the Children's Sake") and she has describes in detail how to go about giving them a beautiful, rich education.

I have attempted to summarize Charlotte Mason and her Educational Philosophy under these headings.
Charlotte Mason's 20 Principles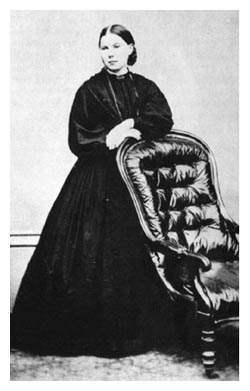 One way to explain the basis of Charlotte Mason's Philosophy is to describe her 20 principles which she outlines in her preface to her volume Six: A Philosophy of Education.
A Short Synopsis
OF THE EDUCATIONAL PHILOSOPHY ADVANCED IN THIS VOLUME
"No sooner doth the truth ... . .come into the soul's sight, but the soul knows her to be her first and old acquaintance."
"The consequence of truth is great; therefore the judgment of it must not be negligent." (WHICHCOTE).
Children are born persons.
They are not born either good or bad, but with possibilities for good and for evil.
The principles of authority on the one hand, and of obedience on the other, are natural, necessary and fundamental; but––
These principles are limited by the respect due to the personality of children, which must not be encroached upon whether by the direct use of fear or love, suggestion or influence, or by undue play upon any one natural desire.
Therefore, we are limited to three educational instruments––the atmosphere of environment, the discipline of habit, and the presentation of living ideas. The P.N.E.U. Motto is: "Education is an atmosphere, a discipline, and a life."
When we say that "education is an atmosphere," we do not mean that a child should be isolated in what may be called a 'child-environment' especially adapted and prepared, but that we should take into account the educational value of his natural home atmosphere, both as regards persons and things, and should let him live freely among his proper conditions. It stultifies a child to bring down his world to the child's' level.
By "education is a discipline," we mean the discipline of habits, formed definitely and thoughtfully, whether habits of mind or body. Physiologists tell us of the adaptation of brain structures to habitual lines of thought, i.e., to our habits.
In saying that "education is a life," the need of intellectual and moral as well as of physical sustenance is implied.
The mind feeds on ideas, and therefore children should have a generous curriculum.
We hold that the child's mind is no mere sac to hold ideas; but is rather, if the figure may be allowed, a spiritual organism, with an appetite for all knowledge. This is its proper diet, with which it is prepared to deal; and which it can digest and assimilate as the body does foodstuffs.
Such a doctrine as e.g. the Herbartian, that the mind is a receptacle, lays the stress of education (the preparation of knowledge in enticing morsels duly ordered) upon the teacher. Children taught on this principle are in danger of receiving much teaching with little knowledge; and the teacher's axiom is,' what a child learns matters less than how he learns it."
But we, believing that the normal child has powers of mind which fit him to deal with all knowledge proper to him, give him a full and generous curriculum; taking care only that all knowledge offered him is vital, that is, that facts are not presented without their informing ideas. Out of this conception comes our principle that,––
"Education is the Science of Relations"; that is, that a child has natural relations with a vast number of things and thoughts: so we train him upon physical exercises, nature lore, handicrafts, science and art, and upon many living books, for we know that our business is not to teach him all about anything, but to help him to make valid as many as may be of––
"Those first-born affinities
"That fit our new existence to existing things."
In devising a SYLLABUS for a normal child, of whatever social class, three points must be considered:

He requires much knowledge, for the mind needs sufficient food as much as does the body.
The knowledge should be various, for sameness in mental diet does not create appetite (i.e., curiosity)
Knowledge should be communicated in well-chosen language, because his attention responds naturally to what is conveyed in literary form.

As knowledge is not assimilated until it is reproduced, children should 'tell back' after a single reading or hearing: orshould write on some part of what they have read.
A single reading is insisted on, because children have naturally great power of attention; but this force is dissipated by the re-reading of passages, and also, by questioning, summarising. and the like.
Acting upon these and some other points in the behaviour of mind, we find that the educability of children is enormouslygreater than has hitherto been supposed, and is but little dependent on such circumstances as heredity and environment.
Nor is the accuracy of this statement limited to clever children or to children of the educated classes: thousands of children in Elementary Schools respond freely to this method, which is based on the behaviour of mind.
There are two guides to moral and intellectual self-management to offer to children, which we may call 'the way of the 'will' and 'the way of the reason.'
The way of the will: Children should be taught,

to distinguish between 'I want' and 'I will.'
That the way to will effectively is to turn our thoughts from that which we desire but do not will.
That the best way to turn our thoughts is to think of or do some quite different thing, entertaining or interesting.
That after a little rest in this way, the will returns to its work with new vigour.


(This adjunct of the will is familiar to us as diversion, whose office it is to ease us for a time from will effort, that we may 'will' again with added power. The use of suggestion as an aid to the will is to be deprecated, as tending to stultify and stereotype character, It would seem that spontaneity is a condition of development, and that human nature needs the discipline of failure as well as of success.)
The way of reason: We teach children, too, not to 'lean (too confidently) to their own understanding'; because the function of reason is to give logical demonstration

of mathematical truth,
of an initial idea, accepted by the will.


In the former case, reason is, practically, an infallible guide, but in the latter, it is not always a safe one; for, whether that idea be right or wrong, reason will confirm it by irrefragable proofs.
Therefore, children should be taught, as they become mature enough to understand such teaching, that the chief responsibility which rests on them as persons is the acceptance or rejection of ideas. To help them in this choice we give them principles of conduct, and a wide range of the knowledge fitted to them. These principles should save children from some of the loose thinking and heedless action which cause most of us to live at a lower level than we need.
We allow no separation to grow up between the intellectual and 'spiritual' life of children, but teach them that the Divine Spirit has constant access to their spirits, and is their Continual Helper in all the interests, duties and joys of life.
These are Charlotte Mason's own words.
The Original Home Schooling Series by Charlotte Mason is provided here for public use. It can be read in her original words or a paraphrased version.
Instruments of Education
What did Charlotte Mason mean by Instruments of Education?
Her motto was, "Education is an atmosphere, a discipline, a life." This means that it is through these means that we motivate a child to learn - a "real" environment for children to develop in, a life in which habits are formed purposefully, and an exposure to living ideas and concepts.
The Three Instruments of Education are summarized here by Leslie Laurio.
Knowing Charlotte Mason's principles and the instruments of education, we now want to see how she has applied this into her methodology. Characteristics of educating in a Charlotte Mason Method.

Charlotte Mason's Methodology
From my understanding and reading, these are some of the methods employed by Charlotte Mason:
Living Books - Living books should present the child with real life; the teacher should not interfere with a lot of "talk".
Composition taught using oral Narration followed by written narration when the child is about ten. "They should narrate and they will compose later, readily enough; but they should not be taught 'composition'." (Written in Home Education; Training and Educating Children under nine, by Charlotte Mason, p247)
Copybook - a tool for sentence structure, punctuation, grammar
The Knowledge of Man: History - taught using living books, biographies, primary sources
Literature - often related to historical time period.
When Children are reading, they read on their own - from a number of books at a time.
Art - viewing art prints, 'picture-painting'-focus on detail, committing them to memory, focussing on one artist at a time.
Geography - tied in with history - the local landscape can be used as a minature lesson of the whole world.
The Knowledge of God: Bible - the foundation living book - to give children their knowledge of God - the most important lesson.
Teacher directed - teacher chooses what the children will read.
Short lessons (10-15mins, when young and increasing with age)
Free afternoons and evenings.
Children should spend a great deal of time outdoors - in nature; using their senses;.
Nature Walks.
Habits are taught; Young children should be spared the labour of decision-making; habits must be actively formed by parents and teachers to make many of our actions second nature - habit of attention; habit or application; habit of thinking; habit of imagining; habit of remembering; habit of perfect execution; moral habits of obedience, truthfulness;
Beginning Reading - by learning sight words primarily and secondly, learning the sounds.
Memorization of poetry - not by repetition, but by listening and imagining the scene many times over.
Spelling learnt through dictation - child views passage, isolates words which may give him trouble, pictures the word in his mind, and when ready, writes the passage which is dicatated clause by clause, repeated only once.
Here's how we have used Charlotte Mason methodology in our homeschool.
Books by Charlotte Mason
The Books below will give the reader a greater understanding of who Charlotte Mason was and how you can implement her philosophy and methodology into your homeschool.
The Original Home Schooling Series, 6 Volumes
By Charlotte Mason / Charlotte Mason Research

This is where it all begins for the homeschooler---the original 6-volume teaching reference by the founder of the homeschooling movement! Mason's philosophy of educating children in a noncompetitive, biblically based way is spelled out in each one of her insightful books. Learn from this education pioneer how to teach children under 9 years old, fulfill your educational role as a parent, develop a curriculum, improve your children's character and conscience, shape their personality, and foster creative learning. Slipcased softcovers, from Charlotte Mason Research.
---
Books on the Charlotte Mason Approach
For the Children's Sake was the first book I read on Homeschooling and still remains one of my favourites!
For the Children's Sake: Foundations of Education for Home & School
By Susan Schaeffer Macaulay / Crossway Books & Bibles

Regarded as one of the classic books on Charlotte Mason's ideology, Susan Schaeffer Macauley provides us with a warm and throught provoking conversation on the educational principles for school and home. She highlight's Charlotte Mason's view of children as legitimate people, and denounces the "twaddle" of lightweight fluff that today seems to fully occupy children. Dwelling on the importance of play, a Scriptural understanding of man, creativity and family, she makes a compelling case for the gentle art of learning. 161 pages, softcover.
---
A Charlotte Mason Companion: Personal Reflections on The Gentle Art of Learning
By Karen Andreola / Charlotte Mason Research

Why are the time-tested principles of respected 19th-century British educator Charlotte Mason so popular with homeschoolers? Because they work! Andreola shares her experiences in homeschooling the "Charlotte Mason way." Discover how to teach children to think independently, retain what they learn, and communicate clearly by narrating what they read in "living books." 384 pages, softcover from Charlotte Mason Research.
---
Pocketful of Pinecones: Nature Study with the Gentle Art of Learning
By Karen Andreola / Charlotte Mason Research

Diaries are usually kept private--but not this one! It reveals the secret hopes, joys and disappointments one woman experiences throughout her first year of homeschooling. Filled with delightful quotes and other tidbits, this book on 'the gentle art of learning' provides over 100 examples of what to look for on a nature walk, poems and questions for your own homeschooling journey. More than heartwarming reading, it offers both a practical guide to nature study and a little encouragement for you. A supplemental section features Charlotte Mason quotations and suggestions for further reading. 272 pages, softcover.
---
For the Love of Learning: Information & Resources for Combining Charlotte Mason & Classical Education
By Jenny Sockey / Xulon Press

Feed your students' natural hunger for knowledge when you use this combination of proven homeschooling methods. Sockey summarizes the Charlotte Mason and Classical Education curriculum programs, examines similarities and differences, and demonstrates how they can be blended to give children a lifelong "love of learning." Includes extensive book and resource lists for every subject. 120 pages, softcover from Xulon.
---
Charlotte Mason Approach Curriculum
Ambleside Online Curriculum is a free CM Curriculum written for K-12. It is an on-line resource which comprehensively outlines a Charlotte Mason Education year by year. It is linked to a number of on-line resources and is extremely helpful and thorough. I highly recommend looking at this and seeing how this can fit your family.
This is also where you can read Charlotte Mason's Own Writings, Paraphrases and Summaries and various articles.
Where to from here?
If you enjoy reading about the Charlotte Mason/Living Books approach, and want to use this approach to give your children a broad, rich, language-filled curriculum, go to
Here you will find an overview of Charlotte Mason methodology, curriculum and ways to design your own approach, and choose your own resources.