Delight Directed Approach
The Delight Directed Approach is an approach which allows a spark of interest of a child to direct further studies in a natural way. Some would argue that this approach is similar to Natural Learning/ Unschooling, with the child as the director making decisions on what he or she will pursue or not pursue in learning. Others would describe Delight Directed learning as an approach in which parents are mindful of the uniqueness of their children, mindful of the unique gifts and talents and interests God has given them, and are responsive to their child's interests.
Regardless of how you view the role of the parent, the child's interest is then used to spark off learning in a variety of ways. As the child examines and explores his/her area of interest, they will naturally employ the tools of learning: reading, researching, explaining, and writing, in some degree. This approach follows the idea that once there is motivation to explore an interest, parents can direct, encourage, suggest ideas, and discuss ways to further pursue the interest.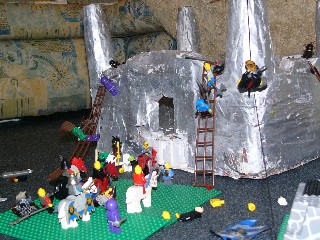 The child is given freedom to follow their own interests and the parent would support, guide and help develop the interest. We must be careful, however, as parents, not to make each spark of interest into a long, drawn out study.
There is great flexibility in the delight directed approach and each family will decide exactly how they implement it in practical ways. Some families will teach certain subjects in a more structured way such as Maths, Spelling etc and then give freedom to explore areas of interest with guidance and support. Some parents will provide structure for some ages, and more freedom for other ages and stages. Some families will just meet together at the beginning of the day, discuss their plans and then move on. Other parents will be more involved in planning, researching and setting accountability.
As you can see, there is great diversity in the delight directed approach.
Where to from here?
Let's explore the A, B and C of Delight Directed Learning.
---
Articles on Delight Directed Learning
Marilyn Howshall - Lifestyle of learning
To delight in something is to take a high degree of pleasure or satisfaction of mind in something. Delight is of a permanent nature as opposed to fun, or a sudden burst of joy which lasts for the moment. There is no moral nature to delight. It is neither good nor bad. Rather it is the object of delight that will determine its moral quality or educational value. Children will delight in something whether it is fruitless, diversive entertainment or something of educational value. With this in mind, delight as a vital sign must be viewed with the goal that the thing delighted in has dimension, substance, quality and purpose.
Read More from Marilyn Howshall and the Lifestyle of Learning...

The Biblical S.A.T.'s for a Lifestyle of Learning
By Marilyn Howshall
Lifestyle of Learning - an intriguing expression - one that captures the heart and mind and maybe a little of the imagination as well. It alludes to new ideas, new ways, and freedom! While the expression "Lifestyle of Learning" does in a way define itself, it is an expression that still requires a more thorough definition. The reason for this is that in our traditional educational system, the activity of learning has been distorted from its true nature to look like something one would want to have as little to do with as possible. So, to expect one to want to pursue a lifestyle of it? Not likely. Likewise, the average individual's lifestyle is nearly void of any activity that could be considered a learning experience or educational in nature. Learning as a lifestyle is not just a nice idea to incorporate into your existing lifestyle or even into your existing educational program in a last-ditch attempt to upgrade or redeem them somehow. Rather, it is truly a change-of-lifestyle issue.
Find out how to buy Marilyn Howshall's materials on Lifestyle of Learning..

---
Books on the Delight Directed Approach
Search here to buy from your favourite bookseller.
You will find a number of the Marilyn Howshall Books here and on her Lifestyle of learning website.
Titles include:
Become a Homeschooled Mom
Wisdom's Way of Learning
Develop a Lifestyle Routine
Beyond Survival: A Guide to Abundant-Life Homeschooling
By Diana Waring / Ywam Publishing

Discover how to have a successful, joy-filled homeschooling experience! Brimming with lots of practical advice, this introduction to "realistic homeschooling for real people" will help you understand learning and teaching styles, survive your first homeschool convention, juggle multilevel teaching, and more. A list of resources is included at the end of each chapter. With a foreword by Cathy Duffy. 218 pages, softcover from Emerald Books.

Beyond Survival Workshop - Audiobook on Cassette
By Diana Waring / Diana Waring Presents

Join Diana for her popular 90-minute convention workshop on abundant-life homeschooling. Topics include: creating a unique educational experience for your one-of-a-kind children, learning and teaching styles, building relationships in the family, and the delight of living the homeschool lifestyle.

Reaping the Harvest: The Bounty of Abundant-Life Expanded Edition
By Diana Waring / Diana Waring Presents

Just as harvesting a garden means kicking up some dirt, raising teenagers often gets messy. Diana's grace-filled and experience-based approach to parenting shows you how to build strong relationships, avoid "typical teen" behavior, lovingly instruct your children on the path toward maturity, and enjoy one another. 224 pages, softcover.

A Record of the Learning Lifestyle
By Charlene Notgrass / Notgrass Company

Created from the author's own imperfect experience with record keeping, this organizer is based upon the holistic 'learning lifestyle' that continues 24/7/365. There is room to record what was done each week from Sunday through Saturday on the left hand side, while character boxes fill up the right. Eleven box 'subjects' include spiritual life, learning about science and technology, reading and literature, caring for the body, creative expressions, and other specific training categories. The center box contains a changing picture and scripture verse. There is also room for books that have been read (or been read to!), grades, test scores, awards and notes for whatever else you'd like to keep handy. This book contains 52 weeks worth of room. Spiral bound with plastic protector covers.

The Basic Home Schooling Workshop - Audiobook on Cassette
By Gregg Harris / Noble Publishing

Before you make too many decisions about home schooling, take a little time to establish a clear sense of direction. This tape series offers you just that. It's live recording of the The Basic Home Schooling Workshop. Listening to these tapes will help you stay excited about home schooling. On days when you need encouragement, just pop in a tape and feel again the dedication you had when you first began. You're also invited to share your tapes with friends and family. Listening will help them understand why you are home schooling, and perhaps they'll eventually join you in the adventure. Topics include: Why Home School?, How to Do a Great Job Home Schooling, Delight/Directed Unit Studies, Home School Support Groups, The Battle for Your Child, Training Children to Be Faithful, Teaching History in the Home, and Home School Hazards: Passive Dads, Active Toddlers & Teacher Burnout. 8 cassettes.

The Heart of Wisdom Teaching Approach: Bible Based Homeschooling
By Robin Sampson / Stl Distribution

The best of all homeschooling methods, The Heart of Wisdom Teaching Approach is based on a variety of teaching approaches. Beginning with the Bible, a Hebraic model of education is employed, where the Bible is not viewed as a secondary subject, but rather as the basis and measure for all else. Charlotte Mason's methodology is also employed, using living books & oral narration, unit studies, notebooking, delight-directed learning, the four-step cycle and more.

Rethink your entire model of education with enlightening chapters on the foundations of various worldviews, practical advice on how to implement "Bible-Based Homeschooling", an overview of different ways to learn and more. 504 pages, softcover.


---
Delight Directed Curriculum
Wisdom: An internet-Linked Unit Study, Grades 4-12
By Robin Sampson / Heart Of Wisdom Publishing Inc

Students will know that true wisdom is understanding and knowing God, and are able to extract meaning from information. Designed to showcase the wisdom of God as the foundation for the rest of life--finances, relationships, etc.--this unit study will walk students through important scriptural principles displayed throughout the Bible. Activities, suggested resources, internet sources, text portions to excite and examine the subject at hand, and sidebars on various methods for studying the Bible are included. 121 pages, softcover. Grades 7-12, but some resources for younger grades are included for families who have young children (lessons themseleves will require reading aloud and explanations for younger children).

Ancient History: Adam to Messiah
By Robin Sampson / Heart Of Wisdom

If you're looking for an integrated, multi-level curriculum dealing with the Bible, Ancient History has all that you need. Utilizing the Charlotte Mason approach, 4-Step lessons and traditional unit study techniques, this world history teaching resource covers Creation through Christ, focusing on the greatness of our priviledge and the faithfulness of God. From the Mesopotamian world of the Patriarchs to the Persian royal circles of Esther, the focus is upon Israel--as is 78% of the Bible. Delve into other cultures and beyond, learning about geography, literature, government, compisition, agriculture, science, economics and more. Written to be used for more than one grade level, it's appropriate for grades 4-12. Pages come loose and three-hole-punched; a three-hole-binder is included to put the pages in, along with side tabs to mark different chapters.


---
Where to from here?

My SBI! Diary
Added content in September