Home School Science Overview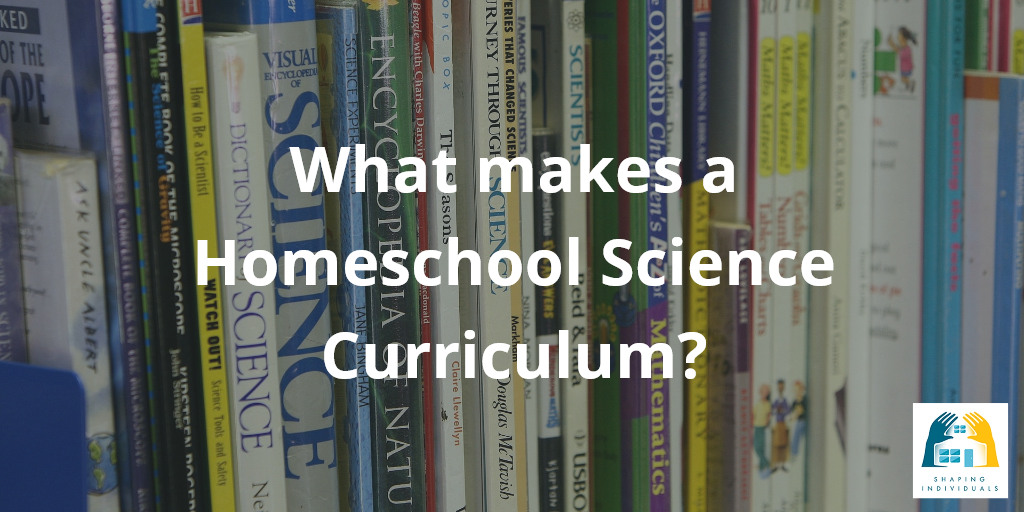 What should make up a Home school Science Curriculum and how do you design your homeschool science curriculum?

A Home school Science Curriculum is made up of many fields of study, yet, they should be seen as a unified whole, because all has been created by God and for Him. When we teach this subject, we need to understand that God is the author of all and is always to be praised by all of His creation. We can see the complexity of what He has made and also the unity. We can also investigate the systems He has created, the order and regularity, and also recognize our inability to understand all His ways. We must also see man in the position in which God has placed him, and seek to understand how we can fulfill our calling to be in dominion over the creation, without being abusive.

Helpful Links

Inspire others with a great Science Project idea at the Homeschool Gallery.

Add your Science Project ideas here.

or Add to the Online Nature Journal
The Biblical Concepts in studying Science
Let me quote from Noel Weeks in his book, "The Christian School" Weeks, N. The Christian School, 1988, The Banner of Truth Trust p131.
"The basic concepts so far outlined from Scripture are:
A world created by God.
Within that world you have elements of similarity due to the common material used in creation and elements of dissimilarity due to the separate creative acts of God and the creation of animals after their kind.
That world's regularity is preserved by God as part of His patience with sinful man. God preserves the regularity by addressing commands to his creatures, for example, sun and moon.
God in judgement addresses different commands and will address different commands to his creatures.
Man as lord of this world under God may utilize this creation, t his lordship is not to become abusive and destructive tyranny. All these concerns need to inform our science, not just the fact of creation."
As we teach Science, we will break it into its units and topics, but I believe that as we speak and discuss what we learn, we must remember to bring these basic Scriptural concepts to the attention of our children. We need to continually speak of these truths, converse about the God of Creation, and help our children to see Science, not as a bunch of isolated topics, but as a unified whole telling of the wonders of our Great and Loving God.
The study of Science includes observation of nature around us; recording findings and information in Science notebooks by sketching and writing; reading from a variety of science resources, including home school science textbooks, and giving kids science experiments to do and find out science truths. Stretching our imagination, Science opens the world and gives us a glimpse of the power and creativity of our God.
From this understanding, I will now outline a general view of Science and how it can be divided.

Home School Science - 4 Year cycle from The Well Trained Mind
Jessie Wise and Susan Wise Bauer, who wrote, "The Well Trained Mind", divide the Scientific study into a four year cycle, which is repeated three times in the life of the child increasing in difficulty as the children mature.
Their divisions are:
Life Science (Animals, Human Beings, Plants)
Earth Science and Astronomy
Chemistry
Physics
Christian Classical Home School Science Divisions
Christine Miller from Christian Classical Homeschooling divides the study of Home school Science in this way in the primary school years:
Year One: Introduction to Natural Science
Year Two: Plant Kingdom
Year Three: Animal Kingdom
Year Four: Earth and Sky
Year Five: Human Body
Year Six: History of Science
Most of this study can easily be accomplished with the wonderful homeschool science resources below:
Home school Science Recommended Resources
I highly recommed these wonderful Primary Science Resources you will love to read and teach Science. An extremely well written, beautifully presented text which engages the reader and fills them with awe for the Creator. My favourite Science Resource for Years 1-6.
Exploring Creation with Zoology 1: Flying Creatures of the Fifth Day
By Jeannie K. Fulbright / Apologia Educational Ministries

The ruby-throated hummingbird, yellow-rumped warbler, little brown bat, spicebush swallowtail butterfly, Mexican bean beetle, common honeybee---they all have wings, and you'll find them here in this lavishly illustrated elementary science curriculum. Using the Charlotte Mason approach, 14 lessons include notebook activities, special projects, and hands-on experiments to teach kids about birds, bugs, bees, beetles, butterflies, and more. 240 pages, hardcover.

Exploring Creation with Astronomy, Textbook
By Jeannie K. Fulbright / Apologia Educational Ministries

What would living on Venus be like? Are there really black holes? How did God create the cosmos? Curious kids want to know, and this 28-week curriculum gives them biblically based, scientifically sound answers. Using Charlotte Mason's methodology, 14 incremental lessons employ narration, notebooking, hands-on projects, and a course website to introduce 6- to 12-year-olds to the wonders of the solar system and universe. 176 pages, hardcover.

Exploring Creation with Botany, Textbook
By Jeannie K. Fulbright / Apologia Educational Ministries

Introduce your young naturalists to plants---their structure, propagation, classification, and more---with this engaging yearlong classical science curriculum. Influenced by Charlotte Mason and the living books philosophy, homeschooling mother Jeannie Fulbright writes as if she were chatting with her own children, defining and explaining at their comprehension level. Designed to be used with both readers and non-readers, each clearly organized lesson features content-rich narration; notebooking; and hands-on activities and projects using easy-to-find household items. Dissect seeds, force bulbs, make leaf skeletons---and take a close-up look at God's flora kingdom. Grades K to 6. 176 pages, hardcover.

Exploring Creation with Zoology 2: Swimming Creatures of the Fifth Day
By Jeannie Fulbright / Apologia Educational Ministries

Dive into the underwater world of marine animals! Written directly to the student, the gentle conversational style makes Zoology 2 perfect for elementary children to read on their own, or for family reading times with mom. Presenting information with a strong creationist viewpoint, this detailed book contains chapters on aquatic animals, whales, seals, fish, sharks, reptiles, Cephalopods and many other creatures you didn't even know existed! Narration may be easily used with younger children; notebooking and "ocean box" activities are included at the end of each chapter. Household labs develop the skills needed to conduct scientifically valid experiments in any field, while magnificent photos bring the ocean right into your classroom. 235 pages, indexed hardcover with answers to the narrative questions included.
Joyful Light Education Science Outline
Another home school science overview which I have found to be more detailed was published on the Joyful Light Education Website. I have used this with permission. 
This author uses the Robinson curriculum, and so she makes mention of specific books in the overview. It is also directed to an American audience. I would add certain books on Australian Animals and Plants.
The Outline covers a range of topics of home school science and these do not need to be covered in order, but can be repeated in further depth through the years. This can be a very helpful guide to design your own homeschool science curriculum.
Home school Science Outline
Notebooking Pages LIFETIME Membership provides the homeschooling family with a great resource - tons of notebooking pages for you to use as you develop your own home school science curriculum.

from Joyful Light Education

Here is a basic outline for the study of science.

I think this outline covers every topic that a student may come in contact with in the pre-highschool years. Do not try to cover this in one year! Once everything has been covered once, go back and start the cycle again, replacing the older reports with better ones.

This outline does not need to be studied in order, although some of the basic science is needed to understand parts of the other sections. Some families may want to skip some sections completely until the last two years of high school. This is fine too -- especially if you use the Robinson Curriculum as it is meant to be used. This is just a rough guide of what can be done. It is not meant to be set in stone.

Basic Science
The Scientific Method
Creation (for the youngest students)
Fact vs. Theory and Creation vs. Evolution (When a child is old enough to understand)
Cells
Molecules and Atoms (and other basic chemistry if desired)
Micro world
Animals vs. Plants
Animals vs. Humans
Five Senses
Brain and the Nervous system (needs to be studied first so student can better understand the rest)
Sight - include color spectrum, lenses, and photography if desired
Smell
Hearing - include sound waves
Touch - include the layers of the skin
Taste
Body Systems
Digestive System - include how to eat healthy
Urinary System
Circulatory System
Skeletal System
Muscular System - include the benefits of exercise
Respiratory System
Lymphatic System - include viruses, germs and bacteria
Reproductive System - if student is mature enough to handle
Hormonal System - if student is mature enough to handle
Mammals
- if you use the Robinson Curriculum the Bailey books can be used here, with some extra reading as needed.
Pets and Farm Animals
Animals of North America - an excellent source for this section is: "The Burgess Animal Book for Children"
Warning: This book contains references to Mother Nature, and how she is the one who made each animal the way that they are. Also contains references to how humans are bad when they hunt animals. This may be a problem to some families. I still plan to use these books with my children -- the information about what you can learn about the animals is very good and detailed. I will carefully discuss the questionable parts with my children OR, I will edit the books to take out all references to Mother Nature.
Animals of the North and South Pole
Animals of Other Countries
Birds - if you use the Robinson Curriculum the Bailey books can be used here, with some extra reading as needed.
How Birds Fly and their Anatomy
Birds of North America - an excellent source for this section is: "The Burgess Bird Book for Children"
Warning: This book also contains references to Mother Nature, but not as prevalent as "The Burgess Animal Book"
Birds from Other Countries
Other Animals
Fish
Reptiles
Amphibians
Insects
Invertebrates
Plants
Flowers
Weeds
Trees
Flower less plants: ferns, fungi, coral, moss, mold and bacteria
Space and Sky
The Solar System - Check out this Tour of the Galaxy Video
Seasons
Earth's Atmosphere
Water Cycle - include evaporation, condensation, and precipitation
Weather - include acid rain if desired
Solids, Gas, Liquids - include how water can change into each form (The fourth state of matter video?)
Climates of the World
Earth and Water
Basic Physics
Famous Scientists
File reports about Scientists in chronological order, or in alphabetical order by last name -- your choice.

Used with permission from: Joyful Light Education 
Science Experiments
Absolutely Wonderful Free Science Resources
Science Experiment Guide ($25 value)

This experiment guide includes:

Over 30 complete experiments...
Defy gravity as you levitate water
Crush a soda can using a few drops of water
Make an indoor corkscrew roller coaster
Stick your kid inside a real bubble
Grow crystals overnight
Create and crack your own geodes
Build a flying machine that shouldn't be able to fly at all
...and much more!

Your kids will be so jazzed about science that they'll be begging to learn more. Click here to get the Free Science Experiment Guide. This eBook download comes bundled with the Rocket Scientist Newsletter, which includes a weekly free science experiment in your email box.

Science Activity Manual and Video

Science Activity Manual and Video Collection ($30 value)

Cool science experiments! Did you know that you can bend light to make objects disappear? Make the fourth state of matter in your microwave? Build a speaker from a plate? You can do all these activities and more in our free Science Guide!

Simply click here to download a copy of the Homeschool Science Activity Manual & Video Guide. Save it to your computer - it's in PDF format. You can also link directly to the file itself.



Where to from here?
How do I teach Home school Science to my children? In concrete terms, how do I go about this task and how do I design our homeschool science curriculum?
Let me help you..