Your Complete Homeschool Planner -
DIY! and Keep On Track
- Activate and download ebook
Not sure how to activate and download
Your Complete Homeschool Planner -DIY
or
Keep on Track Homeschool Planner
E-books?
Firstly, Make sure you are running this version of Adobe Reader
Here's some steps to help those who are using Windows XP:
1. When you buy Your Complete Homeschool Planner -DIY! or Personalize It!, an email will be sent to you. This contains a link to download the E-book on to your computer.
2. Press the link, and the download file will be sent to your computer. Choose "Save" and not "Run". Open it.
3. You will come to this screen.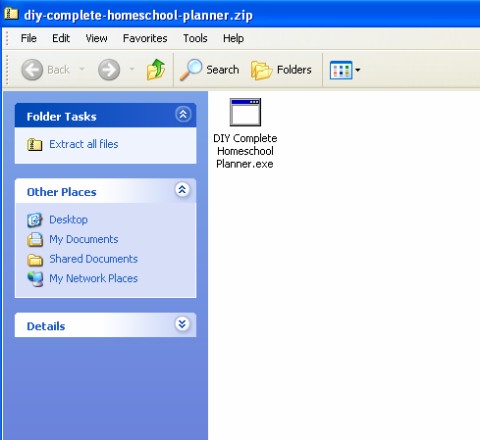 4. Click "Extract all Files".
5. Follow the instructions of the Extraction Wizard and browse your computer to place the e-book in your desired folder. (e.g. My E-books)
6. Open up the location and double click on the file, "Complete Homeschool Planner....exe"
---
Once you have downloaded your e-book, save it on your computer to a location you will remember.
---
When you have opened the file, you will see a sample copy.
In order to activate the ebook, you need to enter the activation key.
Select "Activate eBook..." from the "eBook" menu on the left.
When the activation window is displayed, copy (Ctrl-C) your activation key from the email you received and paste it (Ctrl-V) into the activation window. Then, click on the "Activate" button to get access to the eBook's full content.




 




 




If you have further troubles, you can select "Help" from the e-book menu on the left.
In some instances, you may need to disable some security features (such as firewall) to download the file.
Purchasing the eBook
| | |
| --- | --- |
| | If you did not purchase the eBook yet, you can start the purchase process by clicking on the "Buy This eBook Now!" button on the top-right corner of the eBook. This will bring you directly to my page where you can purchase Your Complete Homeschool Planner- DIY! |
After you complete the purchase transaction, you will receive an activation key. That's the key you will use to activate the eBook.
I hope you enjoy using DIY! Enjoy making your own unique Homeschool Planner - allowing you to get on with what's important in life!