Design Your Homeschooling Unit Studies
So, you are wondering how to begin to design your own Homeschooling Unit Studies.
It is not too hard, but requires some pre-thinking. 
Let me walk you through the process to help you design all sorts of homeschool unit studies, uniquely.
1. Setting Goals
Firstly you need to think back on the decisions you made regarding your own family's goals. The goals which you choose help determine the scope of what you want to teach. For example, if it is one of your goals to bring your children through World History in chronological order, this will affect how you do unit studies. Or you may choose to vary the history studies in the primary years and work in a chronological order in the high school years. It may be your desire to plan unit studies through the primary years and work in another way in the later years. Setting your goals will help you get the big picture.
2. Choose Which Homeschooling Subjects will be covered by Unit Studies.
How encompassing will your unit studies be? As part of the process to design your unit study, you need to think through some questions.

Will you need a Spelling program alongside the unit study or 
will you tackle Spelling in the context of the Unit Study? 
Will you teach art within the unit study or as a separate subject? 
Unit Studies allow us to combine a great deal of subjects under one common theme. When you design your unit study, you can choose which areas you will study under the topic or theme and which you will leave to teach in a more structured, systematic way. Areas which are commonly covered in Unit Studies are:

History (Historical time periods, people, Church history, Scientists, History of cars/trains/weapons..),Science, Art and Craft, Writing, Reading, Drama and Oral Presentations, Bible, Copybook, Dictation, Geography.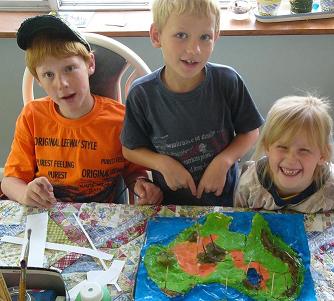 Of course, depending on the topic of interest, homeschooling unit studies can encompass much more. For example, here are three of my children making a salt dough map of Australia. What are they doing there? Art and craft?- sculpture/painting/modelling; Geography? History? Discussion? All of the above! If your child wants to present what he has learned in a computer powerpoint presentation – then the use of a computer is a part of his learning. My eldest children have made some wonderful powerpoint presentations on Artists; Reasons for the American Civil War; Slavery and so on. If he/she wants to make a wooden model (when working on a "Ship" theme), then woodworking becomes a part of the unit study. It depends on the scope of the unit study itself. 
Some of the subjects which you choose to teach as a family will be difficult to teach in a systematic way if they are only taught in the context of a unit study. Those subjects may include: Maths, Spelling (depending on how you teach), Grammar (depending on how you teach this), foreign language, and possibly some more.
3. Make decisions on how to teach other homeschooling subjects outside the unit study.
As you design your unity study, you will need to decide how you will teach these non-unit study subjects? 
How much teaching can be done in the context of the unit study? 
Show me how to Teach the homeschooling subjects outside of the Unit Study. 
4. Decide how you will choose homeschool unit study ideas.
There are a number of ways in which you can approach Homeschooling Unit Studies and make choices as to the content of your unit study. After all, you are in the page, "Design Your Homeschooling Unit Studies!"
It is virtually limitless: History, Science, Literature, Character, Biblical theme and so on.
Decide which unit study ideas or topics to study. 
5. Brainstorming your Unit Study - WHAT to study.
How do we develop and expand the homeschooling unit studies we have chosen? An easy way is to apply questions to the topic or theme and choose certain aspects from the study which you will research together as a family.
So what are some appropriate questions to Brainstorm Your Unit Study Idea?
6. Learning Activities in the Unit Study – activities and ideas for presentation.
Since we have chosen our topic, expanded it with appropriate questions and found wonderful research ideas, we now want to know how we can enter into this field of knowledge, read, research and respond in varied learning style activities.
We can do this through Kid's Learning Activities.
Read about Amanda Bennett's Unit Studies or write a review.