HOME

›
Curriculum/Homeschooling Resources
›
History Curriculum Bookshop
› Renaissance and Reformation - Teacher Resources
Excellent Homeschool History Teacher Resources and Primary Sources for studying the Renaissance and the Reformation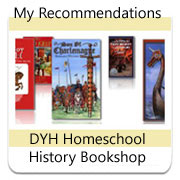 All Homeschool History Resources on one page
These homeschool history resources will help the family prepare for the study of the Renaissance and the Reformation. Here you will find resources which the parent/teacher will want to reference, use as a thread book as well as pass on to the older students as good reference materials.  
Further on the page, you will find Historical Sources - places where the students can read the primary source material as they pursue a deeper understanding of this time period, such as The Canterbury Tales, Le Mort d'Arthur and The Travels by Marco Polo.
This page only deals with the teacher resources and the primary resources to help study the Renaissance and the Reformation. For more homeschool history resources, ideas, living books, hands on project ideas, history curriculum and spine books especially for this time period - click on the links at the bottom of the page. This will direct you to the appropriate homeschool history section for the Renaissance and Reformation.

Homeschool History Teacher Resources - Renaissance and Reformation
The Story of Liberty (A Christian History Text)
By Charles C. Coffin / Maranatha Publications, Inc

"...if truly God had specific plans for this country and the people who were to inhabit it, have God's plans reached their fulfillment? Does America still have a rendezvous with destiny? Is there yet a generation to come forth from this nation which will turn the hearts of not only its countrymen back to the living God, but hte hearts of the world as well? It is with this in mind that we have endeavored to republish Carles Coffin's The Story of Liberty, originally published in 1879.

The Story of Liberty is not America's story alone. It belongs to all those who are enjoying freedom and liberty in any part of the world. And it belongs to all nations that will yet serve Him. As we reach back into the records of history to observe the hand of the Great Author of all liberty, we will find direction for the days ahead and discover the keys we need to understand and interpret the future. As we look at that which preceded our nation's history and led to its founding, we will begin to have an idea of what liberty cost those who love the truth and how much still is at stake. We cannot neglect the present and hope to enjoy in the future the blessings of the past. Liberty was purchased by Christian courage, self-sacrifice, and unceasing vigilance. Only by these virtues can we hope to keep it. We must, by God's grace, be as determined to protect our liberties as our forefathers were to win them. 'Stand fast therefore in the liberty wherewith Christ hath made us free, and be not entangled again with the yoke of bondage.'" (Gal. 5:1 KJV).
This is such an incredible book for parents and young adults. Such insight!

How Now Shall We Live? Hardcover
By Charles Colson / Tyndale House

With real, inspiring stories of faith in action, How Now Shall We Live? encourages readers to present the gospel in a way that will capture the imaginations, minds and hearts of a culture that is entrenched in the lies of relativism and self-before it's too late.
Foxe's Book of Martyrs
By Baker

With millions of copies in print, Foxe's Book of Martyrs has become a classic of magnificent courage and faith. This unparalleled volume chronicles the tragic yet triumphant stories of men and women who faced torture and martyrdom rather than deny their vision of truth and of God. Beginning with Jesus Christ, this exceptional historical record traces the roots of religious persecution through the sixteenth century. It examines the heroic lives of great men and women such as John Hus, John Wycliffe, William Tyndale, Anne Askew, Lady Jane Grey, and Martin Luther. John Foxe also knew persecution. Forced to flee from his native England to Europe during Queen Mary's severe persecution of those holding Reformed views, he carefully compiled records of martyred Christians. His writings possess a sense of immediacy and insight into suffering that few "objective" church historians can match. This edition has been streamlined and reorganized by W. Grinton Berry to present work in today's language.
Streams of Civilization are excellent homeschool history reference books. We have also used this series with our older children as their own spinebook. They have read and summarized from this book as well as used this to write essays and do extra research work. This book begins with this time period.
Streams of Civilization, Volume 2
By Garry Moes / Christian Liberty Press

This book covers the events of world history with an emphasis on European and American culture since the Reformation. Each chapter traces a particular theme within a particular time period. The principal themes include the history of Christianity and philosophy with their results in culture, politics, economics, society, science, and technology. A time line at the beginning of each chapter will help the reader to see the chronological relationships between the events discussed in the text. Throughout the text, particular points of interest, focusing on specific individuals and events, provide further information. Maps and photographs, as well as artwork of a particular period, add to the overall impact of the book. Thought-provoking questions given at the end of each chapter will encourage students to think through the Christian implications of the material and its relevance for today's world. In addition, a list of important words and concepts at the end of the chapter will aid the student in focusing on the most significant ideas discussed in the chapter. Suggested projects can also enliven the topics being covered as a particular activity is carried out by an individual or a class. A reading list is provided to suggest resources for further study; an extensive index will also enable the student to use the book for reference in years to come.
Absolutely essential book as an overview of all time periods!
The Kingfisher History Encyclopedia, Revised Edition
By Houghton-mifflin

The past never felt so present! Exploring world history throughout 10 chronological periods from 40,000 B.C. to 2003, this newly updated resource overflows with fascinating facts, in-depth articles, and at-a-glance summaries that bring the story of civilization to life. Brimming with lavish full-color artwork and punctuated with lists of important events---plus online links for further information---it offers a can't-put-down gallery of learning. (Includes some discussion of evolution.) 491 pages, hardcover.
The next two titles help to study the literature of the time period.

Brightest Heaven of Invention: A Christian Guide to Six Shakespeare Plays
By Peter J. Leithart / Canon Press

An excellent introduction to one of the world's greatest literary masters! Offering a Christian interpretation of Shakespeare's works, Leithart examines the biblical overtones found in six of the Bard's best-known comedies, tragedies, and historical plays. Thought-provoking study questions, suggested essay topics, and informative reviews of film versions of the plays appear at the end of each chapter. 286 pages, softcover from Canon.
The Discarded Image: An Introduction to Medieval and Renaissance Literature
By C.S. Lewis / Cambridge University Press

The Discarded Image paints a lucid picture of the medieval world view, providing the historical and cultural background to the literature of the middle ages and renaissance. It describes the 'image' discarded by later years as 'the medieval synthesis itself, the whole organisation of their theology, science, and history into a single, complex, harmonious mental model of the universe'. This, Lewis' last book, has been hailed as 'the final memorial to the work of a great scholar and teacher and a wise and noble mind'.
Notebooking Ideas for Renaissance and Reformation
For those who enjoy making notebooks or lapbooks as a part of a history project idea - you will love the notebooking pages collection below. Using these is an easy way for your children to create a memory by recording what thy have learned on an appropriate notebook page. You can add this to a poster or incorporate it into a lapbook. This selection includes explorers, famous composers, and Book of the Century timeline pages. It is an ideal way to combine the love of reading exciting living books with writing narrations about the characters and historical events.

Search for these titles in your Favourite Book Shop:
| | |
| --- | --- |
| The Book Depository: | Christian Book: |
Historical Primary Sources from the Renaissance and Reformation
Alfred the Great
By Translated with an Introduction by Simon Keynes & M. Lapidge / Penguin Putnam Inc.

The reign of King Alfred the Great (871-99) is among the most stirring periods of English history. As king of Wessex, he strove to emulate those kings of the past who, in his own words, had 'succeeded both in warfare and in wisdom.' He led the battle against the Viking invaders of England, and presided over the revival of religion and learning among his people: his reputation is a measure of his success.
Asser was a monk of St. David's, in Ales, who entered King Alfred's service and eventually became Bishop of Sherborne. His Life of King Alfred, written in 893, is a remarkable account of the king's activities in peace and war, and testifies to the admiraction that Alfred inspired in those around him.
Le Morte D'Arthur
By Thomas Malory / Random House, Inc

The legends of King Arthur and his knights of the Round Table have inspired some of the greatest works of literature - from Cervantes's Don Quixote to Tennyson's Idylls of the King. Although many versions exist, Malory's stands as the classic rendition. Malory wrote the book while in Newgate Prison during the last three years of his life; it was published some fourteen years later, in 1485, by William Caxton. The tales, steeped in the magic of Merlin, the powerful cords of the chivalric code, and the age-old dramas of love and death, resound across the centuries. The stories of King Arthur, Lancelot, Queen Guenever, and Tristam and Isolde seem astonishingly moving and modern. Malory's Le Morte d'Arthur endures and inspires because it embodies mankind's deepest yearnings: for brotherhood and community; a love worth dying for; and valor, honor, and chivalry.
The Canterbury Tales
By Geoffrey Chaucer, edited by Nevill Coghill / Penguin Classics

In The Canterbury Tales Chaucer created one of the great touchstones of English literature, a masterly collection of chivalric romances, moral allegories and low farce. A story-telling competition within a group of pilgrims from all walks of life is the occasion for a series of tales that range from the Knight's account of courtly love and the ebullient Wife of Bath's Arthurian legend to the ribald anecdotes of the Miller and the Cook. Rich and diverse, The Canterbury Tales offers us an unrivalled glimpse into the life and mind of medieval England.
Nevill Coghill's masterly and vivid modern English verse translation is rendered with consummate skill to retain all the vigour and poetry of Chaucer's fourteenth century Middle English.
The Travels
By Marco Polo / Penguin Classics

Despite piracy, shepwreck, brigandage, and wild beasts, Polo moved in a world of highly organized commerce. This chronicle of his travels through Asia, whether read as fact or fiction, is alive with adventures, geographical information, and descriptions of natural phenomena.
Renaissance and Reformation (1461-1600)
Pages to help you create your Homeschool History Renaissance Reformation Study