Phonetic Zoo Homeschool Curriculum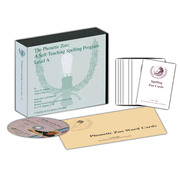 By Melissa

North Pole, Alaska


Have you used Phonetic Zoo? Like to add your review? Write it here.
Read what other homeschoolers say about Phonetic Zoo.
Phonetic Zoo is a self teaching spelling program using audio CDs, zoo flashcards which introduce new spelling rules and a word card which lists the spelling rule and words for three different levels. Many homeschool families love using this spelling curriculum.
I use Phonetic Zoo for my auditory learning style son.
I really like that he can use headphones to help him really listen and tune out household noises.
Once we learned how to use the system he can work independently and give me daily reports as to which lesson he is using and how many words he spelled correctly.
He has also had to learn a little organization by keeping up with the card, cd, ear buds, and pens needed for his daily spelling work.
This isn't a workbook type system so your student will not be doing crossword puzzles or wordseaches or even dictionary skills. It is just a spelling program, which means learning the spelling rule, spelling the words and checking the words. This program works well for our family.
ChristianBook Product Description: The Phonetic Zoo: A Self Teaching Spelling Program Level A contains a 5 audio-CD set, an envelope containing a set of large word cards, a set of personal spelling cards, and an introductory DVD. Using the zoo flashcards, parents present each rule using discussion and reading the words; once learned, the child is presented with the small, personal card to serve as a reminder. The audio CD set contains five audio CDs in a plastic case. Introductory comments and the first lesson are included; each spelling word is pronounced and accompanied by a rule jingle. Spelling words are pronounced for the child to pause and spell; the correct spelling is included at the end of the lesson. This multi-sensory approach reinforces lessons in the best way for each child to learn and retain spelling words. Grade A is intended for children in grades 4-5.
Let us know what you think...
How have you used this curriculum?
Sometimes it is really hard to work out what is the best homeschooling curriculum for your family.

Tell us how you used this curriculum.

Show us an example of a project you created using this curriculum. How did you mould and integrate this curriculum in your family? Will you continue to use it?.... Your answers will help another homeschooling family make a curriculum choice!
Where to from here?