Teaching Writing - Home School Curriculum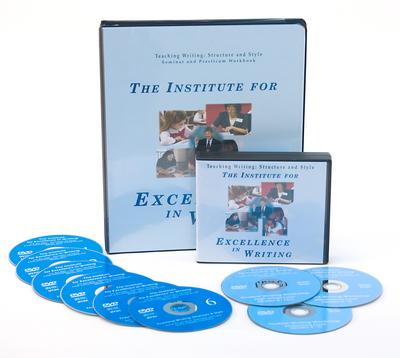 Overview of Home School Curriculum :
Teaching Writing : Structure and Style
by author, Andrew Pudewa
Do you use Teaching Writing Home school Curriculum? Add Your Review!
Read Reviews by Homeschoolers
Teaching Writing : Structure and Style is our primary offering: a video seminar for teachers and parents presenting a system of structural models and stylistic techniques applicable for students of all ages and aptitudes.
Unlike many "Creative writing" programs, this more classical system stresses modeling, and builds a firm foundation of specific skills. As students practice each format and master each technique, they develop confidence and consequently creativity. Even the youngest first grade student can get a sense of structure and a repertoire of style; high school or university students will see instant improvement in their written communication.
This program allows for easy customization, implementation, and concise grading. After learning it yourself, you will be able to communicate to students exactly what is expected of them, as they master new skills one step at a time, and assignments can be integrated with content areas of history, geography, science, religion and literature.
The set includes the full teacher training course on six DVDs (12 hours plus practicum assignments), along with three 2-hour demonstration lessons showing the first step of the process being taught to students at three different grade levels - an enjoyable jump start with Structure and Style. The accompanying Seminar Workbook becomes your syllabus and teaching manual.
Check out Teaching Writing : Structure and Style Here!
Institute for Excellence in Writing Products from Christianbook.com
How have you used this curriculum?
Sometimes it is really hard to work out what is the best homeschooling curriculum for your family.

Tell us how you used this curriculum.

Show us an example of a project you created using this curriculum. How did you mould and integrate this curriculum in your family? Will you continue to use it?.... Your answers will help another homeschooling family make a curriculum choice!
Homeschoolers Curriculum Reviews
Click below to see curriculum reviews written by home educators on this page...

Institute for Excellence in Writing : Counting the Cost

Although we are newbies to Institute for Excellence in Writing, (IEW) I'd still like to share what we've been getting out of it so far. The …

All Things Fun & Fascinating by IEW Not rated yet
I am using All Things Fun & Fascinating by Institute for Excellence in Writing for my 9 and 10 year old boys this year. This excellent writing curriculum …
Institute for Excellence in Writing Not rated yet
The Student Writing Intensive contains four DVDs, a binder with dividers, and a packet with teacher notes, handouts, and checklists. Each level (A,B,C) …
Time4Learning offers online writing lessons where students are guided through activities at their own pace. Try a free demo to see if this would work for your family.
Where to from here?