Home school Science Sitemap
What makes up a Home school Science Curriculum?
Home School Science!  Science is such a broad subject area that at first thought, it might be daunting and you may wonder - How will we teach this and what home school science curriculum might we use? Or could we take ideas from here and there and create our own course of study? 
This is my home school science overview page - to give the broad picture of what teaching science might be like in your home.

So, it is helpful to think through: 
Ways to teach Science - the methods and strategies; and
The Divisions of Science

Ways to Teach Science

Ways to Teach Science - this page has more details of teaching science by observing, experiments, reading and notebooking.  Fun Science in your home!


Divisions of Science

Science can be divided in this way:


Life Science (Animals, Human Beings, Plants)
Earth Science and Astronomy
Chemistry
Physics

Read more on The Divisions of Science

Absolutely Wonderful Free Science Resources
How do I teach Science and design a Homeschool Science Curriculum?
As I think through teaching Science,  I have identified four ways in which Science can be taught and how you can design your own homeschool science curriculum. These are really quite easy to implement and so I have listed the Science pages on this sitemap under these heading:
Observation of Science
Science Experiments and Projects at Home
Science Books and Resources
| | | |
| --- | --- | --- |
| | | Science Curriculum and Textbooks |
| | | Online Science Curriculum |
Science Notebooks

Notebooking Resources
Helpful Science Notebooking Pages from Notebookingpages.com
What Science skills are we trying to teach?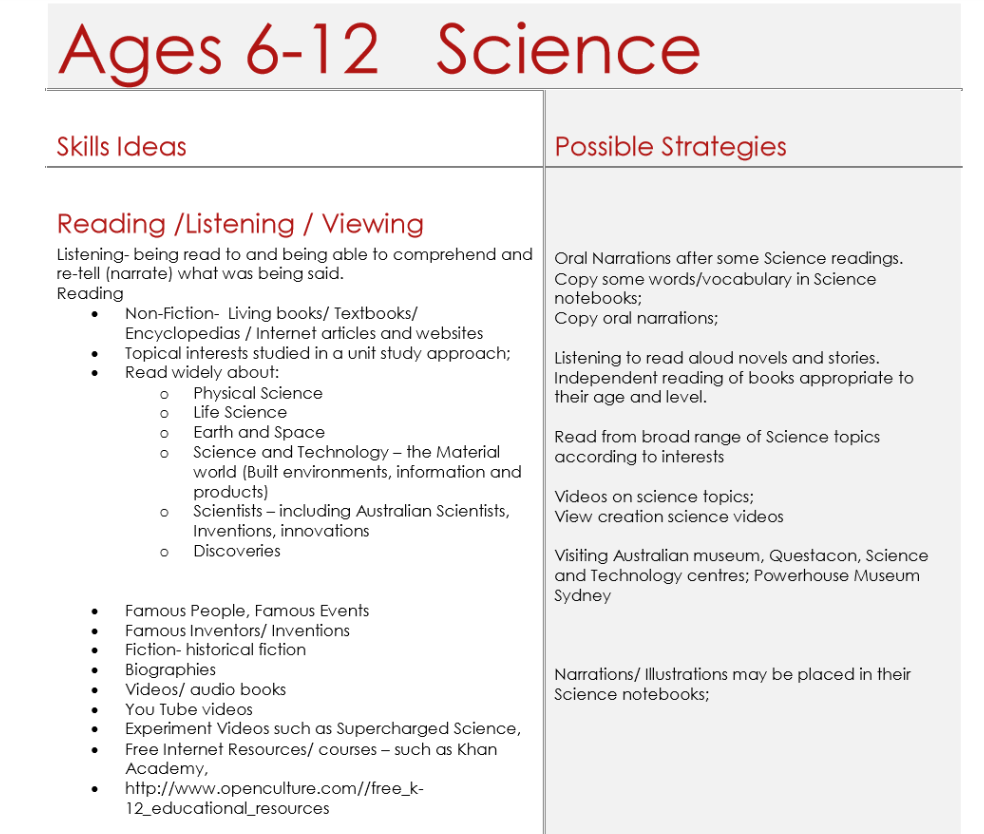 There are a number of skills we want to teach as we teach home school Science. They include:
Reading across the divisions of Science including Science discoveries, people, nature.
Observation - including outdoor observation as well as conducting experiments and taking careful observation of results.
Writing - being able to record what you have learned and observed.
Creating and investigating - and working through the scientific process.
Communicating - solving problems, defining and describing.
Presentation - being able to present results, findings etc
There are strategies which you can use to cover the types of skills which you would like to be focussing on as you teach home school science. Strategies are the things you would be doing already - like going on a nature walk, reading great information books and biographies, watching videos, conducting experiments, visiting the zoo and a ton more ideas that I'm sure you're doing already!
Feel free to download this Skills and Strategies pdf which has a list of some science skills as well as possible strategies to bring science into your homeschool. (The pdf has other subjects also.)

Where to from here?