Teaching History - with a Spine Book
Teaching History using a Spine Book?
What is a Spine book and why use one?

Using living books to teach history is exciting and memorable and are a great way to live out the time period.  Historical fiction is wonderful for the whole family to read  ...BUT... how do I keep the study connected- as a whole; as a story? Good question..
3 Reasons why a Spine Book can benefit your History Studies

Reason 1:  A History Spine Book can help to keep your History studies on Track.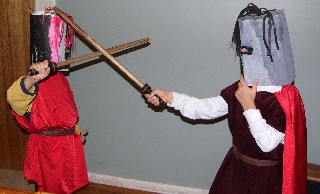 Teaching History with a Spine-book helps to keep the study connected and helps to keep you on track.   A history spine book becomes the spine of your studies! It is a book which can be used to tie the stories together. It may even be a textbook which moves in a chronological way.
As you read through the pages of the history spine book with your homeschooling family, you jump off and explore the topic in further detail - read historical fiction novels about the topic/person/event, make projects, learn a skill (jousting- see above), go on an excursion, and when ready, head back to the spine book to continue through the study of the time period. The spine book enables you to steer your own homeschool history course - remaining flexible but with a clear direction.
Some spine books are written to a younger audience - so this is useful especially when you are teaching history the first time around. In later years, teaching history can be developed by reading the writings of the time period itself- the primary sources and the Great Books, along with a more advanced spine such as Streams of Civilization.
You may even use a few different spine books (if you have time) in your study of one historical period.
The Spine book will keep you moving through your homeschool history course at the rate you choose.  It may be a collection of stories of famous people (such as the Famous Men Books).
Famous Men Series
Famous Men of the Middle Ages
By Rob Shearer.  John H. Haaren,  A.B. Poland

With five new chapters by Rob Shearer edited and updated by Rob and Cyndy Shearer The stories begin with the Germanic chiefs: Alaric, Genseric, and Theodoric. Then come stories of the famous kings of the Franks: Clovis, Charles Martel, and Charlemagne.

This book allows you to study famous men in the middle ages and as you study them, you may stop, investigate them more, read a historical fiction novel about the character, research him/her on the internet, write about them, make something and then go back and visit the next character in the spine.
Once you have read, researched, write your narration onto notebooking pages. I have some  free notebooking pages here - the blank pages are especially useful for the variety of ages/levels.
I have also developed notebooking pages to supplement the Famous Men of the Middle Ages Book. This E-book contains both the text and the notebooking pages of the Famous Men of the Middle Ages.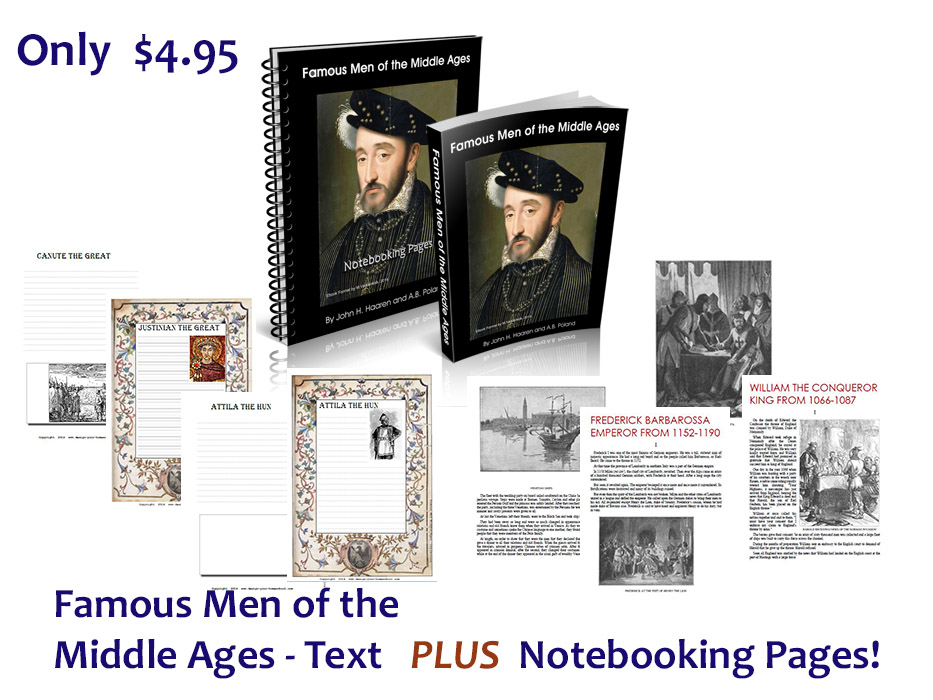 Story of the World Curriculum
The History Spine book may be one which leads through events such as the Story of the World Curriculum.
This curriculum set consists of the narrative book Story of the World which is divided into lessons. Each narrative is read to the child. Following the reading, you can choose to ask for a narration (written or oral), do a project or activity which is written in the activity book or even read further information in the recommended reading list provided chapter by chapter. Once again, this story book is your spine, and even though it is written in a way that you may finish a chapter per week, you do not need to stick to anyone else's time-frame, but just enjoy researching and continuing with the material until you are ready to move on.

Reason 2:  A History Spine book can be used as a tool to teach the skill of outlining.
Outlining a paragraph, an essay or a topic may be an important skill you want your children to learn as they study the homeschool history course you have decided on. Having a type of textbook such as those below can help your children practice this skill.

Some books such as the Kingfisher History Encyclopaedia (upper primary), and Streams of Civilization, Volume 1 (high school years) are written in formats which can be used by the student as a practice in outlining and so produce their own outlined synopsis of history. A child can take one double page spread of this type of book - read the paragraphs one at a time, find the topic sentence and the supporting sentences within the paragraph and use this to write an outline of the paragraph. They can then choose to follow one interest from that page and read more about that in the week. You may choose to spend longer on some pages, depending on the interest shown and also on your time.
The high school student will need to read chapters or larger selections rather than single pages to move through history. It is desirable that the high school student has been studying history in their earlier years and laid a foundation of what is to come.

Reason 3:  A History spine book is a springboard for further studies
A spine book can be used as a way to open up the history topic and allow for further research. Students can read a portion of the text; outline it; and then use that as a springboard to find further information on one character. Teaching history in this way, allows the student to place an author in his/her context in history and in the world.
Depending on their age, the student can read the primary sources of the characters or events in that section and write notes when reading the primary sources.
Following that, they discuss the primary source: Who is the author? What is he saying? How does this stand in the light of scripture? Write an essay on it; Then move on to the next section of the text. Every homeschooling family can use spinebooks or textbooks to suit their own children, their needs and their learning style.




Streams of Civilization, Volume 1
By Mary Stanton / Christian Liberty Press

Most history textbooks are written from a secular viewpoint, but this introductory text is different! Providing a comprehensive look at Western, African, and Asian civilizations from creation to 1620, it affirms the biblical view of creation (though it discusses evolution) and gives your kids insight into other cultures and religions from a Christian perspective. Includes vocabulary questions, exercises, maps, and black-and-white illustrations. Ideal for grades 9 and up. 410 pages, hardcover from Christian Liberty Press.
Spinebooks used in Homeschool History Curriculum
Some history curriculum such as Tapestry of Grace, and Truthquest History use a number of books to complete their homeschool history curriculum. They will mostly list a spinebook which keeps you on track, but this will not necessarily be used each week. Rather, the curriculum is used to keep you on track and tie the loose ends, and the spinebook is used when it fits with their arrangement of topics.
| | |
| --- | --- |
| | The Story of the World is a curriculum which consists of a spinebook which is a narrative to be read aloud, and an activity book which describes what else can be done after the reading - narrations, projects and further readings. |
Diana Waring Curriculum as listed below consists of a Teacher's Manual, a Student Guide and an activity book. Book packs (with the literature recommended in the course) are also available.





Ancient Civilizations and the Bible, by Diana Waring


By Diana Waring / Diana Waring Presents

How does the Bible mesh with history? Now updated, Waring's best-selling text and teacher's guide take students on a 9-month journey through ancient and biblical history, from creation to the time of Jesus.

Lessons include articles; activities; Scripture; suggested book lists; research topics; vocabulary; timeline; outline maps; creative writing assignments; and information on art, architecture, music, science, and drama. Appropriate for all learning styles.



List of Spine books across all periods of History.
Here are some examples of Spinebooks which can be used across the time-periods. Go to the History Bookshop for  more in depth History Recommendations.
Genesis: The Beginning, Ancient World

Read more about Spine books to teach history in the Ancient time period

Ancient Egypt Spine Books
Ancient Greece Spine Books
Ancient Rome Spine Books
MIddle Ages Spine Books
The Story of the Middle Ages by H.A.Guerber
The Famous Men of the Middle Ages (my ebook has the Text plus Notebooking Pages which correspond to the Famous Men Book).  
The Story of the World; Volume 2 - The Middle Ages (400 - 1600) by Susan Wise Bauer
Streams of Civilization Volume One;
Romans, Reformers and Revolutionaries by Diana Waring

Renaissance and Reformation Spine Books
Colonization and Exploration Spine Books
The Story of the World; Volume 3 - Early Modern Ages (1600-1850) by Susan Wise Bauer
Streams of Civilization Volume Two;
Romans, Reformers and Revolutionaries by Diana Waring

Modern History - 1700s Spine Books
The Story of the World; Volume 3 - Early Modern Times by Susan Wise Bauer
Streams of Civilization Volume Two;
Romans, Reformers and Revolutionaries by Diana Waring

Modern History - 1800s Spine Books
Modern History 1900s Spine Books
The Story of the World; Volume 4 - The Modern Age by Susan Wise Bauer,
Streams of Civilization Volume Two;
World Empires, World Missions, World Wars by Diana Waring

Approaches used in Teaching Homeschool History
Where to from here?