All about Cara's world!
by Cara
(Illinois, USA)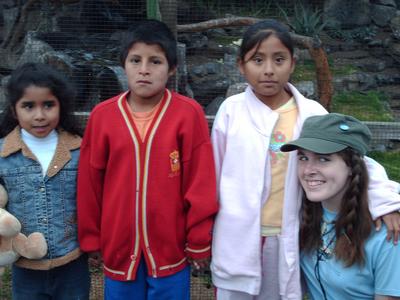 Here I am, meeting three kids sponsored through Compassion International while I am in Peru. The youngest girl is my family's sponsor child, the other two I am meeting for friends.

Top Ten Things anyone should know about me (no particular order):

10. I have my very own horse, a 4 year old American Bashkir Curly. He is, of course, the cutest and best horse ever!

9. I am 14,

8. a girl,

7. with brunette hair and blue/green eyes

6. I love learning! Reading is totally one of the most underrated activities.

5. I play the piano. This year I also began choir at the high school.

4. My life was changed forever this summer through an amazing missions trip I took to Peru through Focus on the Family. I will never forget those kids.

3. I am amazingly busy this year,,, so why I am taking the time to make this page is COMPLETELY beyond me!

2. Roses are amazing, I love them. That and Reeses. Those are the 2 things that would make me love any guy who gives them to me forever! (JK...mostly)

1. hmmm,,, I love getting to know people, am taking a cake decorating course, can give awesome shoulder massages, and am praying for God to direct me about what way I should be going in my life right now.