HOME

›
Homeschool Science Sitemap
›
Easy Science Experiments
› Bubble Experiments
Bubble Experiments - Quick, Easy and Fun!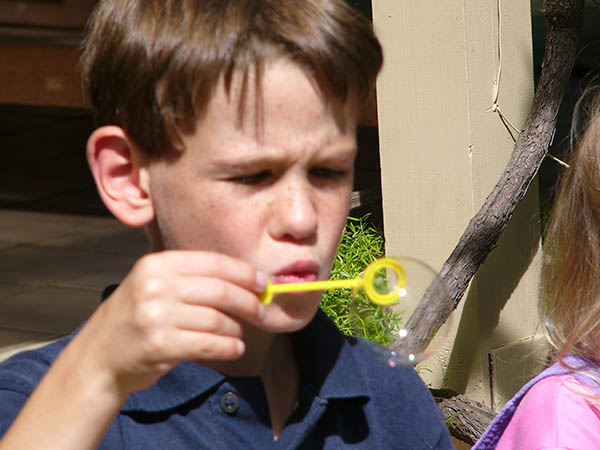 Making a really good bubble solution is crucial in performing these bubble experiments, so I've looked to the expert, Aurora Lipper to give us some tried and proven advice as well as a huge selection of bubble variations and experiment ideas.
The first thing you need to know is how:

To make the best bubbles,

for your bubble experiments, you'll first need to make the best bubble solution. Gently mix together 12 cups cold water in a shallow tub with one cup green Dawn (or clear Ivory) dish soap. If it's a hot dry day, add a few tablespoons of glycerin. (Glycerin can be found at the drug store.) You can add all sorts of things to find the perfect soap solution: lemon juice, corn syrup, maple syrup, glycerin… to name a few. Each will add its own properties to the bubble solution.

When Aurora teaches this class, she experiments with a variety of solutions just to compare how they all perform with the variety of bubble experiments.





Thanks to Aurora Lipper for this guest post;
If you are looking for more experiments try the Free Ebooks below.
In the Bubble Experiment pdf, you read how soap makes water "wetter", how soap makes water stretchy and how the soap molecule looks a lot like a snake.
Then she goes on to explain the best type of day to make the gigantic bubbles and certain ways and materials used to make:
zillions of bubbles,
trumpet bubbles
bubble castles
joining and stretching bubbles
a light show with bubbles
weird shapes
polygon shapes
gigantic bubbles with straws and string
and really, really , really big bubbles - this one is a bit more complicated, but nothing short of amazing!!
and lastly, a kid in a bubble (with the help of a hula hoop and a plastic swimming pool)
For all the details of these experiments, download the Bubble Experiments PDF by Aurora Lipper, from Supercharged Science and see for yourself how she has been helping families learn science. As a pilot, astronomer, engineer, rocket scientist, and university instructor, she can build laser light shows from tupperware and working radios from toilet paper.
Like a free Science Experiment Ebook? Download yours below. Do you like these experiments? You'll love Supercharged Science
Science Experiments
Absolutely Wonderful Free Science Resources
Science Experiment Guide ($25 value)

This experiment guide includes:

Over 30 complete experiments...
Defy gravity as you levitate water
Crush a soda can using a few drops of water
Make an indoor corkscrew roller coaster
Stick your kid inside a real bubble
Grow crystals overnight
Create and crack your own geodes
Build a flying machine that shouldn't be able to fly at all
...and much more!

Your kids will be so jazzed about science that they'll be begging to learn more. Click here to get the Free Science Experiment Guide. This eBook download comes bundled with the Rocket Scientist Newsletter, which includes a weekly free science experiment in your email box.

Science Activity Manual and Video

Science Activity Manual and Video Collection ($30 value)

Cool science experiments! Did you know that you can bend light to make objects disappear? Make the fourth state of matter in your microwave? Build a speaker from a plate? You can do all these activities and more in our free Science Guide!

Simply click here to download a copy of the Homeschool Science Activity Manual & Video Guide. Save it to your computer - it's in PDF format. You can also link directly to the file itself.