Math Mammoth Homeschool Curriculum
Related Pages
By Kimberly Mauldin
Morrow, GA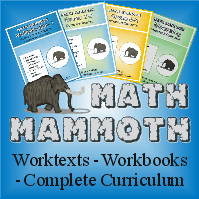 Our 12 year old son is using Math Mammoth and is really liking it!
We have gone through so many different homeschool math curriculum and he was getting further behind because he was either bored or couldn't get it. My explanations were probably not helping because I am not a math-oriented individual.
He really likes the Math Mammoth math curriculum because he can work it on his own and ask for help when he needs or wants it. The instructions and examples are easy-to-understand for just about anyone. He really likes the fact that because of the easy instructions and examples that he can try to learn it for himself first and then "teach momma". There have been few times that it has had to go the other way with this curriculum.
This homeschool math curriculum, Math Mammoth, is easily affordable for all families at any income. You can purchase it as a download or order the printed material. There is every thing covered for 3rd to 8th grade mathematics available.
So, whether as a review, extra practice, or for the curriculum itself, our homeschool highly recommends that you give this course a try!
Check out the Math Mammoth Website.
How have you used this curriculum?
Sometimes it is really hard to work out what is the best homeschooling curriculum for your family.

Tell us how you used this curriculum.

Show us an example of a project you created using this curriculum. How did you mould and integrate this curriculum in your family? Will you continue to use it?.... Your answers will help another homeschooling family make a curriculum choice!
Where to from here?