Simple Hovercraft - Science Project
by Joel
(Sydney)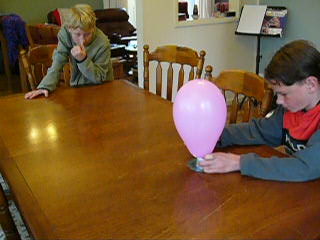 The simple hovercraft science project
I made a simple hovercraft from one of the videos of supercharge science.

More experiments from Supercharged Science here.

The way we made this hover craft is with a CD, a bottle top, a foam cup and also a balloon which holds every thing together. You also need a tac to put 5 holes in the centre of the lid.


To make a simple hovercraft you need a bottle top, a tac and a foam cup, balloon and a cd or dvd.

Method:
1. Get the tac and push about five holes into the bottle top and then glue it to a cd or dvd.
2. Cut a hole into the foam cup on the bottom side so that the cup is now a cone.
3. Blow the balloon up and then twist the end to stop air coming out.
4. Push the balloon through the foam cup and then connect it to the bottle top by pushing the end of the balloon over the top.
5. To let the air come out you untwist the balloon.

It will then hover over the surface.
Join in and write your own page! It's easy to do. How? Simply click here to return to Homeschool Ideas - Science.
Aug 20, 19 01:19 AM

What you need to know to teach homeschool art - what makes a homeschool art curriculum, and best of all how to naturally integrate art in your homeschool day.

Jul 18, 19 12:11 AM

Gain confidence with practical home school ideas to design your unique approach to homeschooling. A homeschool guide in 7 steps filled with helpful advice.

Apr 19, 19 06:49 AM

A Thomas Jefferson Education is Individualized Leadership Education. Help to prepare for new leaders using a classics-based educational approach.