Vocabulary Game - Rummy Roots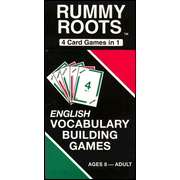 The great part about the vocabulary game Rummy Roots, is that you can learn 42 different Greek and Latin roots without a workbook or pen.
First you play a simple "Go Fish" game and become familiar with the roots. There are lists included to help with this. Once you've learned the roots, then there are three different ways you can play:
In Level 1, players combine roots to form English words.
In Level 2, players try to stump their opponents.
Level 3 is played like Rummy in which you combine three root combinations and expand vocabulary.
The good thing about this game, Rummy Roots and More Rummy Roots is that it remains fun with the additional use of some "stump" and "bonus" cards.
The next game follows along and teaches another 51 Latin and Greek roots.
Rummy Roots: English Vocabulary Building Game Ages 8 to Adult
By Eternal Hearts

What do you get when you combine Greek roots tele (far away) and skopeo (to look at)? "Telescope," a device that allows us to "look at things far away"! Fun and fast-paced, this challenging card game is a great way to build vocabulary, word comprehension, and alphabetical skills by exploring the Greek and Latin roots of our English language. Includes 90 cards: 27 Greek, 15 Latin, 42 English, 4 Stump, and 2 Bonus. Ages 8 to adult.

More Roots, Ages 8-Adult
By Eternal Hearts

If you enjoyed the original Rummy Roots, you'll love this challenging new version of the best-selling card game! Your family will master 51 Greek/Latin roots; develop memory, listening, and alphabetizing skills; become proficient in basic math computation; and more. Includes 51 Greek/Latin cards, 4 stump cards, 2 bonus cards, and instructions. For two to four players, ages 8 to adult.
How have you used this curriculum?
Sometimes it is really hard to work out what is the best homeschooling curriculum for your family.

Tell us how you used this curriculum.

Show us an example of a project you created using this curriculum. How did you mould and integrate this curriculum in your family? Will you continue to use it?.... Your answers will help another homeschooling family make a curriculum choice!
Homeschoolers Curriculum Reviews
Click below to see curriculum reviews written by home educators on this page...

Where to from here?