History Project Ideas for the Middle Ages -
Making History heaps of fun!
Hands on History Project Ideas when studying the Medieval Period
Studying the middle ages has always been so much fun in our home because of the hands on history project ideas.  One fantastic highlight has been our medieval feast - which we have now done twice!
Making costumes, deciding on a menu, planning the activities and speeches, painting, even the shields we had on the back of our chairs are still hanging in our boys' room.
Hands on history project ideas and resources for the Middle Ages
Explore Within a Medieval Castle
By Justine Ciovacco / Silver Dolphin Books

Literally open up the castle to see what life was like inside those stone walls! This cut-away book features a 3-D plastic castle in the center; as you lift pages, more and more is revealed alongside fascinating explanatory notes. Find out about castle design, medieval tournaments, battle reparation in the armory, cooking in the kitchen, and much more. 16 pages, hardcover.
Medieval Alliance Game
By Jett Educational Games

You are a knight, seeking favor with the king in the kingdom of Agrafor through lavish gifts. But beware--his protective bodyguards are seeking to evict you! Collect gifts along the way as you strive to complete your mission; you'll bring his armor, a well-crafted weapon, a luxury item from the East and a work of fine art. The first to present the goods to the King in his throneroom wins! Beautiful cards with photos and art reproductions make this a fun and wonderfully educational game for kids ages 9 and up. 2-4 players.
Exploring Ancient Civilizations: Medieval Times, Grades 3-6
By Robynne Eagan / Teaching & Learning Company

An exciting, hands-on collection of ideas and activities designed to introduce your students to life in Western Europe between 476 AD and 1500 AD. Create an illuminated manuscript, try out life in the feudal system, experience the awesome transition from superstition to science, exxamine famous documents, design a castle, host a joust! These activities, unique source materials and a variety of projects for groups and individuals are included in this outstanding resource. Grades 3-6
Draw and Write Through History Book 3: The Vikings, the Middle Ages, and the Renaissance
By Carylee Gressman / Cpr Publishing

Draw and write your way through the history of the Vikings, Middle Ages and Renaissance, as you learn about castles, Robin Hood, Pagodas, longhouses, a musketeer and more. Drawings are shown with step by step illustrations, and copywork is written out in cursive. Great for supplementing any history program! Ages 8-12. 64 pages, softcover.
History Through the Ages CD-Rom Set Creation to Present
By Homeschool In The Woods

Timelines are a wonderful way to see all history at a glance! They help visualize the procession of time and how one event spurts on another. They also help you see history by the slice - what was happening at various places in the world at the same time. Timelines help the most visual of learner grasp the abstract idea of "time" in a hands-on way.

Your kinesthetic learner will benefit from the cutting and coloring of figures. They are wonderful for the auditory learner as each figure has a descriptive text to remember key points of each person or event. Best of all, they inspire a love of learning about the people and events that made a mark in the world, reinforcing that knowledge by taking part in putting the "puzzle" of history together.

CD 1 includes PDF pages of all the figures in the History Through the Ages Timelines sets:

Creation to Christ
Resurrection to Revolution
Napoleon to Now
America's History

CD 2 includes:

For advanced projects, a gallery of GIFS of more than 1,260 timeline images
Over 30 helpful categories, stored in web browser format: chronological, alphabetical, and several classifications that help make topical studies a breeze!

Windows® and Macintosh® Compatible. Acrobat® Reader Required.
Art in History: Art of the Middle Ages
By Jennifer Olmsted / Heinemann Raintree School Supply

Explore art from the Middle Ages, including why churches greatly influenced art, and the beliefs, inventions, and materials that helped to transform the culture and the art it produced. Reproductions of priceless works of art from the Middle Ages are included. 32 pages, softover. Grades 8 and up.
Lapbooks and Notebooking on the Middle Ages
While studying the Middle Ages, I created an E-book of the Text of The Famous Men of the Middle Ages by John H. Haaren and A.B. Poland as well corresponding notebooking pages.  It is an easy way to notebook and create a memorable History Notebook around your study.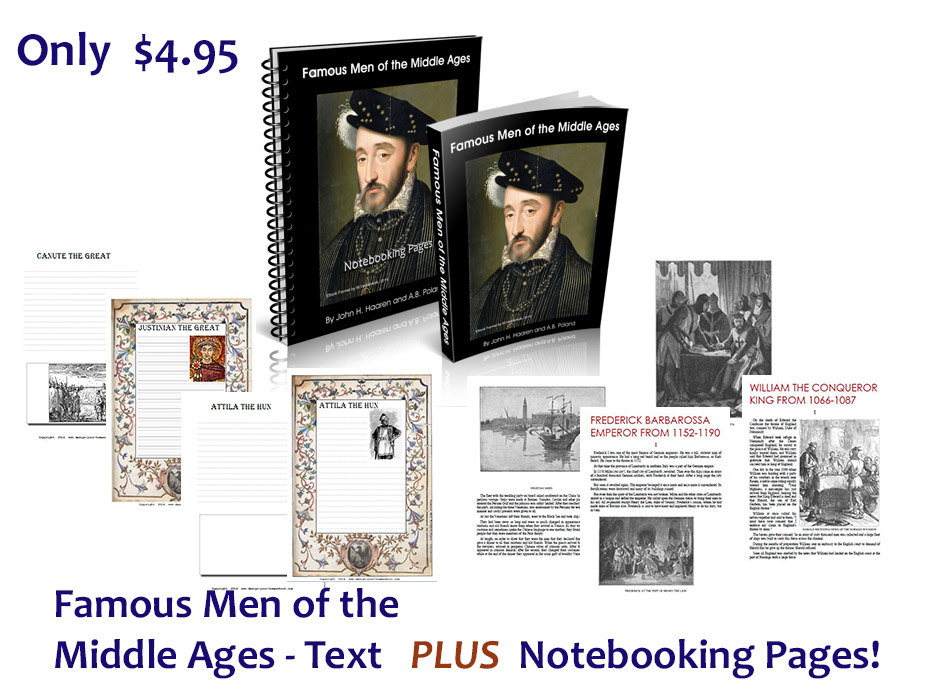 What becomes a treasure?  I would like to suggest it is something you have spent time doing. That's why our children love their own History Notebooks!  Through writing, decorating, adding photos, pictures and relevant maps, they have created a worthwhile keepsake reminding of the time they fought at the Battle of Hastings, took charge on the field of Runnymede and travelled the silk road with Marco Polo.

It's not difficult to do ... excellent literature, great stories and notebooking pages!


This Famous Men of the Middle Ages E-Book contains the text of "The Famous Men of the Middle Ages" by John H. Haaren and A.B. Poland and Notebooking Pages for each character. 

Take your child on the journey and let them put the stories into their own words on pages already created for them. There are 5 pages for each character to assist both the older and younger children in your family.  Enjoy!


Keep History Simple, yet fun and make your life easier.

Buy Now for $4.95US




| | |
| --- | --- |
| If you are interested in notebooking and making lapbooks, here is an exciting way to study the Early Middle Ages. It is a thematic unit which integrates the study of the middle ages across subject areas. All ready for you to open and use with your family. | More Unit Studies to be found at |
Medieval Times, Thematic Unit
By Teacher Created Resources

Thematic Units make planning unit studies easy! Integrating cross-curricular topics with different works of literature, students will learn through reading, writing, listening, illustrating, and many hands-on activities. With units involving language arts, math, social studies, science, arts and crafts, movement and life skills, students will study both in-depth and with enthusiasm! Based upon well-received children's books, each section includes a summary, sample weekly plan, and overview of activities with ideas for setting the stage and enjoying the book. Cross-curricular step-by-step activities, reproducible blackline masters, worksheets, activities, and reinforcement exercises follow. Perfect for an enjoyable and simple-to-use thematic study for both student and teacher! 80 reproducible pages, softcover. Answers included. Grades 5-8.

This Thematic Unit focuses on Medieval Times and uses the books: Robin Hood of Sherwood forest by Ann McGovern

Adam of the Road by Elizabeth Janet Gray
The Door in the Wall by Marguerite DeAngeli.