The Medieval Time Period is exciting to begin and very difficult to end! Keep reading about the exciting resources below and you will know why.
Every time we have spent time in the middle ages, we have enjoyed it immensely and found it so hard to exit, just because there is so much to study and it is so exciting!
Approaching the Study of Medieval Times - Overview
How to Begin your Homeschool history study.
There are a few ways forward when studying the Middle Ages. You can either select a homeschool history curriculum which will guide you through the time period, and organize many of the books you will see on this page into an order to read and discuss. Tapestry of Grace Year 2, TruthQuest History will give you book suggestions which you can read according to their week by week schedule or when presented. However, don't think that these homeschool history curriculums are just booklists. Explore both of them more on the links below to find out exactly how they are organized and how they may benefit your family.
Story of the World Curriculum and Diana Waring's "Romans, Reformers, Revolutionaries" includes its own story book written as a spine. (Both available as CDs also). You can also purchase CDs, Activity Books, and Test books. These also include suggestions to enhance the complete study of the time period such as further literature reading, project ideas, art ideas and more.
Spinebooks
Alternatively, you can choose a history spinebook as a base for your studies and then add in books to read aloud and books which your children can read to themselves. You do not need all the history spinebooks I have listed here. Just choose one depending on the age of your children. The Story of the Middle Ages by Guerber; Famous Men of the Middle Ages or The Story of the World Vol 2 - can be used on its own as a spine or with the rest of the curriculum;

Famous Men of the Middle Ages Text Plus Notebooking Pages
As I was studying the medieval time period in our homeschool,  I created an e-book of the Famous Men of the Middle Ages - the text written by John H. Haaren and A.B. Poland and created corresponding notebooking pages of each of the characters. Find out more about this E-Book at the History Notebooking page.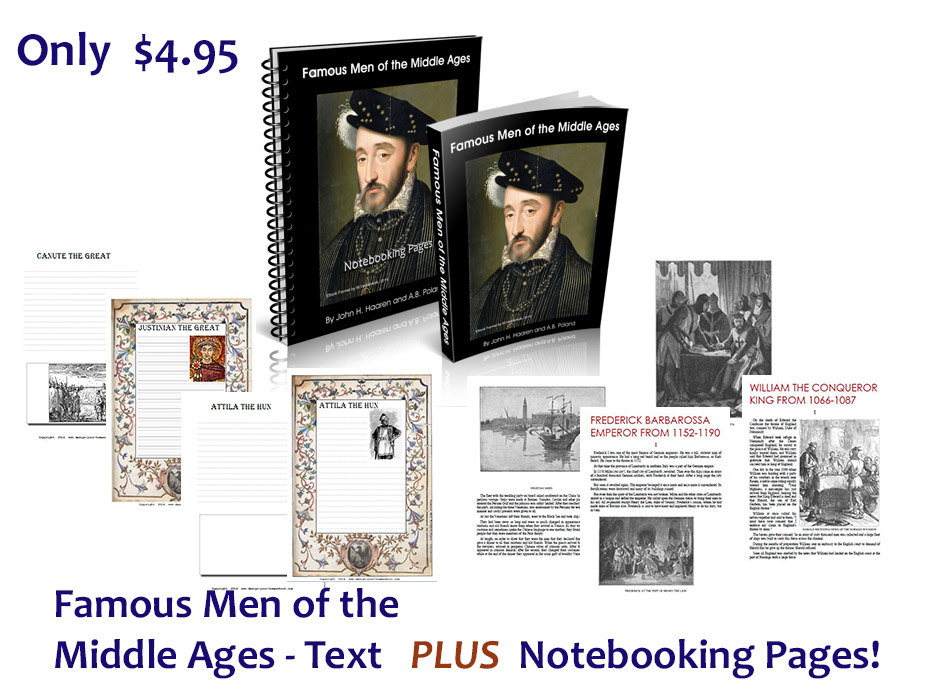 For older students, they may use Streams of Civilization Volume 1 (Creation - 1620) and add some of the historical primary sources from Augustine (post Roman) to the Middle ages such as Bede, and Asser (Alfred the Great), when they are referred to in their spine. You can easily create your own middle ages study in this way.
Another excellent resource which could be used as a spine for older teens (or as a read aloud) - is the narrative, The Birth of Europe (or the first book, Blood of Martyrs) by Leigh Churchill. As you read about the characters in the history of the Christian church such as Jerome, Augustine, Justinian, Charles Martel, Charlemagne you can stop, research, discuss, add to a timeline, map and write. Another excellent alternative to studying this time period.
Use a history spine (appropriate to the age), add some art ideas, draw a timeline, create a research project of their choosing, play or create a medieval game, dress up, have a medieval feast, narrate and create a history book, and spend some time 'living' out the middle ages in your home.
Books to Read Aloud
Would you like to make your study around G.A.Henty books? Here are the Henty books in the Medieval time period:
The Middle Ages
870 The Dragon and the Raven
1066 Wulf the Saxon 
1190 Winning His Spurs 
1314 In Freedom's Cause 
1340 St George For England 
1380 The Lion of St.Mark 
1381 A March on London
1400 Both Sides of the Border 
1415 At Agincourt 
1480 A Knight of the White Cross 


Reformation and Exploration
1579 By Pike and Dyke
1580 St.Bartholomew's Eve
1580 Under Drake's Flag
1588 By England's Aid
1595 By Right of Conquest
After a Henty Book has been read, your older child can write a context page on the time period, the characters from that time and place the book in its historical setting. Use this free history blank notebook page.

Now, let's look at the History Resources in more detail from the pages below.
On these pages you will find read aloud books, living books for different ages, curriculum and spine books to complement your study as well as Teacher resources and history project ideas.  The box below will help you to navigate and create your own homeschool history curriculum on the Medieval/ Middle Ages.