Supercharged Science - The Secret to a Great Homeschool Science Education

Supercharged Science is an online Science Curriculum and is perfect for homeschool families. It is great for the 'Science' family and also, especially for the 'non-science' family. If you as a parent feel challenged with Science, you will either love learning Science with your children, as you watch videos and do a ton of exciting "WOW!" experiments, or you will love letting your children loose with a curriculum which teaches the Scientific concepts through writing, audio and visual means. Then, (if you like - and I'm sure the kids will bug you...) - you do the experiment at home.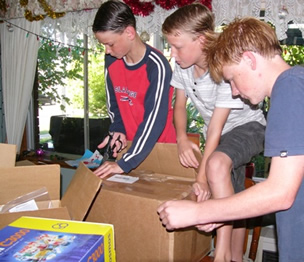 Aurora, explains the method, the how and why, and all the necessary equipment and you take it from there. There are quizzes to help you make sure your child understood what they just did and the Science involved. Aurora, the real rocket Scientist, is always ready to answer questions, send out hard-to-find bits and clarify anything! She is extremely personable and just absolutely loves her subject. It is so much fun to watch her enjoy herself and enthusiastically teach kids!
How to Enrol with Supercharged Science:
You can sign up with Supercharged Science on a monthly basis and have full access to all the materials, videos, text, quizzes (and more) on her site.
You can also buy equipment and projects from the website.

Or, as we have done, you can buy full Science "Mastery" Sets - filled with experiments and DVDs to help you do the experiments PLUS all the materials to do it! This was such a bonus for us - no more trips to the shop for some obscure component, but instead, open the bag, watch the DVD, grab the materials from the bag and build the experiment or project. So much fun!

Anyhow, enough of a rave from me. (I'm sorry - if I love a product, it is hard for me not to be excited about it!) If you are interested, she often has specials to join up just for $1 - as a trial - so in this way, you can see if it will work for your family. Try it now!

Check out these Science Experiments and Videos and Free Ebooks from Supercharged Science!

Supercharged Science is an online Science programme designed for homeschooling families.

It is fantastic as all the work has been done for you.

Science Explanations
A shopping list to complete the experiments for the lesson.
A Lesson plan to work from.
Extra reading notes,
And Aurora to actually show you how its all done in a video.

My boys love doing her science and she covers relevant science concepts in a very understandable way.

By Linda

Donnybrook, W.A.
Go to the Supercharged Science Website here. Great for homeschool kids!
Science Experiments
Absolutely Wonderful Free Science Resources
Science Experiment Guide ($25 value)

This experiment guide includes:

Over 30 complete experiments...
Defy gravity as you levitate water
Crush a soda can using a few drops of water
Make an indoor corkscrew roller coaster
Stick your kid inside a real bubble
Grow crystals overnight
Create and crack your own geodes
Build a flying machine that shouldn't be able to fly at all
...and much more!

Your kids will be so jazzed about science that they'll be begging to learn more. Click here to get the Free Science Experiment Guide. This eBook download comes bundled with the Rocket Scientist Newsletter, which includes a weekly free science experiment in your email box.

Science Activity Manual and Video

Science Activity Manual and Video Collection ($30 value)

Cool science experiments! Did you know that you can bend light to make objects disappear? Make the fourth state of matter in your microwave? Build a speaker from a plate? You can do all these activities and more in our free Science Guide!

Simply click here to download a copy of the Homeschool Science Activity Manual & Video Guide. Save it to your computer - it's in PDF format. You can also link directly to the file itself.



Let us know what you think...
How have you used this curriculum?
Sometimes it is really hard to work out what is the best homeschooling curriculum for your family.

Tell us how you used this curriculum.

Show us an example of a project you created using this curriculum. How did you mould and integrate this curriculum in your family? Will you continue to use it?.... Your answers will help another homeschooling family make a curriculum choice!