Living Books History - Trade and Empire 1600-1707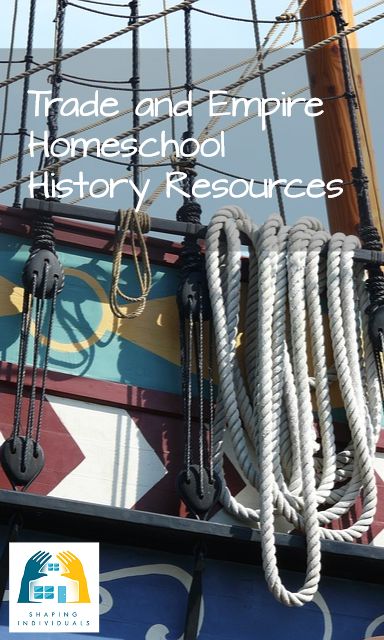 Using Living books as a basis for a homeschool history curriculum is not only a simple approach, but also an extremely effective way to develop a love of learning, an understanding of the historical time period and knowledge of different cultures. (and a great way to build a life-long library)
This page has my BEST OF....  lists of my favourite living books history books the Trade and Empire time period. More selections of books such as reference books, teacher's books, history spinebooks for the 1600's can be found at the Homeschool History Curriculum - Trade and Empire page. You do not need to read all these books - choose ones that interest you and appeal to the age of your family.
History Living Books for Trade and Empire
Explorers Living Books
I have added numerous resources on  explorers (1400-1600) on the Renaissance and Reformation History Living Books BEST OF... Page.
New World explorers include: Samuel de Champlain, Henry Hudson, Abel Tasman,
Artists Living Books 
Artists in the period include: Dutch/Flemish - Rembrandt, Rubens, Hals, Van Dyck, Brueghel, Vermeer; Spanish - Velazquez; Baroque style 1630-1680.
Living Books - Early Colonies in America
Some top books for the early colonies in America:
Squanto, Friend of Pilgrims
The Mayflower Secret
The Story of Liberty
The Sweet Land of Liberty
The World of Captain John Smith
The Landing of the Pilgrims
A Lion to Guard Us

Native American Indians
Don't forget you will find many of the history resources you need for Native American Indians at your library. (Dewey Decimal #970)
Some favs here:
Pocahontas
More than Moccasins: A Kid's Activity book
Streams to the River
Squanto


Thirty Years War
Thirty years War (1618-1648) was fought primarily in what is now Germany, and at various points involved most countries in Europe. We have enjoyed reading both of the G.A. Henty books listed here. They are available as public domain books, in a Kindle version, and also an abridged version. ( I haven't listened to the abridged version but I do love Jim Weiss' readings)
Puritan Revolution / English Civil War
Puritan Revolution / English Civil War 1642 ; We have not read all of these books, but especially recommend all Henty books as well as those by Captain Marryat.
Friends though Divided by G.A. Henty
The Children of the New Forest
Trade
You will find many great resources on trade at this time in your library.  Create your own homeschool history unit study here.

Some topics to explore:
French and English Fur Trade,
Bank of Amsterdam set up in 1609,
Stock Exchange set up in Amsterdam, 1612;
First Anglo-Dutch War starts over trade,
Dutch bring first tea to Europe, 1610;
Dutch boom in tulip-growing collapses, 1630;
Hudson's Bay Company set up in London, 1652;
Exports such as sugar, tobacco;
Slave Trading;
Dutch East India Company.
Living Books History of Scientific Discoveries
Scientific Discoveries at this time - Blaise Pascal, Robert Boyle, Isaac Newton, Leeuwenhoek, Galileo
We really enjoyed the History of Medicine which is a fascinating history of medicine written in an excellent narrative style.
Men of Science, Men of God
Isaac Newtown
Along Came Galileo
The Man who Counted
Mathematicians are People, Too.
Johannes Kepler
A Piece of the Mountain
French Kings pre Revolution; Life in England
Other books and tales set in this time period are:
The Three Musketeers
Robin Hood
When London burned
A Parcel of Patterns
Pirates -

Great Writers 1600s
Great Writers of this time period include - John Bunyan, John Milton, John Locke - some difficult authors here, but important for older students to be familiar with these authors and read some of their works.
G.A. Henty Historical Book lists
We have loved G.A.Henty Books for all the time periods.
Who is G.A.Henty? If you have boys (and even if you don't) you MUST read this!
Where to from here?