Homeschool History Curriculum
Looking for homeschool history curriculum which can be used as a starting point for your homeschool - incorporating many subjects or just as a subject on its own? This page refers to homeschool history curriculum being taught in a chronological way. For more information, refer to the page on Teaching History Chronologically.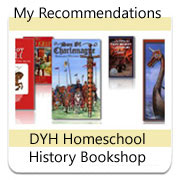 Some history curriculum is written in a four-year-plan rotation, Tapestry of Grace, for example. This is written so that as you teach home school history, you can teach the same time period three times over, changing the focus each time. However, some people may choose to spend 8 years to cover history in the first cycle when homeschooling and then 4 years to cover it a second time.
As you can see, there are many ways of teaching history in your homeschool. You, as parents, must have the final say as to how you want to teach it in your home in your context with your children. Begin with the oldest child in mind and make a plan for them. Don't forget that you will visit the time periods a few times in your homeschooling years, so even if your youngest begins in the 20th century, he or she will continue the studies and visit it more than once.
---
What are the Time periods?
The common divisions of History according to the Kingfisher History Encyclopedia are as follows:
The Ancient World: (..to 500B.C.) The Beginning: The Christian starting place will be Genesis; It also covers Ancient Egypt, Greece, Rome and others.
The Renaissance and Reformation (1461-1600)
Unification and Colonization (1836-1914)
The World at War (1914-1949)
The Modern World (1950- present day)
Check out my recommendations at the Homeschool History Bookshop to help design your homeschool curriculum.
Use these free history notebooking pages in your history study. Created to go with the Famous Men books.
Each homeschool history curriculum that is available follows its own divisions. Here are some of my favourite chronological homeschool history curriculum.
Tapestry of Grace has a four year plan.  Tapestry of Grace is comprehensive and teaches far more than just "history."
Read a description about Tapestry of Grace here, add your own curriculum review and read what other homeschoolers say about Tapestry of Grace.
Year One- covers Creation to the Fall of Rome (476A.D.)

The Books of Moses
All Governments are Established by God
Preparing the World for Its Savior
In the Fullness of Time

Year Two- covers Fall of Rome to the late 1700's.

The Middle Ages
Renaissance & Reformation
Colonial America
The Age of Revolutions
Year Three - covers the Nineteenth Century.
Napoleon's World
The Birth of the Modern
Nations Uniting and Dividing
The Gilded Age
Year Fours- covers the Twentieth Century.
The Century opens, World War I, The Roaring 20s, and the Great Depression
The World War II Era
The Post-War World: The 50s and 60s
The 70s, 80s, and 90s—and a look ahead
Truthquest History - Read more about TruthQuest History here. If you've used TruthQuest add your review.
Veritas Press History Curriculum - Read more about Veritas Press Homeschool History Curriculum; Add your review.
Mystery of History - Read more here and add your review.
The Story of the World - Read more here. Read reviews from other homeschooling families and add your own.
Heart of Wisdom Unit Studies - Read more here. Read reviews from other homeschooler's and add your own.