Ancient Greece History Project Ideas 
Fun History Project Ideas for your homeschool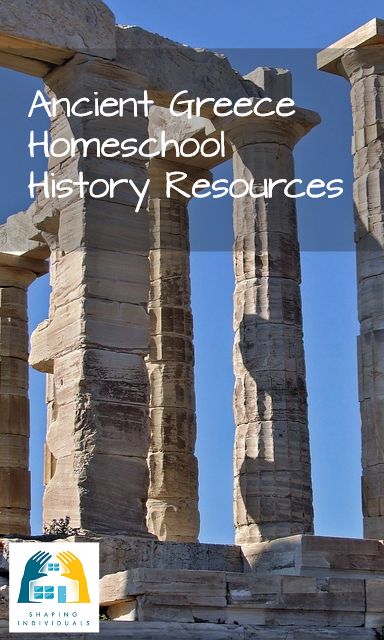 Live out the culture with these Ancient Greece projects.  Whenever you study a different culture, a part of the experience is to get involved with hands on projects.  Here is a collection history project ideas when studying Ancient Greek culture.

Sculpt a relief with modeling clay;
Create the Parthenon with paper
Greek unit study mosaic tutorial from theunlikelyhomeschool.com
Seed and Bean mosaic coasters
Decorate Greek vases
Magic Squares, Triangular numbers
Make a constellarium -as the Greek astronomers charted more than 800 stars;
Simulation on the Greek Olympics - understanding the Greek City States (4-5 day unit study)
Write a travel brochure of a place in Ancient Greece. Advertise why you would want to live there.
Pick a famous Greek invention and create an advertisement to be displayed in the marketplace.
As we were studying this time period, we also began a 'History Quilt'.
This was simply adding on stories from history onto calico and using a blanket stitch around it.  At the time, we added the Trojan horse to our History Quilt.
You could also make a wonderful, huge creation of the Trojan horse out of cardboard??
More great history project ideas for Ancient Greece
Pinterest Ideas for Ancient Greece History Crafts
The use of Videos
Another great way to inspire children in the culture of the time period, is to watch videos. This video below gives details on the acropolis. Using this medium is a great way to add the visual and virtual history into your ancient Greece study.

Ancient Greece History Project  Resources
Whenever we studied a time period, we would head to the library and borrow as many books as we could. We would often get the hands-on project books because these were so much fun.
I bought the Classical Kids book - as this one has activities for both Ancient Greece and Ancient Rome. They are simple enough to do for young children.  
They include a variety of ideas including dressing up Greek, eating Greek food, The Arts (such as Aesop's Fables) and sculpture, learning such as making a constellarium and a planetary model and solar system model (see images below) as well as a simple pulley.
It's full of  easy and fun history project ideas including ancient Greece projects. 

Resources to help you plan your Ancient Greek Crafts
Integrated Writing - Greek Myths, Heroes and Aesop
Lapbooks and Notebooking on Ancient Greece
| | |
| --- | --- |
| Are you interested in notebooking and making lapbooks? The Homeschool E-Store carries a variety of interesting lapbooks and guides to study Ancient Greece and bring it alive with all sorts of products including ebooks which have hands on history project ideas for this time period. | More Unit Studies to be found at |
---
Ancient Greece Lapbook
by Knowledge Box Central. These lapbooks include all your need to explore Ancient Greece with hands on projects and will create a wonderful finished product.
---
Ancient History Scribe - Ancient Greece and Rome.
The product helps your children to LOVE History Studies. Children learn as they draw and write history... your children bring history alive with their own creative hands!
This resource can be used with any curriculum- an easy, neat and comprehensive way to document what you have been reading and learning about.
---
Creative Notebooking Pages
| | |
| --- | --- |
| If you're children, love the project idea - but would also like to create a wonderful History Notebook for this time-period, you would love the Ancient History Notebooking Pages.  This is a huge set, complete with dozens of topics from various cultures in the Ancient Times. | |
I take History Recommendations seriously, so in the DYH  History bookshop, you will find books that we have loved in our home, or ones that I've seen and have been highly recommended to our family.

From this History Bookshop Page - you can find Book ideas for all Historical time periods.




Ancient Egypt Hands on Projects